BLUE HILL — St. Cecilia hit the road down U.S. Highway 281 Tuesday evening with a volleyball match against the Blue Hill Bobcats.
The contest was all about the entire STC squad and its relentlessness to power through and to show no mercy. The match was all about teamwork, as the Hawkettes prevailed to a sweep over Blue Hill, 25-19, 25-11, 25-16.
STC head coach Kelan Schumacher was pleased with his team, especially his defense.
"Our defensive game was a lot better tonight than what we have been playing," he said, "We dug the ball pretty well and gave our hitters some good chances in transition so that is what I thought we did well tonight."
On the opposite side, Blue Hill struggled in this contest with multiple missed chances, and head coach Jessica Diehl says it was due to the lack of focus.
"We prepared well I felt like we had a good practice and we knew what we needed to do," she said, "transferring that from practice into a game is the most frustrating part, that there is no tension. They knew exactly what was coming at them. They knew exactly how to be prepared, so it was that lack of focus and lack of drive, lack of intensity. And the competitiveness was not there."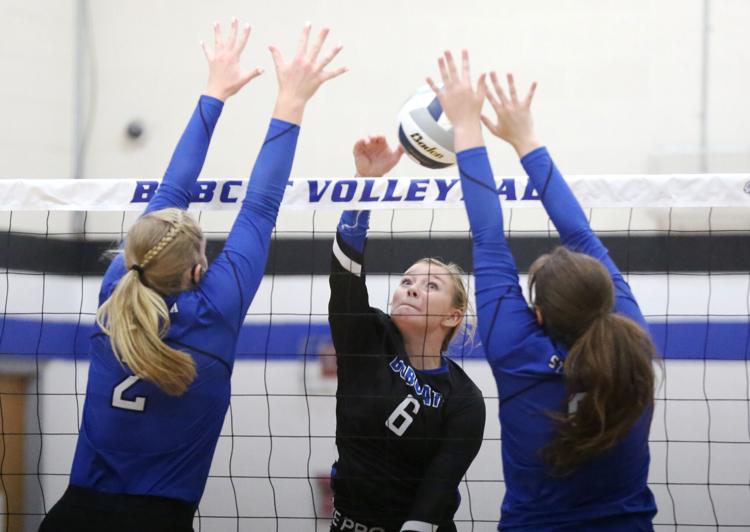 STC got off to a strong start in the first set. The Hawkettes came out with an early 6-0 run to start with two kills, one coming from Katharine Hamburger and Ryann Sabatka. The other four points scored from STC came from hitting errors from the Bobcats to give STC that early run. BH then went on a mini run of their own scoring three straight with kills coming from Brooklyn Kohmetscher, Erica Boyd and Abigail Meyer. But STC responded with a 4-0 run to force a Bobcat timeout, as St. Cecilia led 10-3.
Later in the set, STC got five more kills from Hamburger, two kills from Sabatka and one kill from Lucy Fago. The Hawkettes also had help in the set with more Bobcat errors to take the set 25-19.
"We seemed to put the serving pressure on them," Schumacher said, "And it seemed to get them out of system and that made a difference."
Set two was more of the same for STC, having runs of their own and forcing many mistakes from Blue Hill. The set included an 11-1 run for STC during the final 12 points. The Hawkettes had kills from Addie Kirkegaard — who had three kills in the set — four kills from Hamburger, two kills from Kenzie Worthing, and a kill from Sabatka. The set that included multiple errors from Blue Hill, benefitting St. Cecilia.
Set three early on belong to the Bobcats. Coming out with an early 5-1 run in the set. The Bobcats had kills from Boyd and Abigail Meyer to go along with STC errors to set up the run. STC, however, came roaring back, taking the set and the match.
Hamburger had five kills in the set, Kirkegaard had six kills, Kenzie Worthing had two kills. Sabatka, Erin Sheehy, Hailey Reifert and Rachel Theisen each had one kill in the frame. Sheehy also had four straight aces in the set to close the door on Blue Hill 25-16.
It is early on in the season but Diehl knows there is a lot of growth for this team.
"I told them, I expect more out of them. I need more focus and I need more want. I can't want more for them then they would want for themselves," she said, "That is something they need to figure out is getting through that, pushing each other, being more aggressive and wanting more than what they already are."
STC kills
Katharine Hamburger 13, Addie Kirkegaard 9, Ryann Sabatka 7, Kenzie Worthing 5, Madalyn Heil 1, Erin Sheehy 1, Hailey Reifert 1, Chloe Valentine 1, Rachel Theisen 1, Lucy Fago 1
Blue Hill kills
Abigail Meyer 7, Brooklyn Kohmetscher 6, Erica Boyd 6
STC blocks
Katharine Hamburger 2, Ryann Sabatka 2
Blue Hill Blocks, Brooklyn Kohmetscher 1, Erica Boyd 1