Editor's note: The following story originally appeared in the May 16, 1977, edition of the Hastings Tribune. This is just one of a series of stories throughout Tribland's history that will be running while current sports events are on hold because of the new coronavirus, COVID-19. If you have an idea of a memorable sports story that previously ran in the Tribune, contact sports@hastingstribune.com and it may make it in a future edition.
NORTH PLATTE — Patty DeLaet and Marge Klein would never have believed St. Cecilia's seventh straight Class C championship would ride on the points they picked up Saturday at the girls state high school track meet.
Before the day began, the Hawkettes were so far ahead that the school custodian could have cleared space for another team title in the trophy case. But Nancy Kindig's injury immediately placed victory in doubt early Saturday.
After Kindig hobbled to the tape in the morning 880-yard relay win, the Hawkettes needed every score they could muster to hold off fast-finishing Oshkosh for the crown.
Cast into an unaccustomed role that only the irony of the state meet could provide, DeLaet and Klein produced the victory margin that gave the Hawkettes a 50-46 edge over Oshkosh.
The two seniors had classmates Kindig and Patty Gleason to cushion victory leads in previous meets. But with Kindig out and Gleason placing sixth in the 440-yard dash, DeLaet and Klein came through.
"It is nice to know that we could count on our other two seniors," said St. Cecilia coach Reed Stephenson. "Patty and Marge have been sitting in the shadow of Kindig and Gleason for four years. Their work showed a lot of character."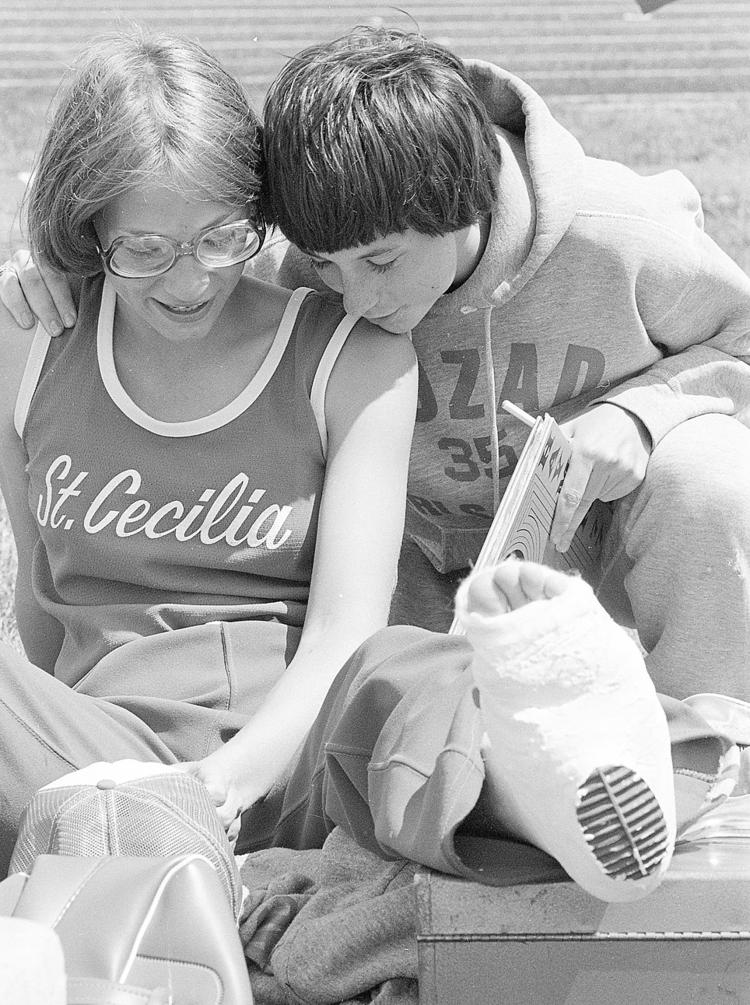 Third school record
Klein broke her own school shot put record with a heave of 43-11 1/2, breaking the existing mark by three inches. It was the second time this season she established St. Cecilia all-time bests.
Klein was unaware of Kindig's broken leg at the time of her third place performance. The shot put ring is outside the stadium.
"I didn't hear about Nancy until I came back into the track. We weren't able to find out anything at the shot put ring," Klein said.
"After Nancy was hurt, Marge's third place became awfully important to us," Stephenson commented.
DeLaet had more time to think about her 220-yard dash race — and also more time to think about the pressure of the surging Oshkosh which earlier closed on St. Cecilia with a double victory in the 80-yard hurdles and 100-yard dash.
The senior sprinter finished the half-lap run in 26.4, one half-second off the winning time set by Julie Farris of Tecumseh.
"There is something in you that makes you go out and score when you have to do it," DeLaet said. "I knew I had to place and that helped me."
DeLaet and Klein may have had the limelight at the winners stand when the Hawkettes accepted the Class C trophy. But Kindig greatly contributed Saturday to the scoring before her unfortunate mishap. She took second in the long jump at 18-2 1/2 and anchored the 880-yard relay victory.
St. Cecilia's winning 880-yard relay time was 1:46.4, tied for third among all classes. Other member of the squad were Gleason, DeLaet and Ami Beiriger.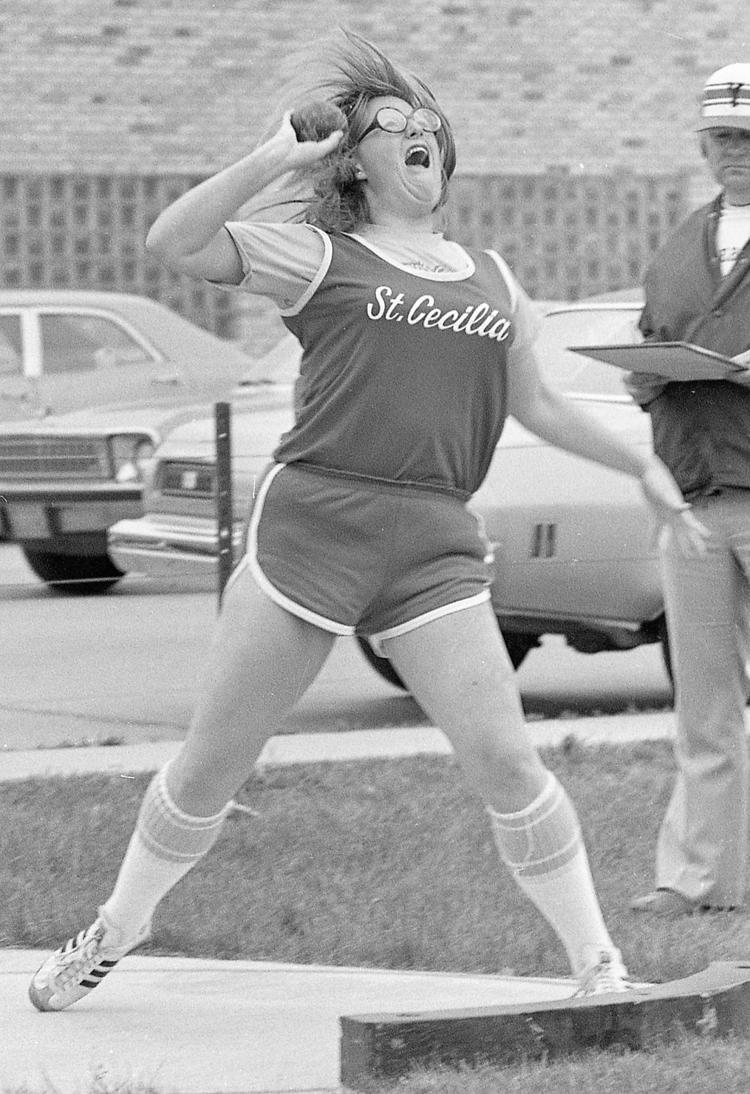 Lose grand championship
Coupling the disappointment of Kindig's broken leg was the loss of teh Omaha World Herald's grand championship for the first time in three years. It was also the first time the Hawkettes were deprived of a gold medal.
Coach Stephenson felt this season's Class C title may have been the most significant of all, however.
"The girls buckled down and showed they could still be champions. That really makes me feel good," he said.
"We realized when Nancy was hurt that our chances of winning the grand championship were gone. But we came through that defeat and let everybody know what we were made of. We are still the best in Class C. Nobody can take that way from us," the coach added.
While St. Cecilia held on for another state title, other Tribland squads and individuals scored high Saturday.
Hastings High's Sally Sneller finished third in the Class A mile run. She toured the four-lap race in 5:30.7. It was the first state appearance for the sophomore. Adams Central's Debbie Frickle ended her prep career with a third place in the 100-yard dash in 11.4.
Marla Lichty of Bruning successfully defended her Class D long jump title with a winning jump of 17-5. She also won the 220-yard dash in 26.4 and was third in the 100-yard dash in 11.5. This was Lichty's fourth year at state.
Cindy Warner of Minden won the Class B 80-yard hurdles championship for the second year in a row, scooting to a wind-aided 10.6. Warner's clocking tied the state record and bettered the Class B state best by three-tenths of a second. But the time was disallowed because of the wind factor.
Axtell's Nancy Murray, winner of Friday's Class D discus, fell short for the third straight year in her try for the shot put title. Murray finished third with a 40-9 1/4.