As high school events were continually canceled this spring, Hastings Public Schools administrators and school board members faced a particular question almost daily: "What about commencement?"
In his welcome to the more than 1,000 people present for the Hastings High School 2020 commencement ceremony Sunday afternoon, Board of Education President Jim Boeve — whose son, Mike, was part of the graduating class — said he originally favored a virtual ceremony to be conducted on the day graduation had been scheduled in May.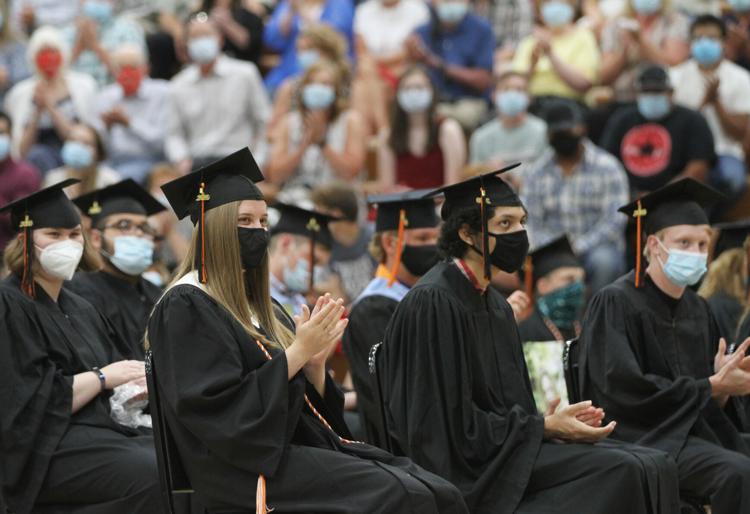 Then, the majority of HHS seniors who responded to a survey of what to do for commencement expressed support for an in-person ceremony.
"As April turned to May turned to June, I started to feel that way, as well," Boeve said. "As I see our graduating class, the largest gathering event since March 12 and all of you here to support them, I support and understand the result of that vote."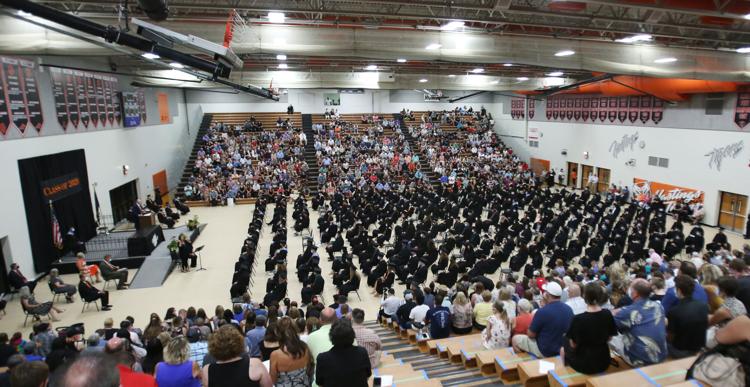 Boeve and other school board members, as well as Superintendent Jeff Schneider, who were present to hand diplomas to graduates, all social distanced from one another.
Principal Tom Szlanda, who introduced each speaker and presented the class of 2020, sat on the other side of the dais, away from other district officials.
In a class of about 270, the graduates themselves were spaced out across the gymnasium floor.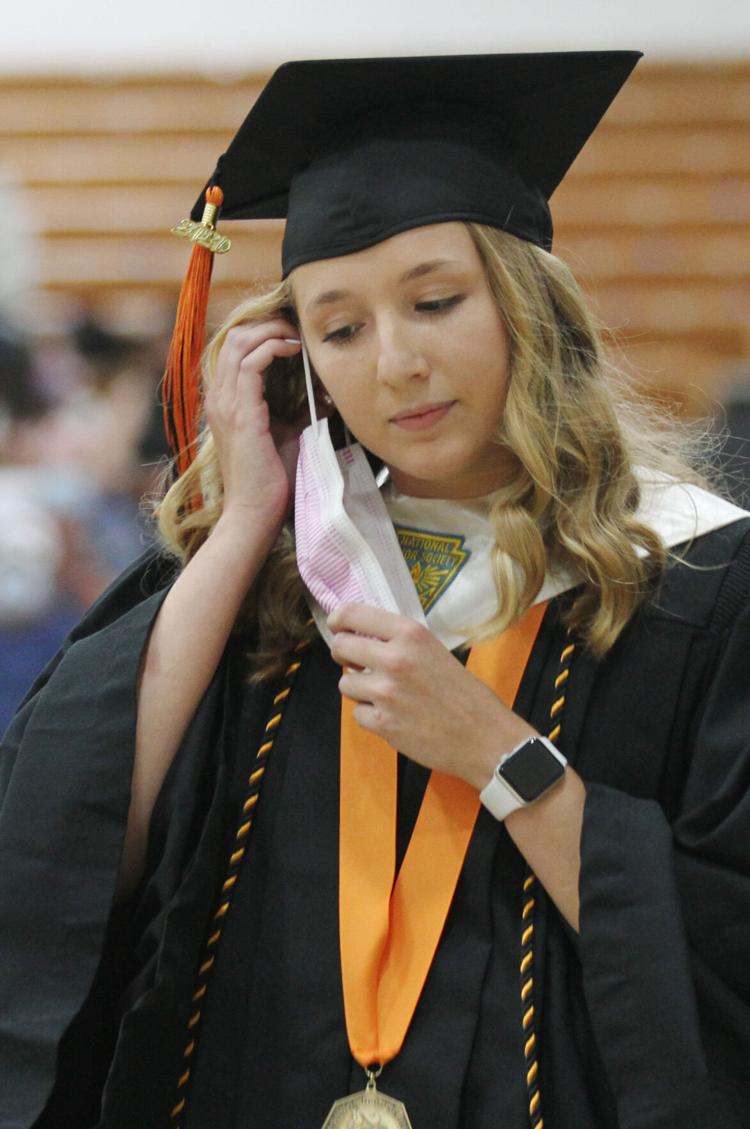 Public attendance was limited to four tickets for each graduate. Everyone at the ceremony was required to wear a mask.
Families could take photos on the football field outside of the gymnasium.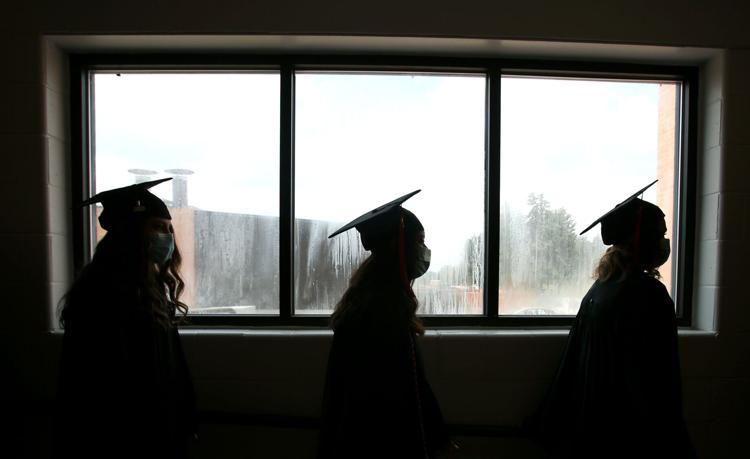 Student Council President Jack Coil also provided a welcome.
He said the quarantine taught class members more about the world and each other than they could ever imagine going into this year.
"Four years ago, this is probably not how you expected this to happen — but it sure will be a great story to tell in the future," he said.
Hastings High's class of 2020 contributed to the accomplishment of many special things, he said.
Among those accomplishments are the school's first state wrestling title since 1988, as well as the duals title.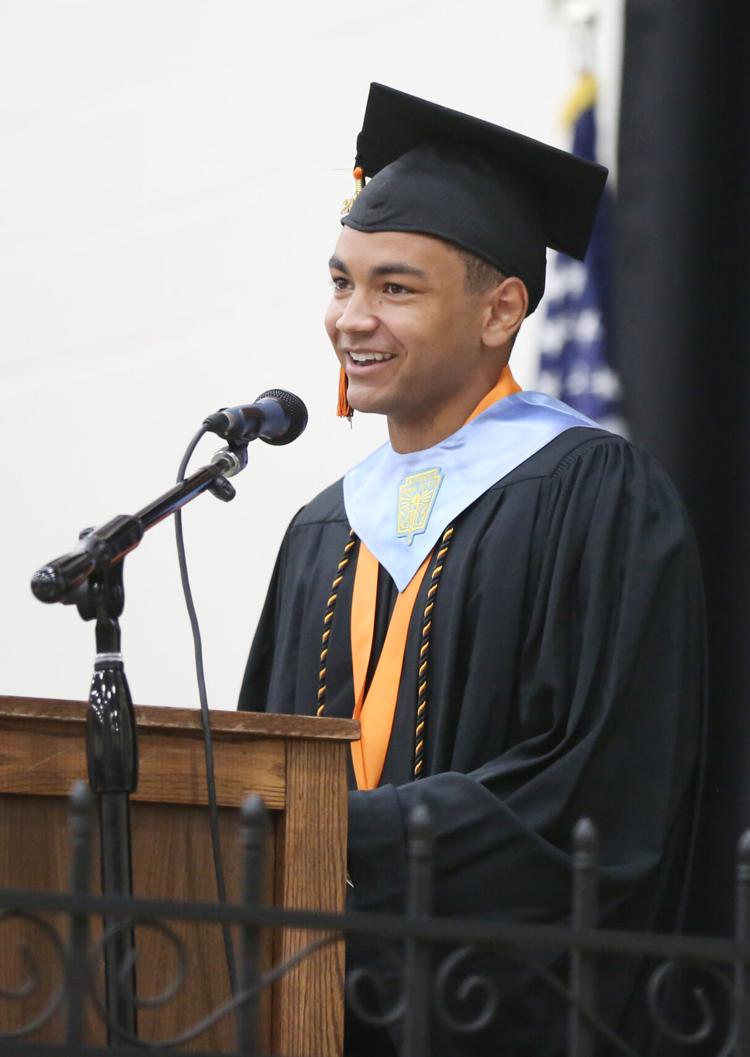 The boys basketball team qualified for the state tournament for the first time since 2004.
The volleyball team qualified for the state tournament for the first time since 2008.
Two class members were national speech debate qualifiers, and two earned perfect ACT scores.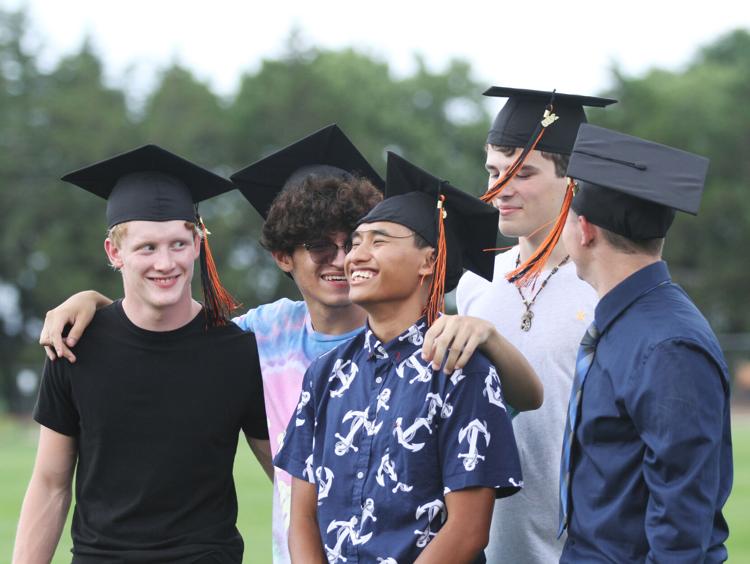 The school's six valedictorians each offered an address, focusing on different lessons to be learned from their high school experiences — especially this unusual conclusion to their final year.
Benjamin Brockmann said everyone graduating from Hastings High School has supported him.
"It is for that reason I am extremely confident in all of our futures," he said. "We understand that no one here has to stand alone — that we'll always have each other to lean on. As long as we take that with us into our future, nothing can stop us."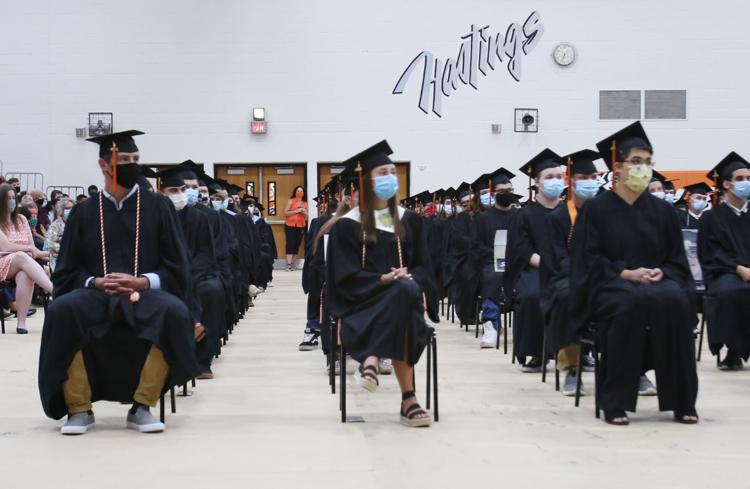 Christine Jonglertham said she is proud of all of her classmates' accomplishments.
"When I see you all do great things, it makes me want to do the same," she said.
Nathan Nordby-Bryson said the most important things he learned in high school weren't the ones he learned in textbooks. They included such lessons as how to work with people he wasn't used to working with and how to balance obligations.
"I've really enjoyed the last four years of my life and it's all due to you guys," he said. "We have so many good memories and I'll always appreciate that."
Kevin Pham said by playing things safe in high school, he didn't experience as much he would've liked.
He spoke about crashing his car into a ditch a year ago because he was concentrating so hard on driving safely he nearly missed a left turn and wound up in an accident.
"If I had to pick a lesson I learned in high school it would be that playing things safe can just as easily bring about what you're trying to avoid, so you might as well enjoy the ride," he said. "Don't get me wrong, doing well in school or in a job is very important — but solely focusing on not being bad in these things is bound to trip you up."
Landon Power said he learned about the importance of community.
"Life isn't easy, but it's a race that isn't meant to be run alone," he said.
He said he finds no stronger community than in the unity of Jesus Christ.
"The beauty of the body of Christ is not that I am working for my own success," he said. "I am not working for my own promotion, glorification or even my own salvation."
He said he is working as a servant of Jesus Christ to bring glory to God.
Jillian Smith said as teenagers, she and her classmates have always been looking forward to the next big thing.
"Moving forward, I challenge you all to enjoy each little moment of your life," she said. "Yes, it's OK to be excited for your future, but sometimes we get so wrapped up in what is to come we forget to enjoy the moment we are in. You never know when something you take for granted could be ripped away from you before you even realize the significance it had on your life."