Rob Kerr, a longtime history instructor at Hastings Senior High School honored earlier in 2019 as Hastings Public Schools' Educator of the Year, went on to become a finalist in the competition for Nebraska 2020 Teacher of the Year.
Kerr was among four finalists for the award, which was presented Oct. 7 to Megan Helberg, an English teacher at Burwell Junior/Senior High School in Burwell, the Nebraska Department of Education said in a news release.
Helberg, Kerr, and the two other finalists — Mark Gudgel of Omaha North High Magnet School in Omaha and Erin Meyer of West Elementary School in Sidney — will be honored at a November luncheon by the Nebraska State Board of Education.
Kerr, who moved to Hastings with his family in time for his first-grade year, attended Longfellow Elementary School and Hastings Junior High before graduating from Hastings Senior High in 1980. He earned a degree in history and a teaching endorsement from the University of Nebraska-Lincoln before hiring on at Hastings Senior High in 1986. Three years later, he earned a Master of Arts in Teaching degree from Hastings College.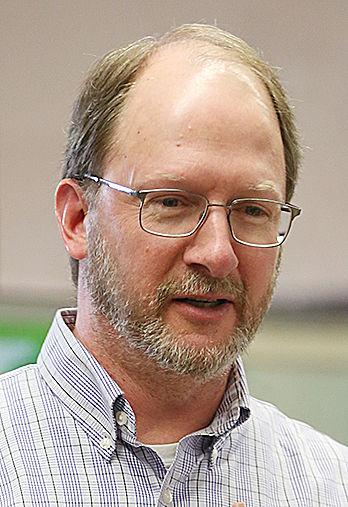 Kerr has taught in Room 262 at the high school for all of his 34 years on the faculty there. Courses he has taught include Western Civilization; Advanced Placement European History, a course he developed in 1990; and electives in Nebraska history, regional geography, and contemporary issues in U.S. foreign policy. In 2001, he and HoneyLou Bonar, a colleague from the English faculty, won an Excellence in Teaching Award from the Kiewit Foundation for their collaboration on an integrated course including Western Civilization and English 10.
Kerr has developed the Nebraska history elective in recent years. In March, he was honored with the James C. Olson Award for Excellence in Teaching by History Nebraska, formerly known as the Nebraska State Historical Society. His other duties at the high school include serving as sponsor of the National Honor Society and the local chapter of the National History Club. He takes students to Lincoln each year for the Capitol Forum on America's Future and works each summer as a reader in the College Board's AP Exam Scoring Session.
Kerr's wife, Michelle, is a sixth-grade English teacher at Hastings Middle School and was honored as HPS Educator of the Year in 2018. Their family includes son Ethan and his wife, Sydney, of Omaha; son Thomas, a student at UNL; and daughter Abigail, a sophomore at Hastings High.
Helberg was notified that she had won the Teacher of the Year Award in a surprise presentation involving Matthew Blomstedt, Nebraska commissioner of education.
Helberg taught in the Papillion-LaVista Public Schools before accepting a position at Burwell in 2010. She teaches eighth-, 11th- and 12th-grade English, has been a Leader in Technology Educator in the Burwell schools, as well as a Museum Teacher Fellow in Washington, D.C., and has traveled internationally through a Fund for Teachers grant.
The award recipient was selected by a panel of Nebraska educators. The Teacher of the Year program recognizes the contributions of classroom teachers who are exceptionally dedicated, knowledgeable and skilled and who have the ability to inspire students of all backgrounds and abilities to learn.