Connor Creech scores 1,000th career point in win
Forty days into this year's prep basketball season, and the Class B No. 2 Hastings boys basketball team still has a zero in the loss column, though, the Tigers had to fight until the final minute for Tuesday's victory.
"There are a lot of teams on our schedule that don't have a lot to lose, and right now we do. I told them after the game that I hope the pressure of being undefeated isn't weighing them down, but at the same time we have to be a heck of a lot better than that if we want to achieve the goals we have set," said HHS head coach Lance Creech.
Going into Tuesday's game with Aurora, HHS boasted an 11-0 record and had won just one game by fewer than 10 points. But the Huskies, who entered Tuesday at 3-7 on the year, paid no attention to the records and took it to the Tigers on their home court, taking a lead into the fourth quarter.
In the end, Hastings' experience helped the Tigers overcome their struggles. HHS rallied early in the fourth quarter and held on for a 49-44 victory to improve to 12-0.
"I think last year, we won four or five single possession games, and I think we lost that same amount. When you look at that learning experience and the kids going through this process, hopefully they learn from that," Creech said. "What we have to worry about now though is the future and getting ready for Friday."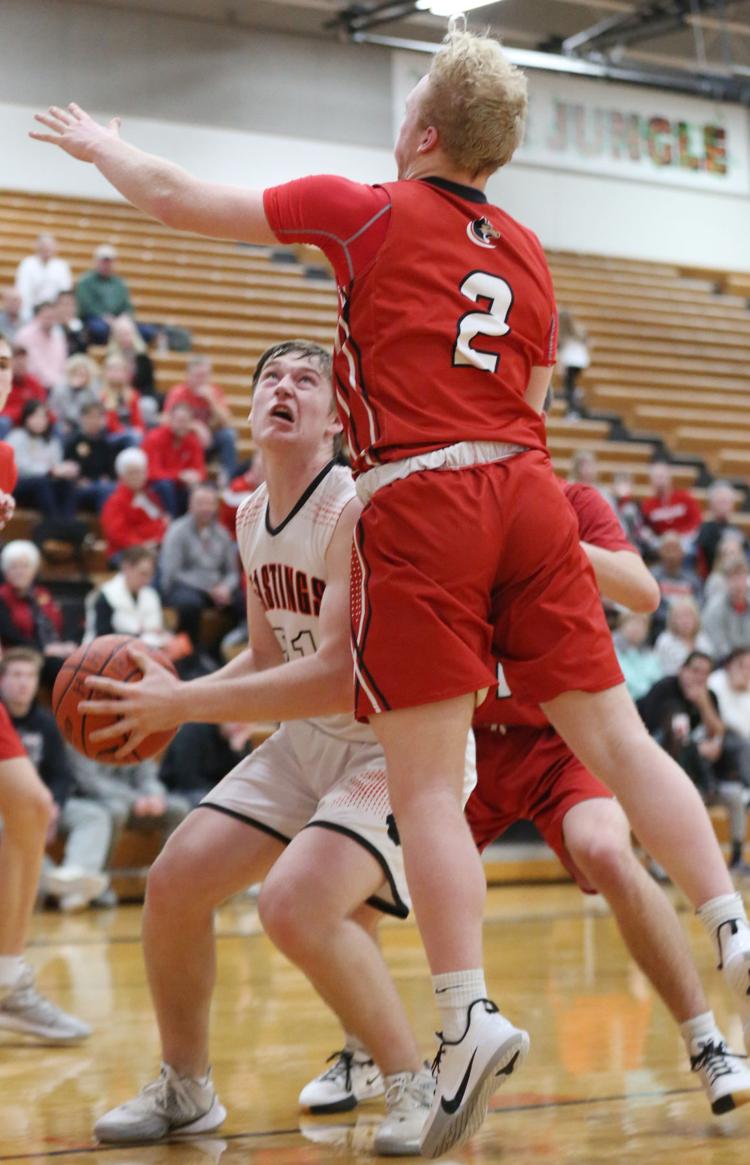 "I think our composure just comes from experience," said HHS' Jake Schroeder. "We've all been there before and have been through the ups and downs. We don't panic at all. We knew we'd be fine."
Schroeder came up big in the fourth quarter for Hastings, scoring 10 of his 14 points while going 4-for-4 from the floor and hitting a pair of clutch free throws to seal the game.
"They were kind of scrambling and the ball was kind of just hanging around, so I was just getting open looks at the rim," Schroeder said.
"That's where we want him; he's so good, especially when he does get around the rim," Creech said.
Hastings went into the final period trailing by three points. After the two teams traded baskets, Haggan Hilgendorf drilled a 3-pointer to tie the game with 6 minutes, 39 seconds remaining.
The lead changed hands three times in the next minute and a half, but Hilgendorf buried another trey with 3:06 left on the clock to give the Tigers a 43-41 advantage.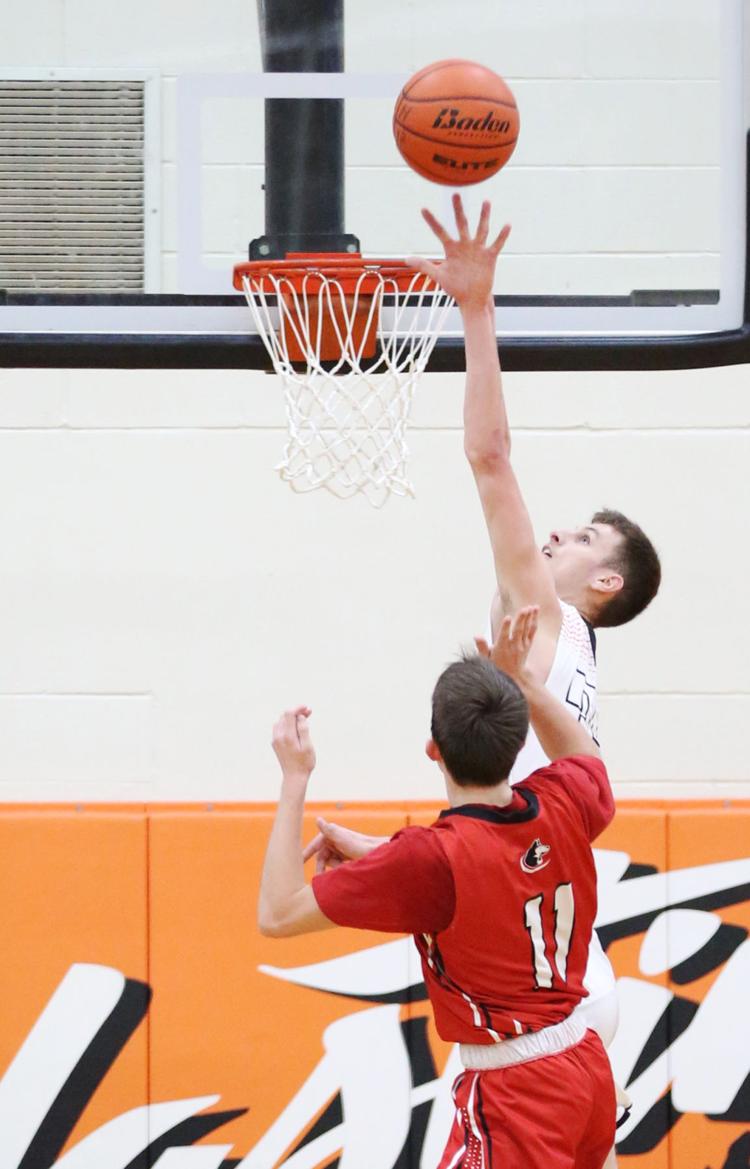 "Obviously, Haggan in the fourth quarter was big from the 3-point line," the HHS coach said.
HHS' defense came up with some big plays in the final minutes, with Mike Boeve coming up with a big steal, and then Aurora's leading scorer, Nate Boerkircher, was whistled for an offensive foul with 2:22 left to play.
Schroeder made the next two field goals to increase Hastings' lead to 47-41, but Aurora's Andrew Bell swished a desperation 3-pointer from well beyond the arc. The bucket made it a three-point game with just 16 seconds remaining.
A saving grace for the Tigers was Aurora's low foul total. After Bell's trey, the Huskies had just two team fouls in the half. They spent the next 14.2 seconds fouling the Tigers enough times to finally force free throws. Schroeder toed the charity stripe with 1.8 seconds and calmly splashed both foul shots to put the game on ice.
Creech could breathe a little easier after his team, which fell behind 17-8 in the first nine minutes of the game, avoided the upset.
"I thought (Aurora) capitalized on a lot of defensive miscues," Creech said. "I just didn't think we were very focused mentally and didn't like our demeanor in the first half. I thought we were very selfish defensively. We were staying in front of our guy, guarding our guy, but everybody else was out of their stance, not focused, not dialed in on actions that were away from their man...I think when we look at film we're going to see a lot of things we can dial in on and get better, I hope."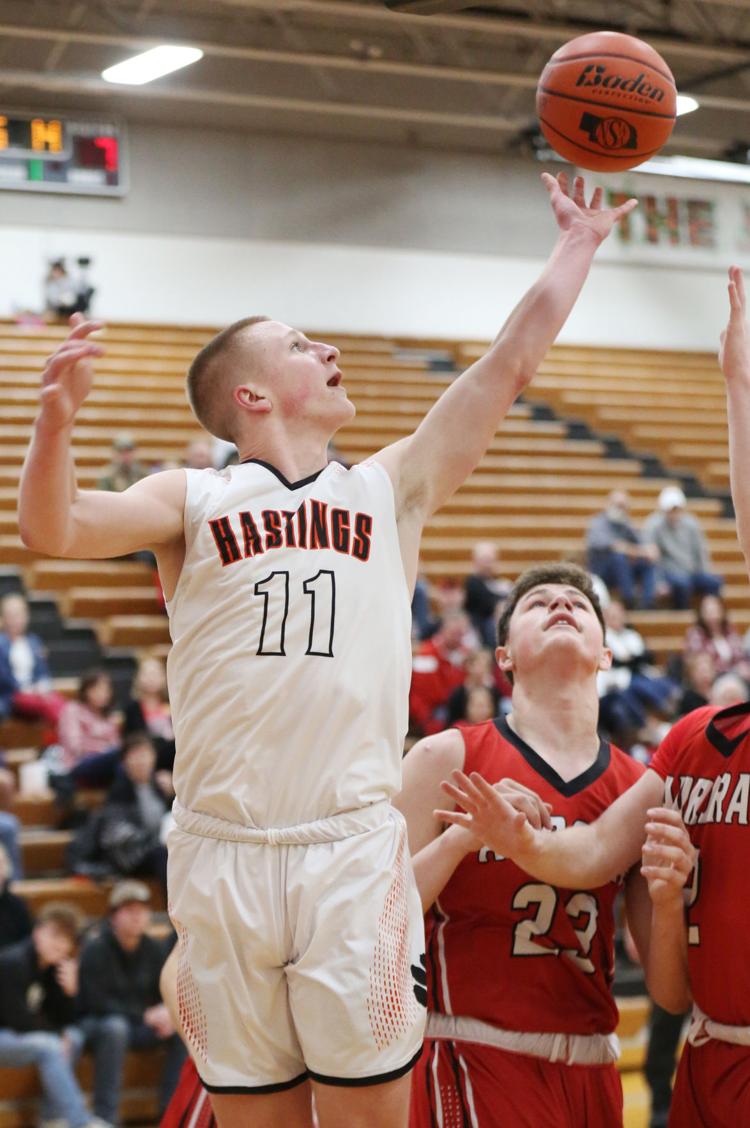 Despite Hastings' early struggles — scoring just 21 points and shooting 7-for-18 from the floor in the first half — the Tiger faithful had a big moment to commemorate early in the opening quarter. After draining a 3-pointer to kick off the scoring for the game, Connor Creech later drove to the basket and scored on a contested layup. The bucket marked the 1,000th point for his career, just a little more than a week after he took over the top spot on HHS' all-time scoring list.
"I put a lot of hard work into it, so it feels good to have it pay off," Connor said. "I'm not looking at (the accolades), I'm just trying to help us win. If I can do that, that's my main goal."
The Tigers' coach said his son is plenty deserving of the milestone accomplishments.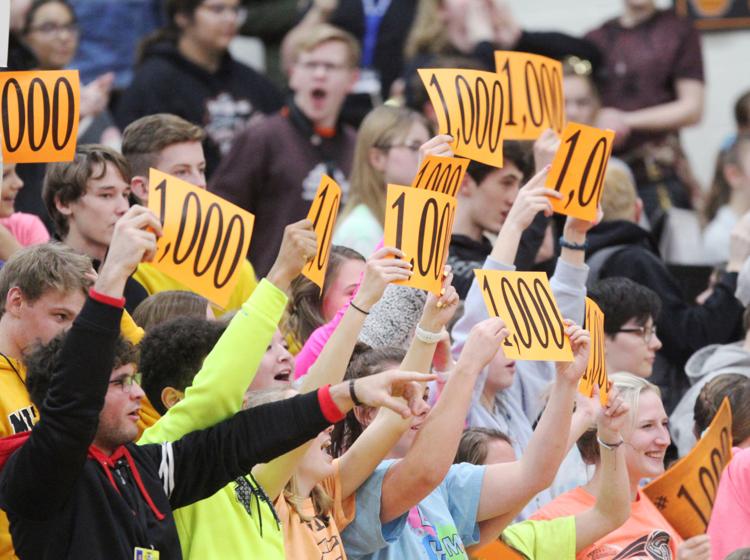 "Well, as a coach, (Connor) if he would have listened to his coach he would have had a hell of a lot more (points) than he did (Tuesday)," Lance said with a smile. "But as a dad, I'm proud. The kid really works hard. He puts a ton of time into things, and I wish people on the outside could see the number of times he comes into the gym by himself. And it's not shoot, walk to the ball, get it, and shoot again; he's got a regimen and he's very detailed, he's very detailed in his preparation."
Creech finished with eight points on the night and led the squad with six rebounds, while Hilgendorf and Schroeder led HHS with 14 points each. Boeve tallied nine points.
Boerkircher, who is walking on for the University of Nebraska football team, led the Huskies with 14 points and a game-high seven rebounds.
Hastings will travel to McCook on Friday before hosting Grand Island in a big rivalry game on Tuesday. Though the HHS supporters are hoping to see that zero in the loss column stick around for a while longer, Schroeder said that's not on the team's mind.
"We don't really think about it at all. It's just one game and then on to the next," Schroeder said. "We know we're going to get everybody's best shot. We're building a target on our back, and we're ready for it."
Aurora (3-8)...........17 6 13 8 — 44
Hastings (12-0).......11 10 12 16 — 49
Aurora (44)
Kaleb Moural 5, Jameson Herzberg 9, Andrew Bell 5, Nate Boerkircher 14, Tate Nachtigal 11
Hastings (49)
Connor Creech 8, Jake Schroeder 14, JT Cafferty 2, Haggan Hilgendorf 14, Mike Boeve 9, Landon Jacobus 2