Students from across Nebraska — and one from Georgia — capped their Hastings College Honor Festival experiences with a lively concert that drew standing ovations for the Honor Chamber Orchestra, Choir and Band Saturday afternoon at Kiewit Gymnasium.
The more than 100 honor students performing at the festival were informed before the performance that each had been awarded $7,000-per-year scholarships to the college, which drew applause from the parents, teachers, HC faulty and others who packed the gymnasium to offer support and hear the highly talented performers interpret diverse selections of music with voice and instrument.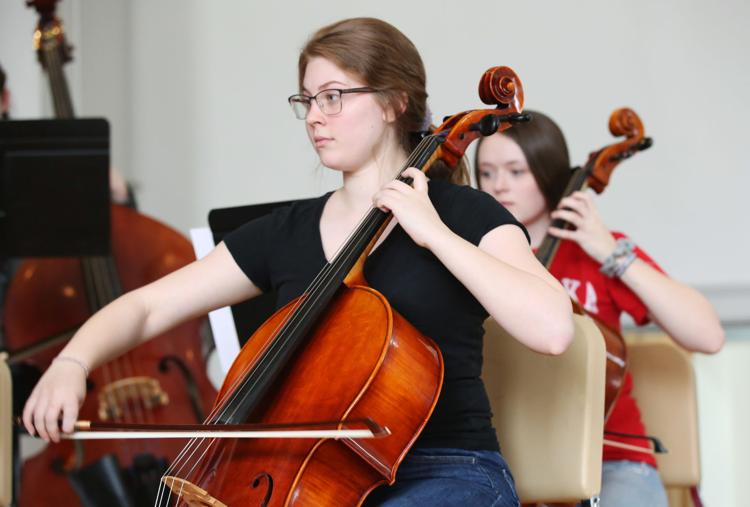 Clinicians conducting the performance were Byron Jensen, distinguished professor in music at HC, orchestra; Dennis Glocke, director of concert bands at Pennsylvania State University, band; and Bret Amundson, dean of the school of arts and letters at the college of St. Scholastica in Deluth, Minnesota, choir.
Now in his 10th year of hosting clinics, Amundson said on Friday he hoped to give students more than musical notes and theories to think about as they performed musical selections rooted in hope and emotional comfort.
"I love when notes are in tune but that's not the first goal," he said. "The first goal is that you are singing from the heart and telling a story about who you are, and that you are learning a little bit about who you are in the process."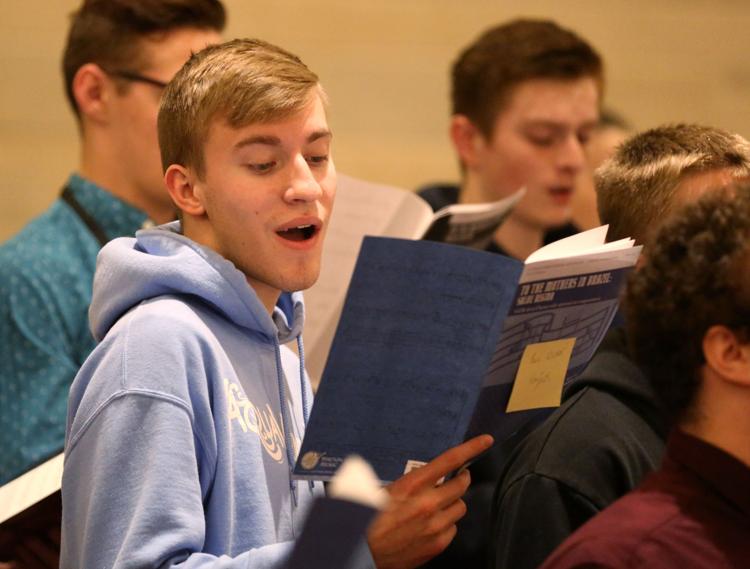 Louie Eckhardt, festival and department chair of music and theater at HC, said students were selected to participate in the festival based on audition recordings provided to the college. Their final performance together Saturday showcased just how successful the clinic was in providing them with new tools and techniques to share as they return to their respective schools, he said.
"Probably the most important goal is to create great art, bringing people together to speak this common language of music," he said. "They come together from completely different backgrounds, different communities and different programs to create this beauty together.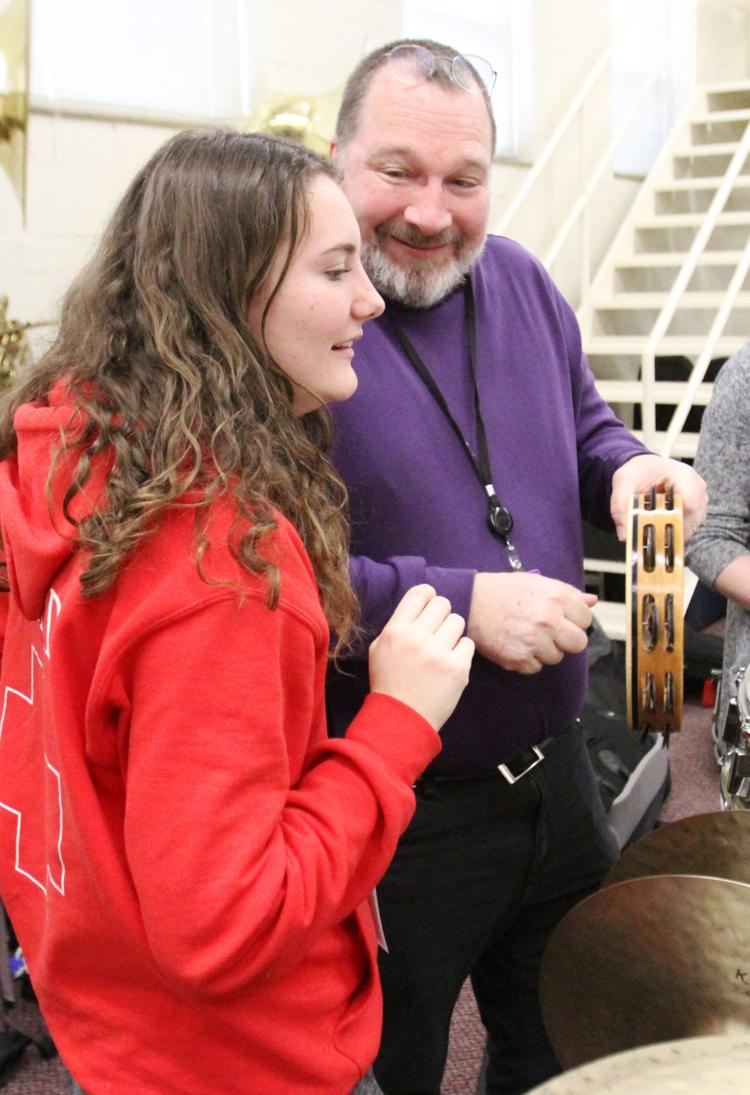 "They take what they learn and their experiences here home with them and provide musical leadership there. Some of them are going to go on to be professional musicians, but that's not necessarily the goal. The goal for them is to love music."
Students and clinicians alike delight in the upbeat environment each year, with students gaining new friends and valuable tips from instructors eager to impart their knowledge on burning ears.
"For most of these students these are the best ensembles they get to play with, so being able to do that and make music at a much higher level than they are used to only makes them better musicians," Eckhardt said. "It's a great experience.
"Everybody is really motivated to do this. They come here and make amazing progress over just a couple days. When you're in an ensemble where you don't need to worry as much about technique because everybody is of a higher acumen, you can really get into the artistic part quicker, things like balance and phrasing and making a musical statement.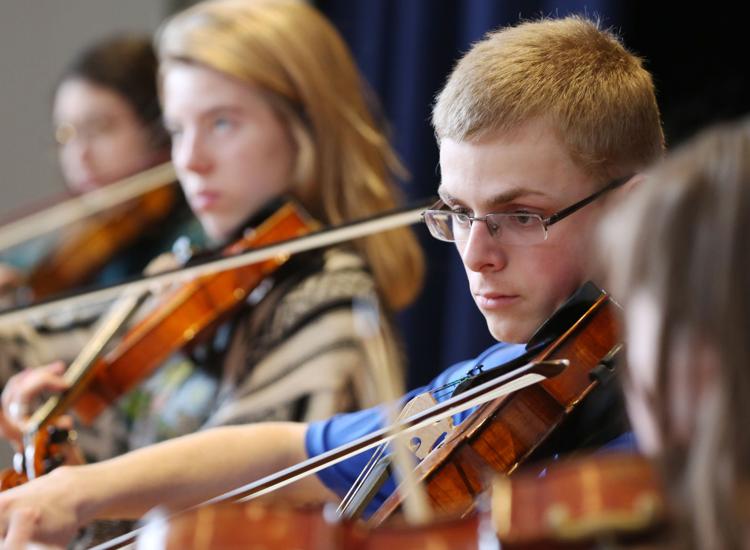 "Sometimes it's beyond just fixing notes and fixing rhythms and making sure you crescendo. One thing about music is that it says something that can't be said in words. It's hard to describe, but when everybody is on the same page doing it together and these musical things happen, everything comes alive and it's a really magical thing for everyone involved."
Honor students weighed in on their experiences during a 30-minute break between clinical sessions Friday at HC. Second-year festival participant clarinetist Matea Jerkovic, 16, is a junior at Lincoln Southeast High School. An aspiring music teacher, she said the festival has become a haven for absorbing new musical ideas and techniques from clinicians and fellow musicians alike.
"It's really, really great to be able to work with a guest conductor like Mr. Glocke," she said. " It's really helpful seeing different ways that they teach. It helps me learn what way I can learn better.
"I think we're all learning from each other. Getting to work with everyone has just been amazing. We've been improving greatly."
For Hastings High School french horn player A.J. Marousek, 17, the festival represents his third go-around as an honors musician. He said with each festival comes opportunities to learn new ideas to enhance his overall knowledge of music, ideas he figures to find useful as he continues his education at HC with majors in music education and music performance.
"They (clinicians) are always going to give you different advice, tell you new things about your instrument that you might not know," he said. "The reason I like to come here is because I plan on coming to Hastings College, but also I really like the environment here. Everybody is really positive and likes to be here. It's just a really good honor band to come to."
Playing alongside the state's top high school musicians elevates all participants to a higher performance level, creating a learning environment conducive to advancement, he said.
"It's a lot easier working with musicians who have a lot more knowledge because they know what to listen to," he said. "You just have a better mental connection with everybody around you so you can just make a better sound in general. It's just a great experience."
First-time Hastings High Choir bass singer Jonah Smith, 16, said he appreciates the opportunity to work with high-level vocalists — clinicians and fellow choir members alike — as he strives for personal growth.
"Just being able to sing along with members of the Hastings College Choir already makes us sound better from the beginning," he said. "Also, we get all the different stylistic tips from our clinician. I feel like it's helping a lot."
Though he has no plans to pursue a career in music, Smith nevertheless appreciates getting together with students who share his love of vocal music.
"I love being able to find people that we automatically have something to connect over," he said. "A bond is immediately there."