Around the corner from where Kool-Aid once was produced, another non-alcoholic beverage is increasing production in Hastings.
Ensign Beverage produced nearly 2,000 gallons of kombucha, a fermented tea drink which is low-sugar, gluten-free and non-alcoholic, in 2019.
Owner Jessi Hoeft had a lot of windshield time late last year, traveling to and from Lincoln to participate in the NMotion business accelerator to promote the new company.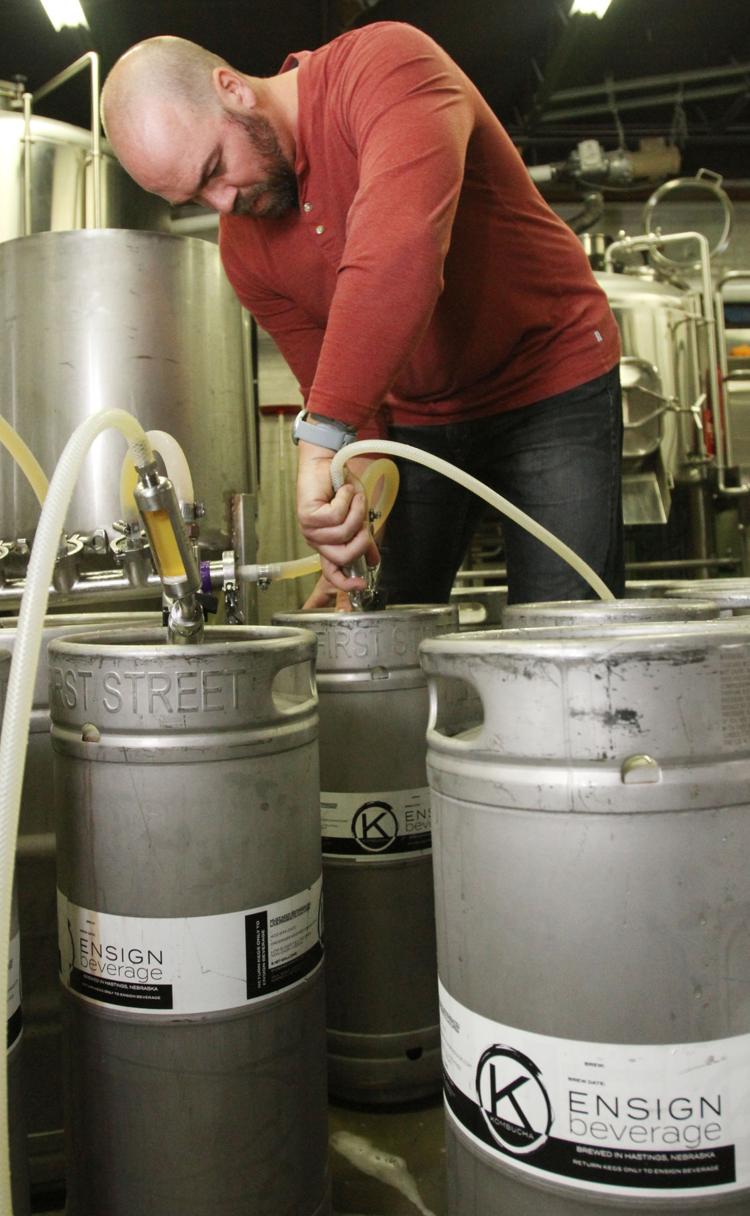 NMotion — a mentor-driven, education-focused, startup accelerator based in Lincoln — ran October through December, every Tuesday through Friday.
"I was in Lincoln a lot," Hoeft said. "I was burning up the roads."
Ensign was one of two beverage companies and five total companies selected for the fall 2019 NMotion cohort.
The cohort concluded with Demo Day on Dec. 18, 2019, at the Nebraska Champions Club. There, the five companies delivered five-minute pitches to an audience of about 200 people including mentors, investors and community members.
Hoeft said participating in NMotion increased awareness about Ensign and kombucha in general.
She received a few more customers and is in talks with large potential customers.
"That made them aware of us and helped in that sense," Hoeft said. "Every day I get emails from somebody now asking questions about it."
Kombucha is produced by fermenting a slightly sweet tea with a symbiotic culture of bacteria and yeast known as a SCOBY.
The fermentation process is said to create healthy components like B vitamins, gut-healthy probiotics, organic acids and antioxidants.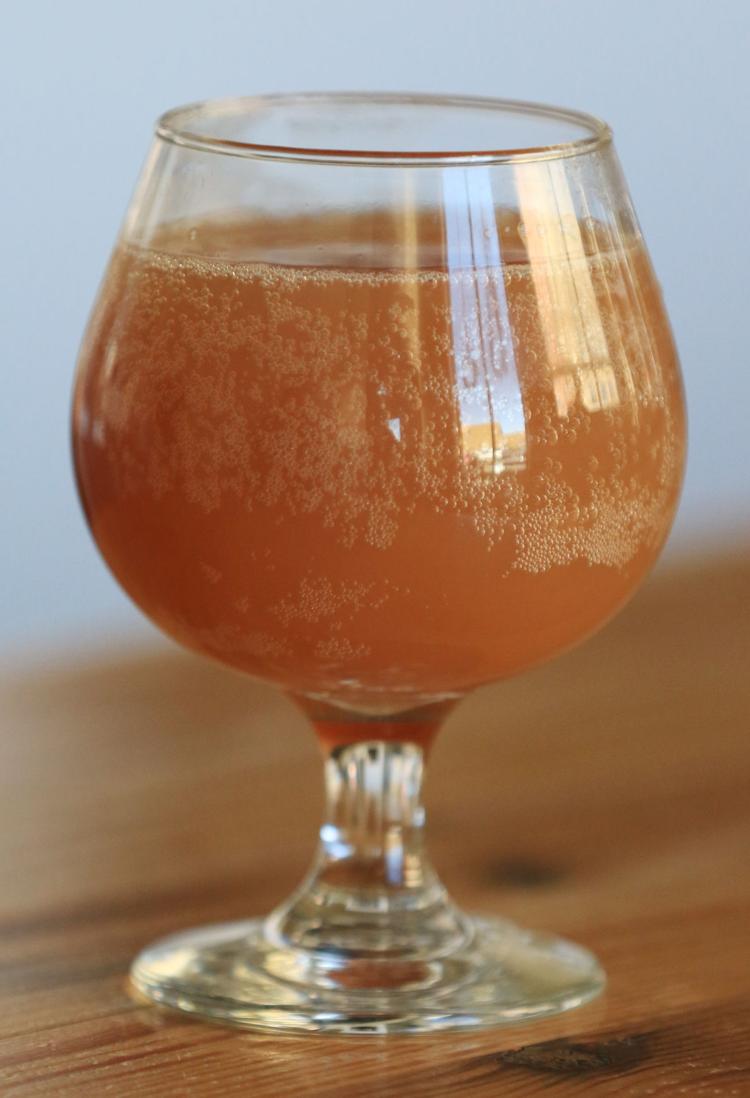 Health benefits kombucha is said to provide include improved energy, lowered cholesterol, improved gut and heart health, detoxified organs, improved skin and a reduction in inflammation.
Hoeft said Ensign is one of two commercial kombucha producers in Nebraska, with FishEye Kombucha of Omaha being the other.
Ensign is the non-alcoholic brand of No Coast Brewing Co., which is also the parent of First Street Brewing Company. Ensign started in January 2018, a little over a year after First Street began brewing beer.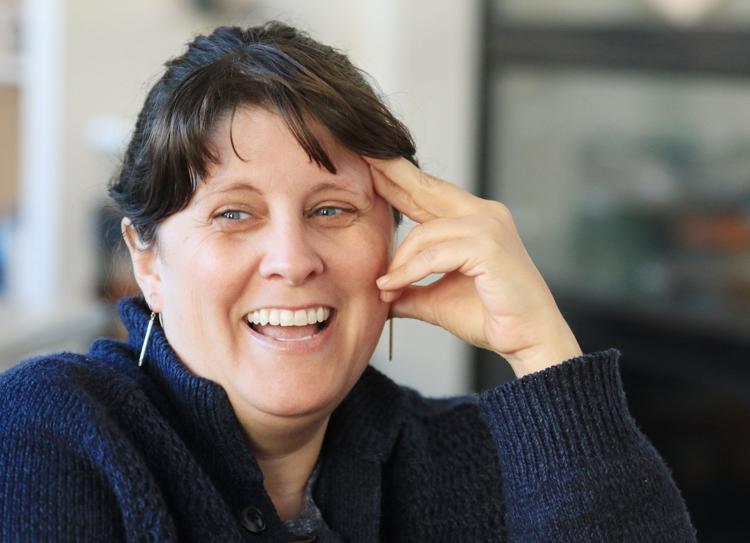 Hoeft runs No Coast Brewing with her husband, Nathan. Nathan brews the kombucha as well as First Street's beer.
While the Hastings company is the first in the state to brew both beer and kombucha at the same location, Hoeft said the combination is common on the coasts and in Colorado.
Brewing the two beverages includes a lot of the same equipment, techniques and distribution knowledge.
Kombucha is popular at the First Street taproom with customers looking for a non-alcoholic beverage.
"We want all ages comfortable drinking the Ensign kombucha and not associating it with First Street beer," Hoeft said.
Kombucha is also popular as a cocktail mixer.
Depending on the season, First Street has kombucha cocktails available with craft whiskeys, vodkas and tequila.
Separate from Ensign, First Street Brewing also launched a Blood Orange Booch hard kombucha on New Year's Eve 2019. The beverage, which is served with an orange wedge, is 4.4 ABV — among the lowest-alcohol contents for First Street beverages.
Hoeft said First Street was the first brewery in the Midwest to produce a hard kombucha.
The company is planning coconut lime and hopped mango favors for the future.
"The flavors will be a little different from Ensign but will still be gluten-free, low-sugar," she said.
Jessi Hoeft brewed her first batch of kombucha in 1995.
As the couple decided to open a brewery in Hastings they saw an opportunity to diversify the company.
Nathan initially didn't like kombucha.
Visits to breweries in North Carolina and Colorado that were producing kombucha as well as beer helped the couple see what was possible.
"I think it clicked for him then," she said. "He's like, 'Why am I not applying some of my brewing knowledge to this beverage to make it better, to not make it vinegary, to not make it so harsh, to make it more palatable?'
"So he did, and that's exactly what we have. We have a really smooth kombucha that's very low in sugar, fresh. It's excellent."
Ensign has eight tested kombucha profiles with a certified organic tea base.
There's two Ensign kombuchas on tap at a time in the First Street taproom at 119 N. St. Joseph Ave.
"Depending on the season or what our customers are asking for, that's what we have on tap," Hoeft said.
The business, which has kombucha on tap in about 20 other locations — in coffee shops as well as bars and restaurants — from Lincoln to McCook, is working to begin canning kombucha, as well.
Ensign once again will have a presence at the two farmers' markets in Hastings, Thursday evenings in downtown and Saturday mornings at Highland Park.
"Hopefully by then we'll have kombucha in cans," Hoeft said.
Ensign belongs to Kombucha Brewers International, an organization with about 300 members from Iceland to Brazil, Uganda, China and all over Europe.
Feb. 21 is World Kombucha Day. To celebrate, Ensign is offering specials at its tap room.