BLUE HILL — Thursday's volleyball match pitted two programs at different stages against each other.
Blue Hill is the reigning Class C-2 state champion after a 32-win campaign in 2018.
Lawrence-Nelson, currently rated in the D-2 top five, hasn't been to a state tournament in three years.
The Bobcats graduated a massive senior class that produced the school's first-ever volleyball championship in three title game appearances. They're obviously younger this season, with just a pair of seniors, but more importantly, they're inexperienced.
Lawrence-Nelson is in a very similar position to where the Bobcats were last fall. The Raiders sport five seniors on the court as well as some youngsters.
While some of the returning Blue Hill players were on that championship roster and even played in the game, the Raiders seem to be the ones potentially headed toward a banner, although many of them have not played on that stage before.
Lawrence-Nelson swept Blue Hill Tuesday night 25-15, 25-11, 25-21.
The Raiders smoked through the first two sets before losing some motivation in the third knowing they had a two-set cushion to fall back on.
"Blue Hill has had an up and down season this year, but I think they're a better team that what their record shows," L-N head coach Jamie Lay said. "We're kind of rival schools so we knew we were going to see a match from them, but in third set especially, I think we kind of thought 'OK we got two sets, we're ready to go (home).' We wanted to celebrate a little too early and stuff, but we still got the job done."
Lawrence-Nelson even skipped out to a 6-1 lead after Blue Hill won the first point in the third set. The Raiders seemed sure to bury the Bobcats.
Blue Hill reached a breaking point, and with Brooklyn Kohmetscher — a starter from last season's championship bunch — serving, the Bobcats rallied for eight consecutive points and a 9-6 lead. Kohmetscher aced the Raiders three times in that span.
"(Brooklyn) kind of saved us, especially since we decided we weren't going to serve aggressively until that third set," Blue Hill head coach Jessica Diehl said.
The team's alternated points until Lawrence-Nelson, which nearly trailed the entire set, combined two straight points — a block by Karigan Drudik and a kill by Hallie Epley — for a 22-20 lead that prompted a Blue Hill timeout.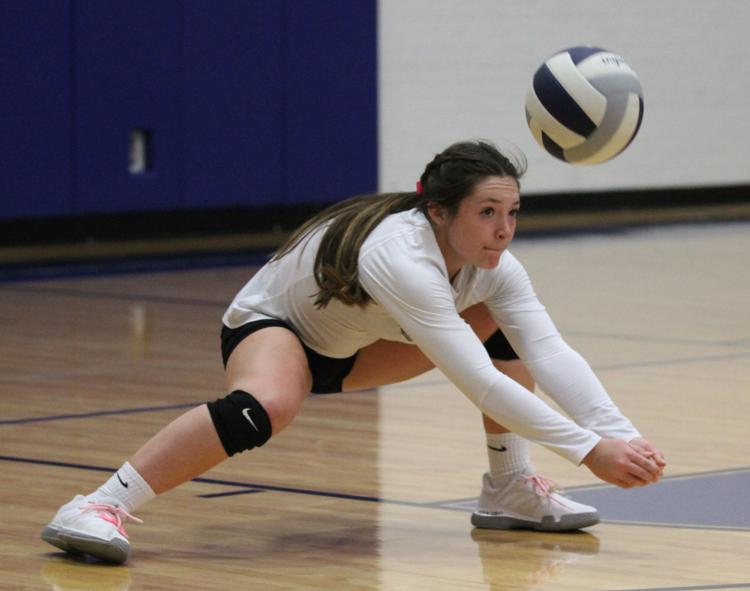 The Raiders committed an error out of the timeout, but finished off the match winning three straight points.
"I felt like our girls just didn't show up until the very last set," Diehl said. "It just wasn't the team I expected to show up."
There is no doubt that Diehl's Bobcat team has improved over the course of its 23 games so far. She said it's just a matter of her players applying what she's trying to teach them.
"I think they've really grown in the volleyball aspect, it's now just how do we apply it?" Diehl said. "That's the frustrating part, is having them take what they are learning and given and applying it in games."
Although Diehl does not feel like it's a chemistry thing.
"I feel like it's more inexperience, and it's kind of creeping up on us now," she said. "It's that now or never phase of the season...We've got to figure it out because in two weeks our season could be done."
Kohmetscher and Madison Menke paced Blue Hill with five kills apiece. Offense was tough to come by against the small-but-mighty Raiders, who stuffed the Bobcats seven times at the net. Five L-N blocks belonged to Drudik, who also led the Raiders with 12 kills.
Even in the third set where the Bobcats were throwing jabs and had the Raiders on their heels, Lay didn't even think about stopping play with a timeout.
"Their maturity level has increased a lot this year. They're at the point where they need to figure it out. What am I going to tell them in a timeout that they don't already know? It just comes down to discipline," Lay said.
Blue Hill had issues covering all of the Raiders' angles of attack. L-N goes to five different hitters across the floor. When the Raiders are in system and get a clean pass off the serve, they have a high percentage of terminating.
Primary setter Taylor Harrington hardly had to move on most of her 18 assists. Her back row found her with a clean pass and she distributed it to one of her many options.
Lay said on film she saw a weakness in the Blue Hill defense that she relayed to her players about using off-speed shots.
"We knew they play deep a lot and they're good at defense, so we knew we were going to have to find the floor when we could," Lay said. "They have a shorter girl up front on a couple rotations, and we knew we could work over top of her or roll the shot in short or tip it. That really worked tonight."
Blue Hill struggled to get a clean in system offensive attack most of the night.
"They're aggressive and they're a good team," Diehl said of Lawrence-Nelson. "We were very flat, and we just couldn't execute. I felt like our serve receive was there and Lawrence-Nelson did a great job serving aggressive. They're a very good serving team. We passed well but we just couldn't get our sets where they needed to go."
Blue Hill (10-13) has a triangular with Deshler and Harvard Thursday before the Twin Valley Conference tournament next week.
The Raiders (21-3) have the experience for a deep run, but a tough road ahead, starting with in-class rival and reigning D-2 champ Bruning-Davenport/Shickley (20-3) Thursday.
"We've really focused on one game at a time. We've had a lot of success. We've only lost to two teams (Superior twice, St. Cecilia once)," Lay said. "We know that our subdistrict is really tough so we try not to look too far in advance.
"We've got a group of five seniors that have been playing regularly for three years now and it's helped us and makes my job a lot easier."
L-N (21-3)............25 25 25
BH (10-13)............15 11 21
Lawrence-Nelson (kills-aces-blocks)
Emma Epley 0-0-0, Elsa Jorgensen 0-1-0, Taylor Harrington 7-0-0, Karigan Drudik 12-1-1/2, Annie McCartney 8-0-1 1/2, Allison Miller 0-0-0, Emily Miller 6-0-0, Hallie Epley 7-0-1/2. Totals: 40-2-7.
Assists — Harrington 18, McCartney 10, E. Epley 6, A. Miller 1.
Blue Hill (kills-aces-blocks)
Brooklyn Kohmetscher 5-3-0, India Mackin 0-0-0, Erica Boyd 2-0-0, Madison Menke 5-0-0, Jasmine Menke 3-0-0, Emma Karr 1-0-0, Abigail Meyer 2-0-1, Kenzie Bunner 0-0-0. Totals: 18-3-1.
Assists — Mackin 10, J. Menke 4, M. Menke 1, Bunner 1.