MINDEN — If you're familiar with the Minden area and southern Kearney County, you may recognize the strong strain of Danish heritage that runs through the community.
The phone book is full of names like Petersen and Nielsen, Madsen and Sorensen, Jacobsen and Jorgensen, Christensen and Hansen and Larsen, among others. Minden once had an annual Danish Days festival, its own troupe of Danish Dancers, and frequent meetings of the Danish Brotherhood lodge. The Paschal Candle holder at the Fredericksburg Lutheran Church south of Minden was donated to the congregation by the Danish royal family.
Because of all this, when you see advertising throughout the region right now for "Hans Christian Andersen" appearing at the Minden Opera House, your first thought may be that Minden is celebrating its own culture. And in a way, that's right.
The larger truth, however, is that Hans Christian Andersen, the son of a humble 19th-century cobbler and an illiterate washerwoman from the Danish city of Odense, belongs to all of humanity — and the story based on his life that will appear on a Minden stage over the next three weekends is relevant to the culture of anyone who grew up in the Western world and was ever a child.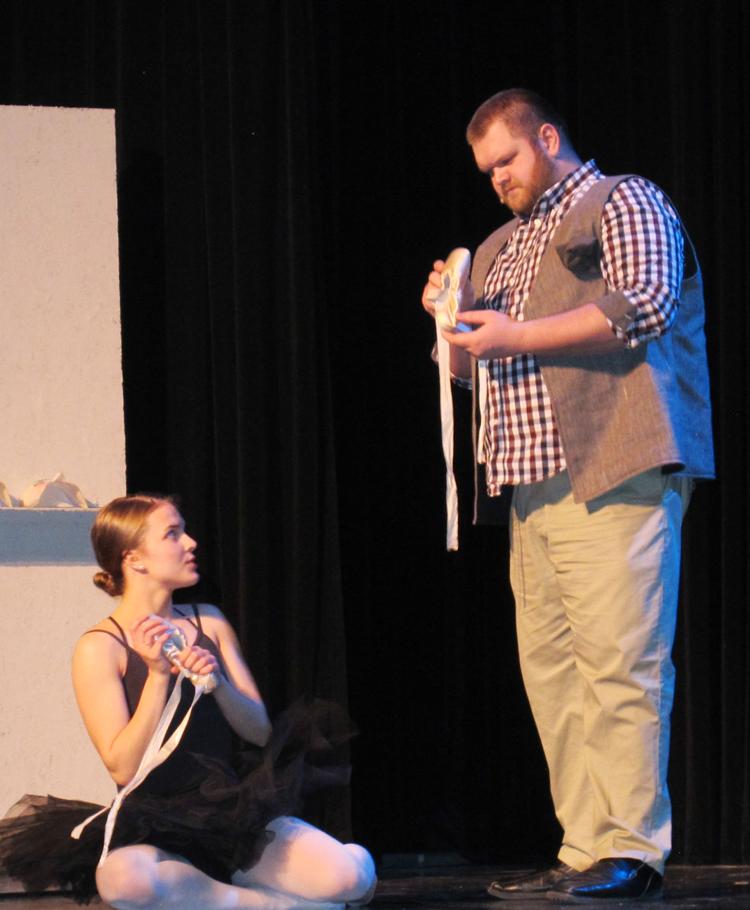 "Hans Christian Andersen: The Musical," featuring a cast of more than 50 actors, opened Friday at the Minden Opera House. Remaining scheduled dates are March 14, 15, 19, 20, 22, 26, 27, 28 and 29. Sunday performances are at 2:30 p.m., while all other shows are at 7:30 p.m. No performance is scheduled for March 21.
As of Friday, the show was expected to continue as scheduled despite the current concerns about COVID-19.
Tickets are available online at https://www.mindenoperahouse.com/.
While Hans Christian Andersen may not be a household name, his fairy tales are eminently recognizable. They include "The Emperor's New Clothes," "The Little Mermaid," "The Princess and the Pea," "The Ugly Duckling," "The Little Match Girl" and "Thumbelina."
In all, he has 3,381 titles to his name, and his works have been translated into more than 125 languages — the second-largest number of languages, it is said, of any literature in the world except for the Bible.
Yet Ken Vyvlecka of Kearney, a veteran cast member and director in Minden Community Players productions, admits he knew little about Andersen before beginning preparations for the musical last fall.
He credits Glen Haselbarth of Minden, another MCP veteran who has been involved for many years in Danish cultural activities in the community, with promoting the "Hans Christian Andersen" script.
Haselbarth is music director for the production.
"Glen's a nice Dane, so he was very anxious to do this play," Vyvlecka said with a smile.
Once the script was selected, he said, he went to work researching Andersen's life, Danish culture and the script itself, with the book by John Fearnley, Beverley Cross and Tommy Steele and music and lyrics by Frank Loesser.
"I started back in September reading and trying to visualize what this could look like in my mind, studying the play and trying to figure out what the writer was trying to convey.
"I go to bed with the play in my mind and wake up with the play in my mind. I think about it nonstop."
The production is based on a 1952 musical motion picture starring Danny Kaye.
The story begins with Andersen (portrayed by Jacob Knudsen), who is presented as a struggling cobbler in Odense, who moves on to Copenhagen after the local schoolmaster complains to the town fathers that Andersen is filling his pupils' minds with nonsense, telling them stories to make their schoolwork more accessible and easier to understand.
In Copenhagen, a series of events leads to Andersen making the acquaintance of Madame Doro (Grace Vyvlecka), a prima ballerina, writing the story of "The Little Mermaid," which eventually is turned into a ballet with Andersen as narrator. In the end, Madame Doro and her husband present Andersen with a special order from the King of Denmark proclaiming him to be "The King of Stories." (For a more complete synopsis, you'll have to see the show.)
Vyvlecka said audiences can expect to see an uplifting show with beautiful singing and dancing, and featuring Knudsen's operatic voice in the role of Andersen.
As director, he said, he has been working hard on technical details such as lightning-fast set changes to keep the action moving.
All his memorable stories aside, Vyvlecka said, Andersen's own story is worth knowing and celebrating — especially in a community with proud Scandinavian heritage like Minden.
"I think of a person who thought of himself as very simple but had a tremendous gift," Vyvlecka said. "The story of the Ugly Duckling is really a story about himself."
For ticket information, contact the box office at 308-832-0588 or mindenoperahouse.com.
For shows on opening weekend, one free youth ticket comes with each paid adult admission. The promotion code is "Mermaid."
The Minden Community Players are a nonprofit organization.
"Our goal is to inspire the youth and have them gain an appreciation for the arts, and theater specifically," Vyvlecka said.