Applications are being taken through Dec. 9 for the Hastings Tribune's annual Goodfellows program, which provides food and toys to area families for the holiday season.
Applicants must select on the application whether to apply for the Goodfellows program or to a similar program offered by The Salvation Army.
The applications are available at the Hastings Tribune, 908 W. Second St.; the Nebraska Department of Health and Human Services office, 300 N. St. Joseph Ave.; and at The Salvation Army, 400 S. Burlington Ave.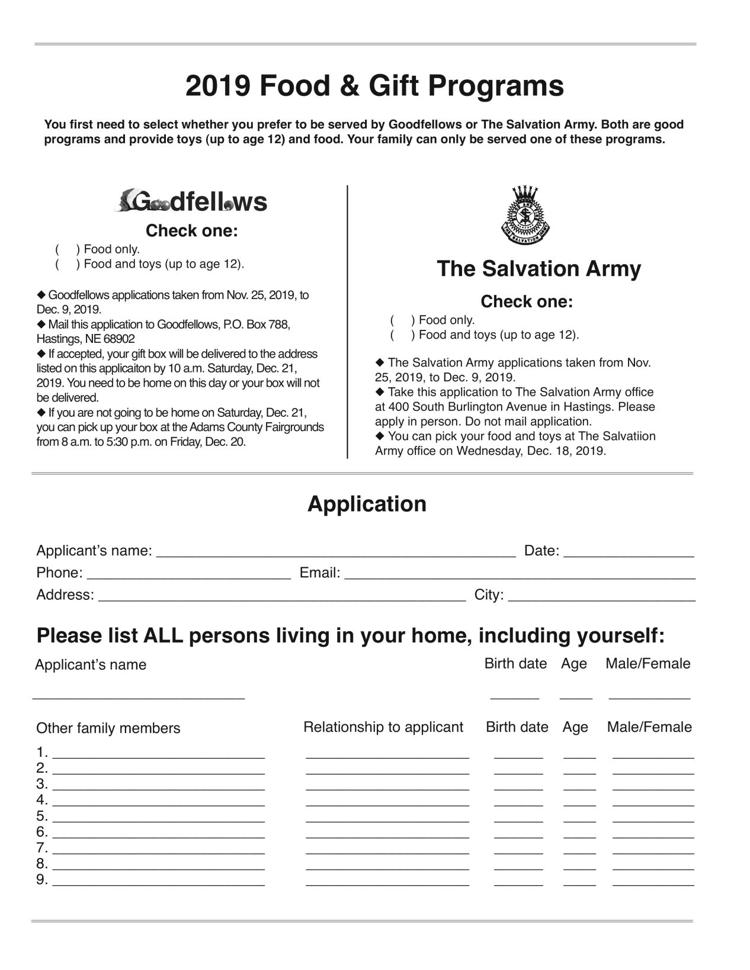 Applicants who choose the Goodfellows program can mail the application to the Hastings Tribune at P.O. Box 788. Applicants who choose The Salvation Army must apply in person. The Salvation Army is taking applications through Dec. 9, as well.
Applicants accepted by the Goodfellows program will have boxes of food and/or toys for children 12 or younger delivered to their homes on Saturday, Dec. 21, by 10 a.m. Recipients must be home to receive delivery. Anyone who may not be home at that time can pick up a box on Friday, Dec. 20, at the Adams County Fairgrounds.
Applicants who are served by The Salvation Army can pick up their food and toys on Dec. 18 at 400 S. Burlington Ave.
The Hastings Tribune began the Goodfellows program in 1926 and it has been a community tradition of goodwill over the Christmas holiday season ever since.