Service members of all eras were honored and remembered for sacrificing to protect America's freedoms during a Veterans Day ceremony Wednesday at the Hastings City Auditorium.
Hosted by the Adams County Veterans Service Office, the annual event unites veterans of all branches of the armed services to recall the past and be thanked by a grateful community.
Master of ceremonies Duane Norris noted the motivation and commitment shown by veterans as they stood in harm's way and took great personal risk in defense of the nation.
"Our veterans didn't get to swear they would protect their family and friends from harm," he said. "The oath they took was to defend the Constitution of the United States of America, to defend the ideas behind it."
The selfless act of being willing to serve something greater than oneself has been crucial to the protection of the nation, and Norris thanked veterans for being willing to do that.
Jeff O'Donnell was the keynote speaker for the service. O'Donnell is a retired Hastings businessman and author of "Starkweather: A Story of Mass Murder on the Great Plains" and nine other books.
He provided a brief history of the holiday.
Veterans Day originally was known as Armistice Day and is observed as a federal holiday in the United States annually on Nov. 11 at 11 a.m. to honor those who have served in the U.S. armed forces.
The date was selected because major hostilities of World War I were formally ended at the 11th hour of the 11th day of the 11th month of 1918, when the armistice with Germany went into effect. Armistice Day was renamed Veterans Day in 1954.
O'Donnell said the holiday is distinct from Memorial Day, which honors those who died while in military service.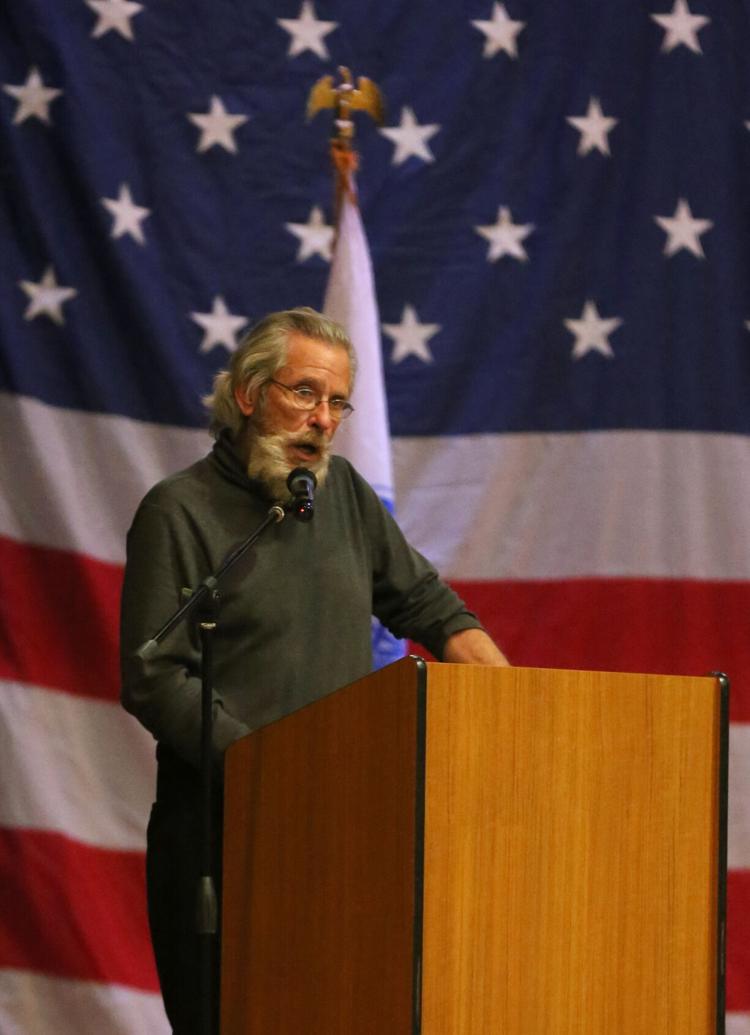 "Veterans Day pays tribute to all veterans who have served, but especially to give thanks to those living among us who served honorably during war or peacetime," he said.
He noted that veterans have spouses, children and other family members, but were willing to sacrifice personal time with them to defend freedom because they feel freedom is worth protecting.
"We can count on our armed services to protect us and our way of live from domestic threats to those outside our country," he said. "We will never tolerate threats to our freedom from the bullies of the world."
The Rev. Harold King, a retired Lutheran minister, provided the invocation and benediction.
The Hastings High School Trumpet Ensemble performed the National Anthem at the beginning of the service. The group also performed a medley of patriotic music that combined music from each branch of service. Veterans in attendance were encouraged to stand when the song related to their service branch played.
Four local veterans — Allen Sedlak, Robert McGovern, Milburn Erickson and Harold Johnson — received Quilts of Valor in recognition of their faithful service to the nation.
Honorary wreaths were provided by several local organizations including: American Legion Auxiliary Unit No. 11, B.P.O. Does No. 112, DAV Auxiliary No. 9, Eagles Auxiliary No. 592, Knights of Columbus Fourth Degree Assembly No. 608, VFW Auxiliary No. 1346, Tehama Shrine Masons Legion of Honor, Fraternal Order of Police Lodge No. 9, and Hastings Fire and Rescue.
Norris explained the POW/MIA table, sharing the meaning behind each item included in the arrangement to honor service members who didn't return home.
Chris Long, Veteran Services Officer for Adams County, said the new directed health measures put in place on Wednesday required some last-minute adjustments to the event.
Although it was challenging to make arrangements for the service during the pandemic, he said, it was important to honor veterans for the holiday, especially after being forced to cancel the ceremony for Memorial Day.
"I thought, 'We need to do this,' " he said. "I think it went great."