With deep division among Americans given the current state of politics, 12 spiritual leaders from area churches gathered Sunday afternoon to pray for the country to turn from its wicked ways and seek peace.
Dozens braved temperatures in the mid-30s to attend a prayer vigil at the field north of the Masonic Center.
The Rev. Stefanie Hayes of Grace United Methodist Church welcomed the crowd.
"Today we come together, not of one mind or one denomination, but striving to be of one heart," she said. "We come together, doing the difficult work of acknowledging brokenness and the necessary work of turning toward love."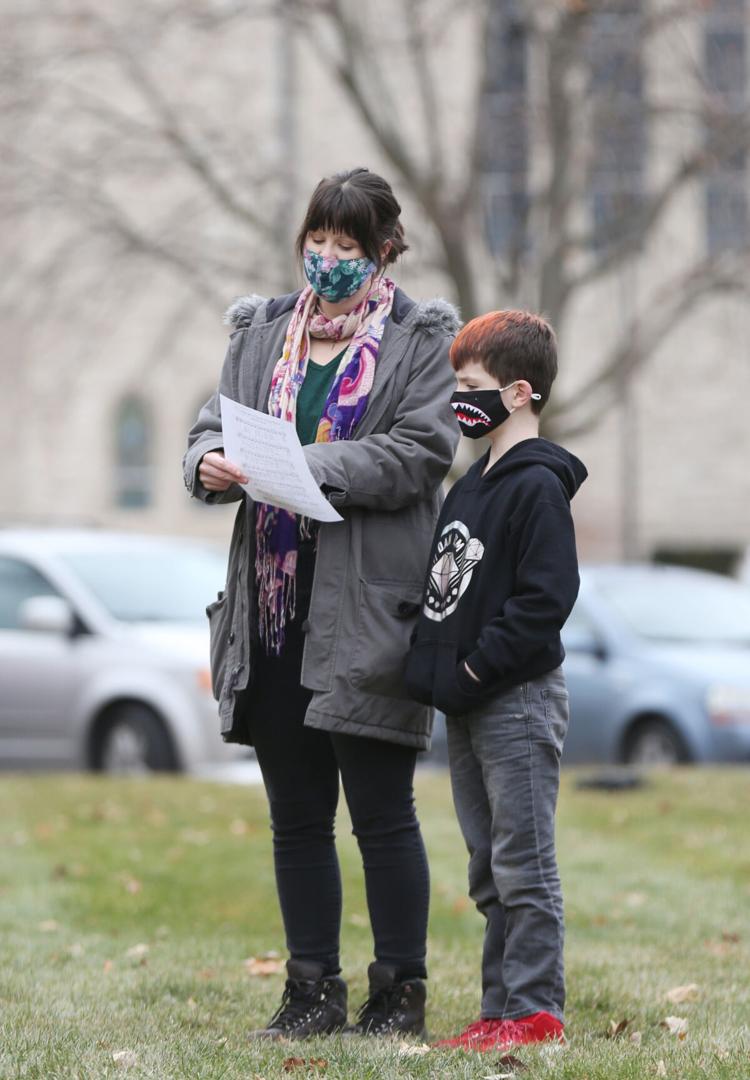 Devoid of political preference, the pastors urged citizens to pray for the United States and its leaders through this turbulent time.
Organizing pastors decided to dust off the Advent wreath for the vigil, said the Rev. Jessica Palys of First Congregational United Church of Christ. Normally during Advent, the candles represent hope, peace, love and joy. The meaning of candles was shifted for Sunday's ceremony to illuminate a journey from confession, to lamentation, through repentance, connecting with hope, and finally arriving at peace.
For each element, another oversized candle representing the Advent wreath was lit to represent bringing more light into the darkness.
Participating pastors included the Revs. Greg Allen-Pickett and Damen Jensen-Heitmann of First Presbyterian Church in Hastings; the Rev. Dustin Bower of First Christian Church; the Rev. Matthew Brooks with Hastings Berean Bible Church; Hayes; the Rev. David Johnson of Harvard United Church of Christ; the Rev. Greg Lindenberger of First United Methodist Church; Chaplain John Mueller with Mary Lanning Healthcare; Palys; the Rev. Joel Remmers with First St. Paul's Lutheran Church; the Rev. Matt Sass with Hastings Evangelical Free Church; the Rev. Andy Springer, chaplain at Good Samaritan Society-Hastings Village; and the Rev. Kathy Uldrich with West Adams County United Methodist Churches.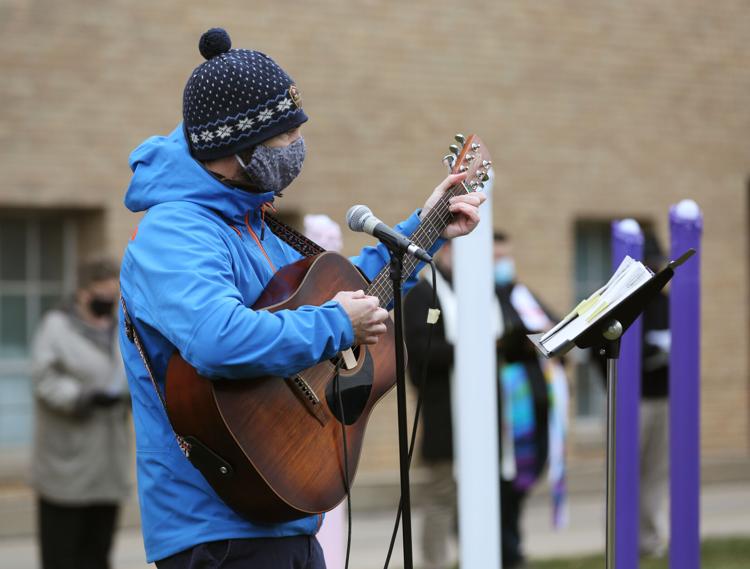 Allen-Pickett, senior pastor at First Presbyterian, acknowledged that our nation has grieved God with sin, both collectively as a country and as individuals.
"Sin has seeped into our systems and structures and into our hearts," he prayed. "From the days of our ancestors until now, this country has been steeped in sin. That sin continues today as some of us have traded truth for lies in pursuit of our own selfish agendas, or in dogged pursuit of power. That sin continues today in the hearts of those who refuse to recognize the image of God in others by enacting policies or engaging in actions that harm our fellow brothers and sisters. That sin continues today in the mouths of those who so wantonly utter falsehoods and bear false witness against others. That sin continues today in those who seek riches and comfort at the expense of the least of these. That sin continues today in those who have made a political party or a politician into a false idol, ignoring Your commandment that we are supposed to worship only You."
He said the people of our country have abandoned the commandments found in the Bible: the call to love God above all else and the call to love our neighbor as ourselves.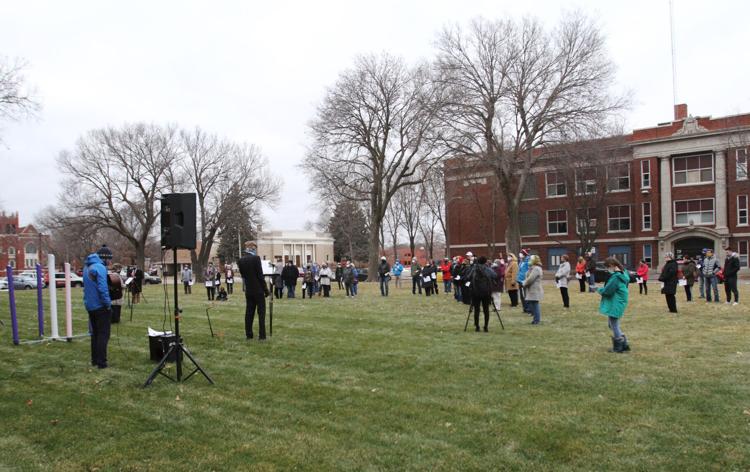 Brooks, of Berean Bible Church, prayed for God to stir a desire within people to know His ways and convict the hearts of all believers so that true repentance can prevail in every person and every worshipping community.
"Give us all the courage to face ourselves and to admit our sins to you and to one another," he prayed. "Strengthen us to let go of anything that blinds us to the truth and holds us captive to sin. Give us the courage to speak prophetically into the public realm. When we see sin at work in our world, endow us with the voice to speak out and to actively work against that sin, as you did with the prophets of old. Rid our nation of corruption and raise up leaders who are wise and who understand your holy ways of compassion, mercy, justice and love."
Bower, of First Christian Church, offered a prayer of repentance to return to truth, love and respect. He asked God to transform people from the inside out.
"We recognize that we are on a destructive path," he prayed. "We are walking in the wrong direction. We have become strangers to the truth, and we lost touch with what makes for a good life."
Springer, who preaches at All Saints Chapel on the Good Samaritan Village campus, said there is hope as prayers are lifted toward changing the heart of the country. Finding a way forward is crucial to ushering back peace to the nation.
"May we be the children of God who do the hard work of peacemaking instead of settling for the more popular and self-protecting ways of peacekeeping," he said. "We resolve to celebrate and find joy in the self-sacrificial and often painful ways of righteousness knowing that the Kingdom of God is worth the abusive criticism we may face at times."
Through that hope of moving forward, said Uldrich with West Adams County United Methodist Churches, peace is on the horizon.
"Whatever is going through your heart, mind and being, know that God is on the move," she said. "The kingdom of God is breaking through."