Detective Allen Sedlak is used to seeing lines of children waiting for their very own balloon animal or sword. He expects that to continue, even after retiring this week from the Hastings Police Department where he worked for 37 years.
Sedlak, 62, often was seen out in the community making balloon creations for children during events like National Night Out.
Sedlak said he began making balloon animals and swords for kids about 15 years ago.
It began as a gag gift that he and his brothers used to give each other for Christmas. One year, Sedlak received a kit with a bag of balloons, an air pump and a book explaining how to make balloon animals and other creations.
Sedlak figured he would give a try and later found himself making extra money as a balloon artist for birthday parties.
The balloons also helped at the police station as Sedlak often worked with children in his professional life.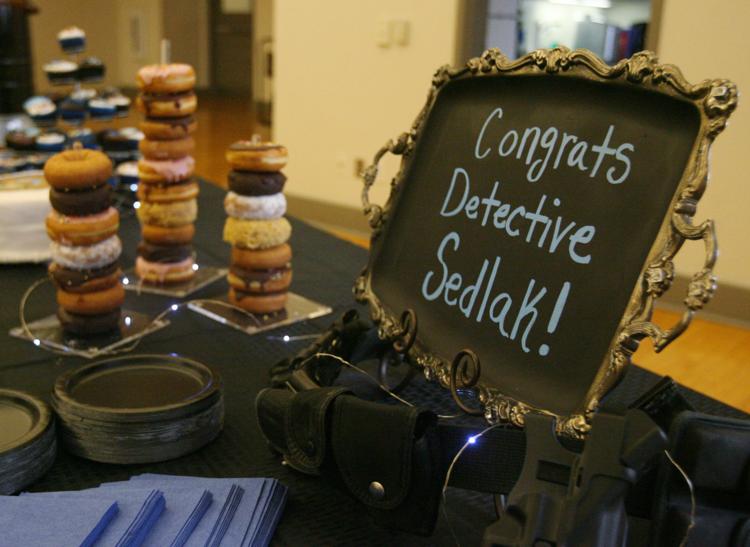 For the last 12 years, he has been a detective specializing in child abuse and sexual assault cases. With a few balloon twists and some imagination, Sedlak could make a nervous child comfortable enough to be able to tell their stories.
He gravitated toward cases involving children and had a knack for putting them at ease, despite the terrible circumstances in some cases.
"In this job, you see the worst and best of people," he said.
It was as a child himself that Sedlak decided he wanted to be involved in law enforcement. His father was a police officer, which made quite the impression when Sedlak was about 6 years old.
"Probably since the first time I saw him come home in a uniform, I wanted to be a cop," he said.
Besides his father, Sedlak has other family in law enforcement. His sister, Sheryl, works for the Nebraska State Patrol. Another sister, Shelly, worked as a corrections officer. His brother, Keith, was a police officer in Seward. His brother-in-law, Darwin Daily, recently retired from the Nebraska State Patrol.
Originally from Seward, Sedlak worked for short periods with the Cass County Sheriff's Office and at the Nebraska State Penitentiary before making his way to Hastings. He said he was looking for a new job and Hastings fit the bill. He liked the city and wanted to move here.
Sedlak started his career in at the Hastings Police Department on April 5, 1982. He served as a patrol officer for 25 years and became a detective 12 years ago.
"I wanted to take on a new responsibility and new challenges," he said.
Sedlak also spent 30 years as a member of the military police in the Nebraska Army National Guard. He was deployed to Kosovo in 2001 and to Iraq in 2003 before retiring in 2006. He thanked the department for allowing him to continue his military service while working at the police department.
"They were supportive," he said. "The guys took care of my family while I was deployed."
Sedlak said there wasn't a particular reason he chose to retire at this time, but he waited until he was able to finish some open cases because he didn't want to leave them for other detectives.
"It felt right," he said. "At some point, you have to let go."
In retirement, he plans to spend time with his wife, Lisa, and their three children, Kristine, Kellsie and Nolan. Kristine and her husband, Tim Flesner, live in Lincoln with Sedlak's grandchildren, Grayson and Nora. Sedlak said he wants to spend more time with them especially.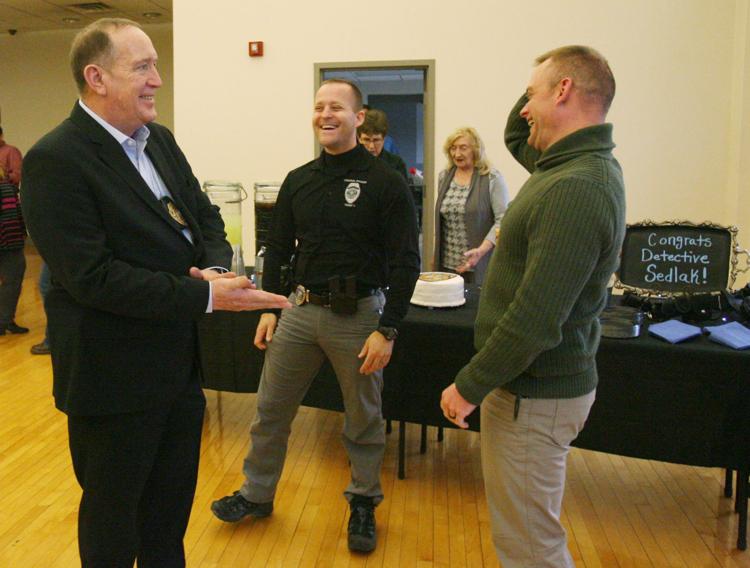 Sedlak said he and his wife also want to travel. After being on call a lot, they didn't get the opportunity to travel much. He also said his career wouldn't have been a success without the support from his mother, Arlene, and mother-in-law, May Ann Homan.
Sgt. Paul Weber started with the department in 1981 and served side-by-side with Sedlak on patrol, then as a detective. Weber now oversees the detective division
He described the cases assigned to Sedlak as some of the most difficult that detectives have to handle.
"It's one of the toughest jobs here," Weber said. "He's done a marvelous job and I really appreciate him."
Weber said Sedlak's expertise and experience will be missed.
"He's a unique guy," Weber said. "He's a lot of fun to work with. I hope the best for him."
Another retired detective, Anthony Scaccia also worked with Sedlak as a detective before he retired in 2013. He described Sedlak as using a subtle approach to handling cases and suspects, as a way to not tip his hand before he was ready.
"He was one of they key people I missed when I left," Scaccia said. "He was fun to work with."
Chief Adam Story said Sedlak always had a good sense of humor, which earned him many friends through the department and community. He said Sedlak had a way of teasing other officers while remaining professional.
"It will be a loss for the organization," he said. "He will be hard to replace. People will miss him."
As for the making of balloon animals, Story said the department has long encouraged officers to participate in community events. Such interactions rejuvenate officers while providing a positive interaction for citizens.
"We're part of the community," Story said. "It's nice to interact with the public. It's fun for the staff to do those things."
That's why Sedlak says he plans to continue attending various community events with his balloon artistry.
"I will miss seeing a lot of smiles on the kids," he said.