With harvest a few weeks in, farmers are feeling the pressure from a late planting and the first freeze of the year.
This year's planting was pushed back in some areas due to a mix of rain, snow and a bomb cyclone in spring and summer. That delay in planting has held up harvest for corn, soybeans and sorghum. According to reports from the U.S. Department of Agriculture's National Ag Statistics Service, the 2019 harvest began about two weeks later than the 2018 harvest.
The USDA's Crop Progress Report for the week ending in Oct. 6 said about 12% of corn is harvested, behind the 22% harvested by the same date in 2018 and 17% on average.
The soybean harvest was extremely behind. About 14% had been harvested, compared to the 35% harvested in 2018 and the 30% average.
Sorghum has had the worst of the crop harvests this year. Only 4% has been harvested, compared with the 22% a year ago and 17% on average.
Part of the slowdown two weeks ago had to do with farmers waiting for plants to mature, then reach lower moisture levels. The longer farmers can wait to harvest, the less they have to spend on artificially drying out crops.
Ron Seymour, Nebraska Extension educator in Adams County, said other pressures, like insects and weather, may encourage farmers to harvest sooner rather than later.
"Farmers don't like to take the crop out unless it's dry enough," Seymour said. "It's a balancing act."
Seymour said one thing farmers have been doing to adapt this year is switching back and forth between soybean and corn harvest. That's because the harsh weather forced farmers to vary planting locations and timing. Normally, Seymour said, farmers will harvest soybeans first.
"With all this variation in planting dates and maturities out there, it's the switching back and forth that's not normal," he said.
Seymour said crop harvest has picked since the previous week's report. As of Friday in Adams County, he estimated around 40% of soybeans had been harvested while there had been little change in corn.
That shows a rapid shift of farmers returning their to soybeans. Harvesting soybeans earlier reduces the risk of shatter and focusing on one crop reduces the time farmers have to spend changing equipment.
Seymour said stalk rot has not been a bigger issue this year than it normally is. Areas that received hail, however, were put at a greater risk because of stalk tissue damage.
As harvest season continues, it is important for farmers and community members to stay safe.
Tractors and other machinery driving on roads is one of the more hazardous risks during harvest season. Seymour recommends drivers be patient and give farmers room if they encounter any machinery on the roads.
"They're big, and they move slow. It's the only thing the farmer can do," Seymour said. "That's their livelihood. It's fueling our economy in our rural areas, so we need to be happy that they're out there getting the harvest in."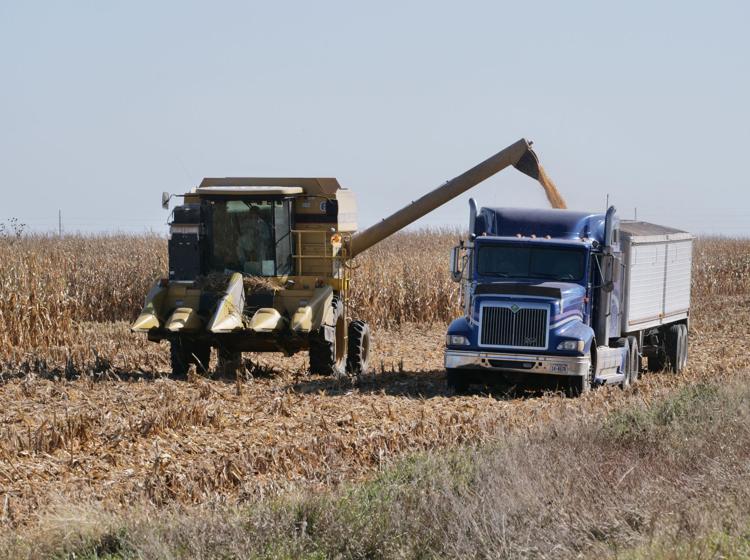 The ag sector is one of the most hazardous industries in America, according to the Center for Disease Control and Prevention. Transportation incidents are the leading cause of death. In 2016, there were 417 fatalities caused by work-related industries.
Farmers should exercise caution when around equipment, approaching from the front and making eye contact with the operator from a safe distance. People entering or exiting a vehicle make sure harvest equipment is stopped and fully disengaged before climbing onto a vehicle.
Fire also is a risk during harvest. Farmers should carry at least one, up-to-date fire extinguisher on their vehicles. Vehicle should be clean from dust and buildup, as overheated equipment can ignite debris.
The CDC also notes that families of farmers are at an above average risk for fatal and nonfatal injuries. Children should know not be allowed to play near equipment or grain bins.
Seymour also encourages farmers to look forward at the next year and consider weed control. Noxious weeds like horseweed and musk thistle are more easily treated in the fall. Herbicides can be more effective if applied before mid-November, he said.
Farmers also can use cover crops as an alternative for weed control. Cover crops also help reduce soil erosion and help with soil fertility.
"We're finding it's worth the extra expense, particularly if farmers can rent those fields out for pasture," Seymour said.
As of Oct. 1, NASS predicted the corn harvest this year will be a record 18.1 billion bushels, up by 1% from last years production. Yield per acre is estimated at 186 bushels, down by six bushels from last year. Despite the decreased yield, the record production comes from a 5% increase in acres to be harvested.
Soybean production is expected to go down this year by 15%, with 277 million bushels produced. Yield per acre is down by two bushels per acre, sitting at 56.
Sorghum is also down by 19% with 13 million bushels. Forecasted yield is 93 bushels per acre, down by one from last year.