As you read this story, 18-year-old Nick Herringer may be lying on a table with his head completely immobilized as he goes through radiation treatment for brain cancer.
This is the 55th time in his short life that Nick has been on that table in Omaha fighting a cancer that is working against him.
Nick has grade 4 glioblastoma, an aggressive form of brain cancer has been affecting his life in almost every way for 3 1/2 years. Yet on Sunday, Nick will join his classmates as they graduate from Hastings High School.
"To hear the words 'your son is not going to survive' and now he's graduating high school, we know we still have a very hard road ahead of us, we know that," said Nick's mom, Tammy. "There's no question in our mind, but we are here and we are taking every single day as a gift. Graduation is something we didn't think we would get to. When we were doing senior pictures that was a very emotional day because we didn't know if we were going to do that, and now we've made it to graduation."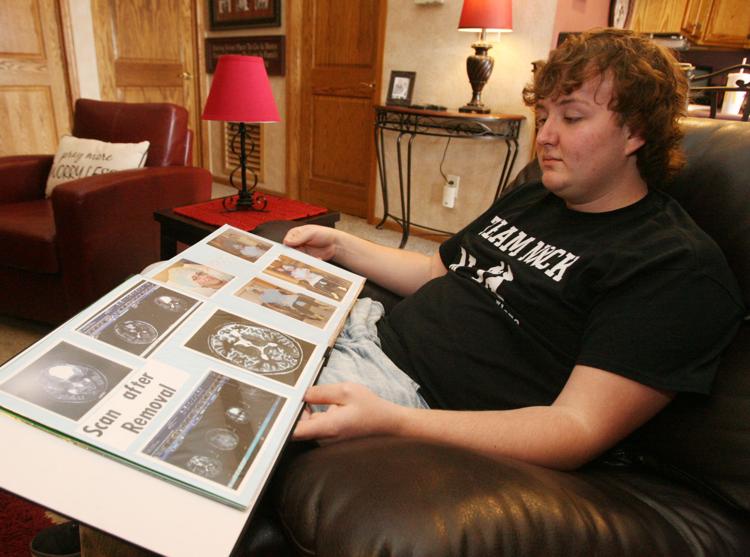 May is a special month for the Herringers for several reasons as Nick finishes his second stint of radiation treatments and graduates from high school. It's bittersweet for the family, too, as they work to educate others during National Brain Tumor Awareness Month.
How it all started
Nick's life and that of his family changed forever in January 2015.
It started after he woke up one morning with a headache, one so bad he asked his mom if he could stay home from school.
"I said, 'We don't stay home for headaches. Take two Tylenol and let's go," Tammy said.
This happened a couple times in the next few weeks as Nick continued to complain about headaches. In several trips to the doctor's office, Nick was diagnosed with migraine headaches and sent home with steroids to ease the pain even as his vision was affected.
"It felt like a spike was being driven into my head," Nick said.
A few weeks into the headaches, Nick and his father, Jay, both came down with the flu. Jay got better within a few days. Nick did not. He was throwing up all the time, and the pain in his head was to the point he couldn't be around light and had to wear sunglasses all the time.
One Saturday morning, Nick was still recovering from the flu and dealing with head pain. He was to the point where he couldn't stop throwing up everything including the steroid pills that were supposed to be helping his head.
So the family took Nick into Convenient Care where the medical staff ran every test they could and all the tests came back negative.
Nick was sent to the hospital for bloodwork, and then the family went home.
"Jay and I were sitting here on the couch. We were just panicked," Tammy said. "We didn't feel comfortable at home with him getting worse."
So as soon as their teenage daughter Makenna got home, the family loaded Nick back into the vehicle and drove through a blizzard from their home five miles north of Hastings into the hospital.
"The doctor came in and went over the history. He said, 'I really think it's migraines, but I want to do a scan to rule anything out,'" Tammy said.
When the doctor finally returned, he told the Herringers that Nick has a mass on his brain.
"Dr. (John) Beck took me into a room to show me the scan," Tammy said. "The words he used were, 'It's a mass on his brain the size of an orange on the left frontal lobe' and that was shifting his brain from the left to the right which was causing all that pressure."
So in spite of the blizzard raging outside, Nick and his mother were loaded into an ambulance headed for Omaha with Jay and Makenna in a vehicle following them down Interstate 80.
After almost crashing on the interstate, the family finally made it to the University of Nebraska Medical Center where Nick was diagnosed with a pilocytic astrocytoma tumor. The tumor itself was the size of a nugget with a large cyst and cyst liquid surrounding it.
So on Feb. 2, 2015, Jay and Tammy said their good-byes and watched as their son was wheeled away for brain surgery.
"They said, 'This is the point where we need you guys to tell him 'bye.' We started crying again," Tammy said, as she cried remembering that time. "It was hard to walk out of that room where they wheeled him off."
The couple sat in the waiting room watching a monitor that kept them updated on Nick's surgery as nurses came in to give verbal updates, as well.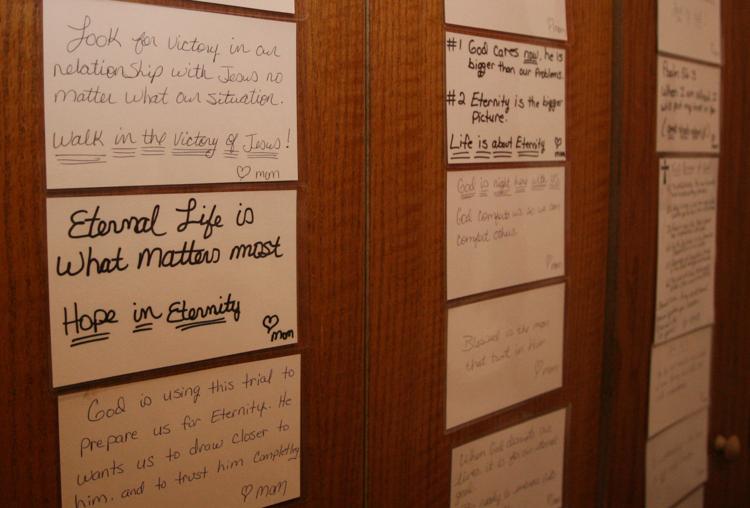 "Dr. (Ken) Follett comes out and takes us to a room and says, 'OK, so when we got in there it looked a little more aggressive than we originally thought we were going to find, but surgery went well," Tammy said. "He said, 'We're going to have to wait and see what pathology results come back to show.' Never, I never thought brain cancer even when he said it looked more aggressive. I'd never heard of brain cancer before this."
Tammy said all she remembered thinking at that point was that her son had survived the surgery and he was stable and that the family would go on.
"I never thought cancer. I never thought future treatment," she said. "I never even put that together."
Four days after the surgery, the Herringers returned home to Hastings to await the results of the pathology reports on the tumor.
The call from Dr. Follett came one day while Tammy was on her way home from work. He told her to go home and await his call. He didn't want to talk to her while she was driving.
"He calls and says pathology reports came back that Nicholas has grade 4 glioblastoma," Tammy said. "At this point I'm like, 'OK.' I'm still, like, questioning it. He said, 'This is a very aggressive type of brain cancer,' and I was just in shock."
Through all of this, Tammy said, she was trying to listen to and process what she was hearing while writing down notes as her family stood around her trying to listen in.
"I get off the phone and I have to relay this all to these guys. They're listening as I'm writing stuff down, too, but it was still hard to have to tell them," Tammy said, crying again.
Within a week, the family had scheduled radiation appointments five days a week for the next six weeks in Omaha. That meant the family would be divided with Nick, Jay and Tammy living five days a week in Omaha while Makenna stayed home to finish her senior year of high school.
The week after Makenna graduated, Nick started chemotherapy treatments that he would receive every other week for the next 12 months.
In May 2016, Nick was deemed to be cancer-free and was sent home with the order to do regular scans to monitor for regrowth.
Faith in God
Just before the start of a new school year in August 2016, Nick again returned to Omaha for a brain scan to again be cleared.
Then in October, Nick was in a car accident and two weeks later the latest scan showed a spot or enhancement.
"Our doctor said, 'I really think this is a reoccurrence. I want to send this scan to have a couple other doctors look at this and confirm this,'" Tammy said.
Nick's scans were sent to Colorado Children's Hospital, Cincinnati Children's Hospital, St. Jude Children's Research Hospital and UNMC, and they all agreed it looked like cancer regrowth.
Tammy said they decided to go forward with a second craniotomy to remove the lump and guarantee it was cancer. But she had this nagging feeling it wasn't cancer.
"He was doing wonderful," she said of Nick. "He was not having any issues. Something in my gut told me I questioned it all along."
That surgery was done on Dec. 12, 2016, and the impact to Nick's body was traumatizing for the entire family.
Within 24 hours of surgery, Nick began vomiting and was sick for days. He was confused and unable to answer simple questions. He later had a seizure, and his personality was affected, as well.
"Nick's the kind of kid who's always whistling, laughing or singing," Tammy said. "You hear him in the shower or in his room. He's constantly laughing. But we got him home and for a good two months, he was a different person. It was almost like he was depressed. He would just sit there. He would talk to us, but he didn't seem the same person."
"I barely even remember those two months," Nick said.
It was maybe two months later when Nick's brain finally began to heal from the trauma and his personality finally returned.
"We were out here and Nick's taking a shower and we heard him whistling and Jay said, 'Nick's back,' and here he is," Tammy said with tears in her eyes. "We were just thrilled when he came around all of a sudden. Now all we ever hear is whistling and singing."
As for that mass on Nick's brain, a mother's intuition was right.
The call came in just a few days before Christmas. Nick's oncologist said the mass was all necrosis or scar tissue from the radiation.
"And some people said, 'Well, you didn't need the surgery,' but he did because there was too much scar tissue," Tammy said. "The scar tissue grows into healthy brain issue and causes pressure on your brain. It had to be removed for his sake no matter pathology results."
The next round
The scans were clear again for months until October 2017 when the scan again showed an enhancement. Nick's oncologist believed this time that it really was cancer.
So the family started looking at clinical trials as an option for Nick's treatment.
The family ended up at Colorado Children's Hospital where Nick was put on a trial for Keytruda, a humanized antibody used to block the protective mechanism of cancer cells. The idea is that it then allows the immune system to destroy the cancer cells.
The drug was administered through a port and the family had to visit Colorado every 21 days for treatments. After five rounds, the scan showed that Nick's tumor was still growing so he was taken out of that trial.
So in February 2018, the family was back at square one trying to find a treatment for Nick's still growing cancer.
One option was a clinical trial at Duke University in North Carolina where the polio virus was put into brain tumors to stop the tumor from growing.
For Tammy, her first concern was the timing of the trial and if Nick would be able to make it home in mid-May to walk at his high school graduation. So she called and asked.
"She says to me, 'Yes, we could have him home to walk with his class, but I can't guarantee after doing this he would be able to walk.' And I said, 'What?' " Tammy said.
According to the administrator, part of the goal of the trial is to cause an inflammatory response in the brain. Within eight weeks of administering the virus, swelling in the brain can cause major neurological issues with everything from mobility to speech, eyesight and memory.
When asked if these changes would be permanent, the woman's response was "hopefully not."
That didn't sit well with Tammy who couldn't imagine her son losing his ability to speak since his tumor is very close to the part of the brain controlling speech.
The doctor in Colorado was pushing for Tammy to go through with the Duke clinical trial, and that doctor kept calling, as well.
"I asked Dr. (David) Ashley, 'What would you do?' and she said, 'If you are willing to risk injury to Nick I would do the clinical trial.' I said, 'I'm not willing to risk injury to Nick but when you look at it everywhere I turn I'm risking injury to Nick. Whether I do surgery, whether I do your clinical trial, whether I do nothing, every option I have is risking injury to Nick."
In the end, Tammy agreed to move forward with surgery, the option Nick had wanted since before the Colorado clinical trial.
"Basically I wanted to get the pain out of my head," he said. "With the first two I wasn't getting dizzy that much so I thought maybe this was even worse this time. I just wanted it over."
So with the blessing of several doctors who all agreed it should be removed, Nick had his third craniotomy on March 8 ,and 46 hours after the surgery, Nick was headed home.
"We felt very comfortable with the decision we made going ahead with surgery and everything fell into place like it was God's plan," Tammy said. "And look at him now."
The family was hopeful that this mass would be scar tissue, as was the case with the second surgery. Unfortunately, the pathology report this time shows that it was again a grade 4 glioblastoma.
The good news was that during the surgery, the surgeon had done biopsies in eight places around the surgical site and all of those came back clean.
So as of May 11, Nick is finishing his 25th day of radiation for this round of treatment. He plans to walk in his high school graduation Sunday and finish his final week of radiation the next week.
A unique treatment
Once the radiation has been finished, new scans will be taken and if they come back clean, Nick is set to use some space age-looking technology in an effort to keep the cancer at bay.
This technology is called an Optune cap and is four sticky pads with electrodes connected to a battery pack that Nick will wear on his head 18 of 24 hours every day.
The idea is that the electrodes send out low-intensity electric fields to the tumor, which interfere with the cancer cell division and in theory slow or stop the cancer cell division and growth process.
The Herringers originally discussed the Optune cap last fall after the new growth was originally seen on scans.
"That was going to be my last option," Nick said.
Then while in Colorado preparing to start that clinical trial, the family happened to meet a man in IKEA who was wearing the cap and had for 18 months as it kept his brain cancer at bay.
"That was basically God telling me this is what I needed to do," Nick said.
Nick will have to shave all of his long curly brown locks and do that every three days to keep a clean head for the pads that will stick to his head.
He can't be in heat too long with the battery pack, has to replace the pads if his head would get sweaty and will be required to charge his battery pack daily.
"You sleep with it on," Nick said. "You wear it basically everywhere."
The family knows though that this isn't a sure solution. They have met two other brain cancer patients who only wore the cap for a few months each before scans showed cancer regrowth. Those patients are now looking at other options.
Unfortunately, Tammy said, there aren't many options out there of new or different treatments for brain cancer.
"There's just not a whole lot of improvement or variety for brain cancer treatments," she said. "We've seen people with major success (with the cap) and not, but it's a risk we're willing to take. There aren't a lot of options. There's no cure, and it has a high reoccurrence."
Even with those odds and the stares Nick will endure wearing this cap, Tammy said, she's always been amazed with her son's perseverance through it all.
"He's handling this the way he's handled the whole thing," she said. "He's never once complained. He's never once cried. He's never once said, 'Why me?' I don't know how he does it. He makes us stronger, but it's going to be a huge adjustment to go into this Optune cap."
Nick plans to walk across the stage with his classmates at graduation after completing much of his high school work sitting in hospital rooms and traveling back and forth to Omaha and Colorado.
Tammy and Nick had nothing but praise for the teachers and administrators at Hastings High who made adjustments and accommodations to help Nick complete his work in time to graduate with his classmates.
"It's amazing how far they have come just to help me," Nick said. "It's crazy. They worked with me."
With his future so up in the air, Nick plans to stay in Hastings and forgo his past dream of attending the University of Nebraska-Lincoln. He has enrolled in Central Community College-Hastings and plans to take classes in the drafting and design program starting this fall.
"There's a lot of unknowns with this diagnosis," Tammy said. "You just take it one day at a time, and you trust God. That's has helped me. He's just trusting God."
Nick has his mantra that this is a win/win situation. He said if he beats the cancer, he wins. If cancer beats him and he goes to heaven to meet his maker, he wins.
"I'll be cancer-free one day, no matter if it's here or in heaven," Nick said.