Kraig Lofquist accomplished a goal recently that sent him running around the world.
He completed the Australian Outback Marathon on July 27, which marked the seventh continent on which he'd run a marathon.
When the 55-year-old former Educational Service Unit No. 9 administrator thinks about the accomplishment, it's not the actual marathons that stand out.
"It's the unbelievable people I meet," he said. "I've had the opportunity to meet some of the most incredible people and make lifelong friends."
For instance, he met a 77-year-old man who worked as a surgeon and was part of the medical team that took care of President Ronald Reagan after he was shot. The man also wrote 20 books.
"The people the I've met have just been fascinating, and I'm proud to call them my friends," he said.
Before Lofquist began seeking out marathons on other continents, he'd run the Boston Marathon five times: 2001, 2002, 2003, 2004 and 2009.
"The fifth time I thought, 'I've done this. What else can I do?' " he said. "I stumbled across this seven continents club. I thought 'I'm going to try to run the continents.' "
His first international marathon was the site of the original marathon, in Athens, Greece, in November 2014.
"You basically run in the footsteps of Pheidippides." Lofquist said.
Pheidippides is said to have run from Marathon to Athens to deliver news of a military victory against the Persians at the Battle of Marathon. He then collapsed and died.
On that same trip, Lofquist went to Istanbul, Turkey, the next week, where he ran his Asian marathon.
"All of a sudden I had three of them," he said.
His next international marathon was Rio de Janeiro in Brazil, allowing him to scratch South America off his list.
Around the same time Lofquist began running international marathons, he also began looking into how he could run a marathon on Antarctica.
"I signed up for that right away in 2014," he said. "I had to put a deposit down, and then I kind of forgot about it."
There was a three-year waiting list.
According to the race website, right now it is sold out through 2021 and organizers currently are accepting booking forms for 2022 and 2023.
Even though he was scheduled to run Antarctica in 2017, Lofquist received a call from organizers of that race in 2015 that there was a vacancy. He couldn't go.
He received the same call in 2016 and again could not go.
"Then the next year they called and said 'OK, your number's up. Are you going? I said 'yep,' and so I went in 2017," he said. "That was a fantastic trip."
The trip began with three nights in Buenos Aires, the capital of Argentina, where Antarctica Marathon participants meet and participate in training runs.
The runners then fly to Ushuaia, on the southern tip of Argentina.
From there, they sail over the course of several days, aboard a Russian ice-breaking ship, through the Beagle Channel across the Drake Passage, through the Shetland Islands and along the Antarctic Peninsula until reaching King George's Island — the location of the Marathon and Half-Marathon.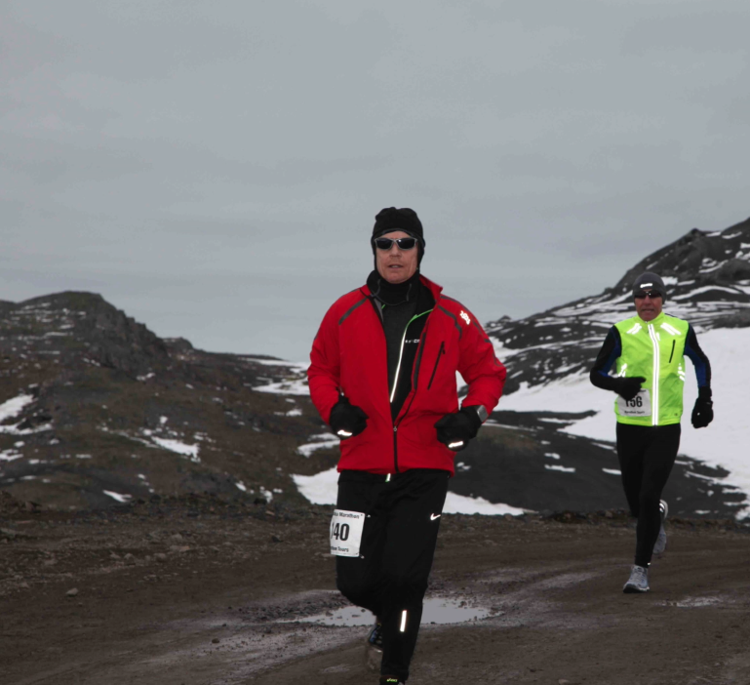 That race occurs each year in February or March.
When Lofquist ran Antarctica, the area where the race occurred was just coming off record heat. He said it was actually 33 degrees Fahrenheit at the start of the race.
It snowed twice during his race.
"The one thing they talked to you about and told you about was hypothermia," he said. "So you had layers on."
Runners were told to wear eye protection from the wind and given a lot of specific instruction about to dress.
"Down to the underwear they told you what to wear," Lofquist said.
Even though the temperature while running in Antarctica was similar to running in Hastings during the winter, Lofquist said the terrain was quite different.
"I can tell you, the hills were intense," he said.
There was a pretty significant wind chill, too.
He finished that race in four hours and 41 minutes, which was more than an hour longer longer than his average marathon time then.
"That was the most difficult one as far as getting there and the cost," he said. "That's why people were dropping. That one keeps people from being members of the seven continent club."
When he was in Australia, Loftquist met a woman who had run all seven continents but Antarctica was so difficult she turned around at the half marathon point.
"She said 'I have unfinished business there. I'm going to have to go back to try to finish it,' " he said.
The course is a figure eight, coming into the start and finish line about every four miles. The runners' water bottles are all kept in one location.
A race organizer drove an all-terrain vehicle, monitoring the course and checking on runners.
As with all of the international marathons Lofquist has run in remote areas, organizers of the Antarctica Marathon were fastidious in making sure the race left as small of a footprint on the area as possible.
Runners were issued boots to wear on land, but they had to scrub the boots with cleaning agent and brushes before getting on and off the boat.
Antarctica was a hard marathon, but not the hardest. Of the 44 marathons Lofquist has run, that designation belongs to the Big Five Marathon at a big-game preserve in South Africa.
"That was an amazing experience," he said. "That was the hardest marathon I've ever done. There was deep sand. I've never run up the side of a mountain."
During the race, participants had to climb about 1,600 feet in less than two miles, running on sand, concrete and dirt roads.
The Australian Outback Marathon was a trail marathon in the vicinity of Uluru, known as Ayers Rock, where Lofquist said he could "feel the silence" while running because it was such a remote area.
While there he was able to climb Uluru the day before the race.
"You don't typically do things like that before you run, but it's a once-in-a-lifetime thing," he said. "My legs were kind of tired for the marathon, but I just couldn't pass that up."
Now that he has completed marathons on all seven continents, Lofquist is working to run a marathon in all 50 states.
"My wife is really thrilled about going to Hawaii," he said.
Lofquist now is executive director of the Educational Service Unit Coordinating Council, having started that job July 1. He lives in the Omaha area.
"I can honestly tell you moving away (from Hastings) has been bittersweet," he said. "I think about it every day. The people in Hastings are fantastic. Me and my family, we miss that."
He especially loved the Hastings Family YMCA.
"They have a good thing going there," he said. "My kids went to preschool there. I really liked the camaraderie and what Troy (Stickels, Hastings Family YMCA CEO) and the gang do there."