Hastings soon will see a temporary mask policy in effect, requiring face masks indoors when maintaining 6 feet of separation isn't possible.
After nearly 90 minutes of public comment and nearly 30 minutes of discussion among themselves, members of Hastings City Council voted 8-0 to approve Ordinance No. 4650, which puts in place a mask policy for the city beginning in three days and ending Feb. 23, 2021.
The half-dozen Hastings Police Department staff members present in and around the City Building helped ensure an efficient public comment process as speakers, many of whom participated in a peaceful protest on Third Street outside the City Building, filed in and filled the 10 seats inside the council chambers when available.
The ordinance states everyone 5 years of age and older will be required to wear a face mask covering their mouth and nose while indoors in premises open to the general public.
Among exemptions is anyone: seated at a bar or restaurant while eating or drinking; engaged in an occupation preventing the wearing of a face covering; obtaining a service or purchasing goods or services that requires the temporary removal of a face covering; removing a face covering to verify an identity; providing a speech to an audience as long as the audience is at least 6 feet away; or having medical conditions preventing the wearing of masks.
Individuals who are alone in an office, officiating at a religious service, exercising in an indoor facility where the level of exertion makes it difficult to wear a mask, or communicating with other individuals who have a disability making communication difficult also are among those exempted.
Many of the 15 people speaking in favor of the mask policy were clergy members or medical professionals.
There were 18 people who spoke against implementing the policy, citing personal freedoms and asking that the public be given the right to choose whether to wear a mask.
Council members also received dozens of letters from individuals and organizations on both sides of the issue.
Among the letters in support of the policy was one signed by 50 Mary Lanning medical personnel.
The Rev. Greg Allen-Pickett, pastor at First Presbyterian Church, spoke in favor of the mask policy. He said there is a biblical call to care for the vulnerable.
He also quoted Galatians 5, "For you were called to freedom, brothers and sisters; only do not use your freedom as an opportunity for self indulgence, but through love become slaves to one another. For the whole law is summed up in a single commandment, 'you shall love your neighbor as yourself.' "
Jeremy Thiel of Hastings spoke against the mask policy.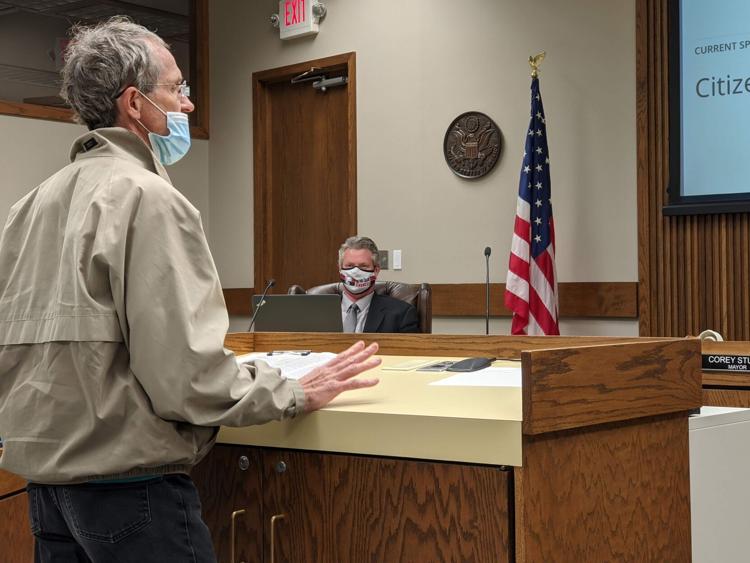 He said there's no evidence showing the council has the right to force people to wear masks or that masks help. He said there is no factual evidence to support the entire population wearing masks.
He went to a pumpkin patch with his family in October as part of a school-organized trip that parents could attend.
His daughter shared a train barrel-box car with a classmate who tested positive for the novel coronavirus disease, COVID-19, the next day.
"My daughter was in direct contact with that student at school and on that entire ride and on the bus ride to go out and everything else," he said. "There was no symptoms or anything from this child at all. After all this was done we didn't take any extra precautions. We didn't do anything else whatsoever, which basically we have done this entire time because it's just another illness. The media is making it way bigger than it actually is."
He said he also has visited his 87-year-old grandmother without wearing a mask without issue.
Brandon White of Hastings also spoke against the mask policy. He said based on arguments for wearing masks, "masks work doctrine" can't be falsified.
If cases go down it proves masks work, but if cases go up it proves they are needed even more, White said, interpreting the argument for wearing masks.
"Nothing could be considered evidence against (wearing) masks, and that should tell you something," he said.
Michele Bever, executive director of the South Heartland District Health Department, cited a study conducted by the University of Kansas Institute for Policy and Social Research that evaluated the effectiveness of mask policies in Kansas counties, finding counties with mask policies began seeing a decrease in cases about 14 days after the policy went into effect.
An oscillation of increases and decreases followed, but overall those communities maintained about 20 average new daily cases per 100,000 population.
By comparison, counties that didn't have universal mask policies continued with a steady increase in cases and had nearly twice as many average new daily cases per 100,000 than counties with mask policies.
Francis Kuhlman of Hastings later disputed that study.
"The Kansas study is flawed because it does not take into account testing," he said. "That's why you see that divergence on the map. You factor in testing you'll discover why rates go up in those states that do not wear masks."
Bever said for the week ending Oct. 3, Adams County averaged 12 new cases daily.
Just one month later, for the week ending Nov. 7, the average increased to 38 new cases daily. Now, just two weeks later, Adams County is averaging 56 new cases daily.
She said the community is at a critical juncture.
"If as a community we do not act boldly and swiftly now we will continue with uncontrolled spread of COVID-19," she said.
Dr. Abel Luksan, chief medical officer for Mary Lanning Healthcare, said the hospital's COVID-19 peak in the spring was 15-18 patients.
He said now 25 out of 50 acute beds are COVID-19 positive. Mary Lanning has an entire floor dedicated to COVID-19, plus overflow.
"Mary Lanning's going to be there, we're going to do our best for you, but we are strained just like everybody else in Nebraska," he said.
Valerie Bower, an emergency room nurse at Mary Lanning, spoke about a shift she worked last week holding three critically ill COVID-19 patients who had each been in the emergency room six to eight hours.
Two of those patients were expected to be transferred. Shortly after she started her shift, the house supervisor told her a bed had just become available because one of the COVID patients in the ICU had died.
"We are sick and tired of people calling us heroes and thanking us for what we do, and then turning around and refusing to do the bare minimum to make our jobs easier," she said.
Police Chief Adam Story said it is his department's philosophy to emphasize education or warnings rather than issue citations.
"We're not looking to cite people for things," he said. "We're looking at people to follow the rules that are given to them. When a law comes out, most of society follows it."
He said so far Hastings police officers have issued citations at just one, seven-person event due to COVID-19.
Councilman Chuck Rosenberg was at Mary Lanning last week for a non-COVID medical emergency.
"Thank God Mary Lanning had the space for me and when I went into the emergency room I could get in; it was very important," he said. "Mary Lanning does a great job. We can't let the hospital get overrun because we have so many other non-COVID emergencies that arise in the community. It's extremely important that we follow what they recommend."
Councilman Butch Eley is retired military.
"So rights and freedoms are very dear to me," he said.
He is also a retired paramedic.
"So the health care is very near and dear to me," he said.
Eley said he thought long and hard about this decision.
"I talked to the mayor several times about this, and with those rights being near to me I almost didn't vote the way I was going to vote, but then when I received the letters and heard the people tonight, our health care workers continue going and our kids continue wearing masks to stay in school, which is what they want to do," he said. "I think they're showing us all. So I'm willing to give up some of my rights for them."
In other business, the council:
— Unanimously approved the contract extension on Community Development Block Grant Project Shabri LLC for one year, to Dec. 20, 2021.
— Unanimously approved awarding the contract for the Carter Park Pickleball Courts to Tennis Courts Unlimited of Nebraska City, which bid $57,250 including the alternate for a mesh wind screen and poly cap fence top protector.
— Unanimously approved awarding the contract for a 33,000 gross weight vehicle cab and truck chassis for the landfill to Nebraska Truck Center, which bid $58,180 for a 2022 model. It was the lowest of four bids received, including a bid also from Nebraska Truck Center for a 2021 model for $57,180.
— Unanimously approved awarding the contract for a hydraulic hook assembly, 2021 Palfinger HAD-250S to Refuse Truck Sales, which bid $30,864.
— Unanimously approved Ordinance No. 4649 to amend the city code to allow for providing insurance to the bonds for officials required by state statute and city code.
— Unanimously approved reappointing Eric Barber to the Museum Board for a term from July 1, 2020, to July 1, 2024.