A new agreement between Hastings College and Central Community College providing additional career-focused learning opportunities for HC students is being called a win for the students, the institutions and the region's economy.
Under the pact signed Wednesday, more Hastings College students seeking to supplement their liberal-arts education with technically oriented offerings on CCC's Hastings campus will have many more opportunities to do so.
The agreement expands an existing longtime relationship between the two institutions that already allowed some full-time Hastings College students to take courses for credit at CCC-Hastings — thereby enhancing their career prospects, burnishing their job credentials and boosting their earning potential in several fields.
"We are very pleased to be able to diversify the career and technical instructional opportunities for Hastings College students utilizing our CCC faculty and facilities without the need for costly duplication of services between the two institutions," said Matt Gotschall, CCC president. "Hastings area employers will be the true winners with the student outcomes of this innovative partnership."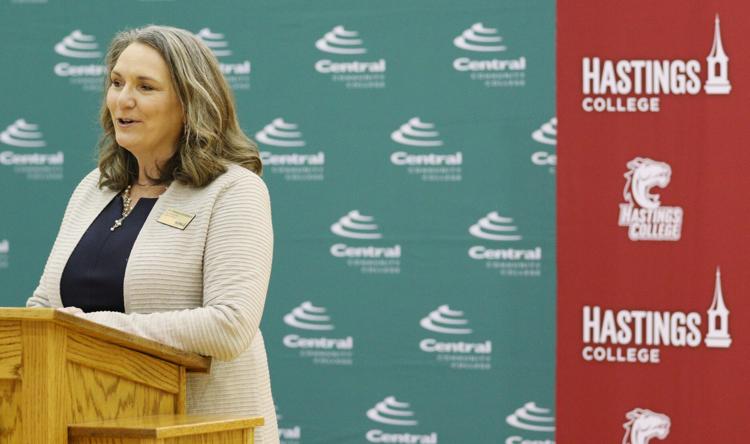 The new pact, already in force, was signed by officials of both colleges in an event at Hastings College's Lynn Farrell Arena. For most eligible students, the resulting new opportunities will become available with the 2021-22 academic year.
Hastings College is a private, four-year, liberal-arts institution affiliated with the Presbyterian Church (USA). Central Community College is a public institution that serves a 25-county area, with main campuses at Hastings, Grand Island and Columbus
For many years, Hastings College students have been able to earn minors in agribusiness, construction management, and hospitality management and culinary arts by adding CCC coursework to their HC studies. Several dozen students are involved in such endeavors currently.
Conversely, CCC students interested in working toward teaching degrees have been able to take courses at Hastings College through an academic transfer program that first earns them an associate's degree from CCC, then leads them to a Hastings College bachelor's degree.
"All of us are proud of our ongoing relationship," said Rich Lloyd, Hastings College executive president, during Wednesday's ceremony. "It benefits our students, it benefits our campuses, and it benefits our community."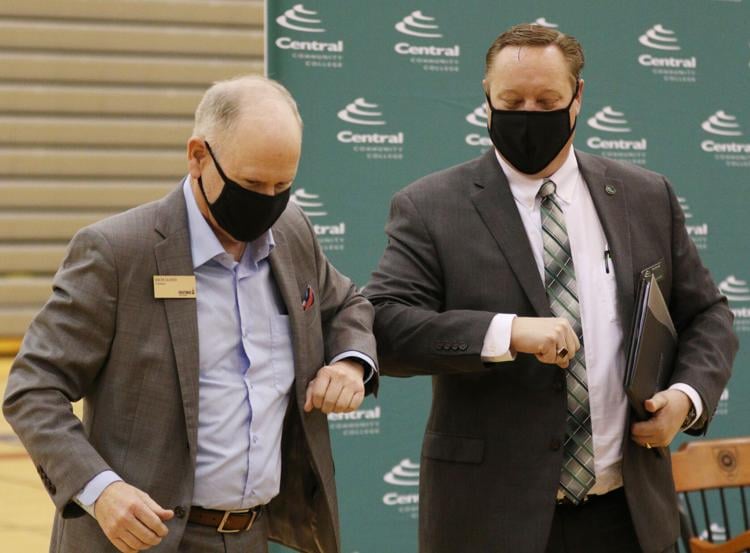 Lloyd, who took up his post at Hastings College on Sept. 1, 2020, was the college's academic dean when the original agreements between the two institutions were inked in the 2000s. He left Hastings in 2012 for a college presidency in Vermont and now serves dually as chief executive of HC and of the Bryan College of Health Sciences in Lincoln, where he has been president since 2016.
The single agreement signed Wednesday replaces the multiple agreements that had been in place previously and greatly broadens the relationship. Now, the opportunities for HC students to study at CCC-Hastings also can lead to minors in advanced manufacturing design technology; drafting and design technology; electrical technology; energy technology; information technology and systems; precision agriculture; welding technology; and media arts, which could include specialization in broadcasting, graphic arts, photography and video production.
Students must be established at Hastings College and have full-time status, carrying at least 12 credits per semester, before they are permitted to begin taking CCC courses. Then, they will be allowed to enroll in up to six credits per term at CCC, with the associated tuition and fees covered through their payments to Hastings College.
The Hastings College students taking courses at CCC-Hastings would be provided all available student services there.
Jerry Wallace, CCC-Hastings campus president, said the campus has much to offer the Hastings College students with state-of-the-art technology and specialized instruction, and that working together the two colleges contribute greatly to local workforce development.
"It's a wonderful thing for the Hastings community," Wallace said.
Barbara Sunderman, vice president for academic affairs at Hastings College, said HC long has recognized students' need and desire to pursue specialized interests and career goals through higher education.
To help set itself apart in the educational value it offers to students, HC in 2019 implemented its Hastings College 2.0 academic program, which among many other changes brought a new block scheduling regime to its campus.
Sunderman said talks between HC and CCC leaders about expanding their partnership have been under way for months, and that they grew out of previous discussions about how to adapt the existing relationship to fit with Hastings College 2.0.
She credited excellent working relationships among colleagues and counterparts, and everyone's focus on doing what is best for students, with helping to bring the admittedly complex new arrangement into place.
"The beautiful part about Hastings is that people don't view this as a competition," Sunderman said. "They view it as a benefit to the learners."
Candace Walton, vice president for innovation and instruction and chief academic officer at CCC, said society benefits when college graduates enter the workforce not only with marketable technical credentials, but also with knowledge of history, literature and culture that makes them well-rounded individuals.
As a Hastings native, she is proud of the new ground being plowed in collaboration between its public and private institutions of higher learning — and she's anxious to see the partnership develop and expand even further in the future.
If things continue to go well, Walton said, the work Hastings College and CCC are doing together could become a model for public-private cooperation around the United States.
"We feel like we're pioneers, and we're right here in the middle of Nebraska," she said with a laugh.