One hundred thirty-six years after its founding, Hastings College has entered a new era, thanks to a unique academic calendar and curriculum structure.
With the school year starting Aug. 14, planning and preparation has finished and the focus has turned to refining the changes.
Before classes even started, students began with a new step in their college orientation: Picking up iPad Pros and Apple Pencils.
The freshmen are learning how to use their new technology during the only class they will be taking over the next two weeks — Introduction to Hastings College. During the class, they are also learning how to be a college student by practicing sending emails to professors and managing their time.
"We're trying to introduce everyone to Hastings College. We want people to be able to feel comfortable at Hastings College; we want to settle all the nerves they have," said Kaelan Dea, one of the student assistants for the freshman class.
The iPads come with installed apps from the college, including Google applications and Notability.
Notability is a note-taking app that Annette Vargas, associate dean of arts and humanities, said has several benefits over pen and paper like sharing notes and recording lectures.
Faculty also have iPads, but have been experimenting with them for over a year. Faculty worked on different techniques using the iPads to improve their teaching ability.
Vargas, who is also a theater teacher, said she used to make digital sketches of a stage design and send the file home with students to edit. Now, she can give students the design almost immediately to edit in class and give quick feedback.
"This may not work, but we're really excited to try something new because maybe it will work and we can create something better," Vargas said.
The college has leased electronic versions of textbooks through Follett, the campus' textbook supplier, and made them available on the iPads. Students are not paying for the electronic textbooks. Books that are not digital will also be paid for by the the college.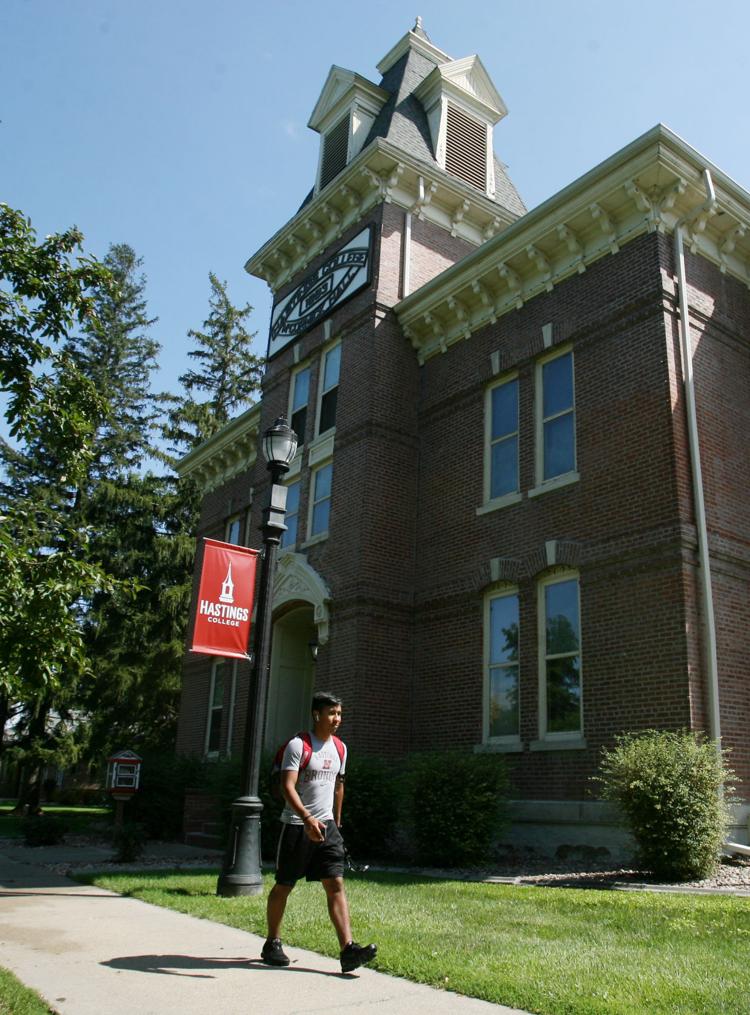 One of the more dramatic changes for Hastings College is the new calendar. During the first block this year, students will take one, 2-credit class every weekday until Aug. 27. The class will last three hours, starting either in the morning or afternoon.
Students will get a day off, Aug. 28, before beginning the second block. In the second block, students will take one or two classes, each worth 4-credits and go for seven weeks. After a four-day weekend, the third block will begin, functioning like the second block. In the spring, the schedule will go 7-2-7.
Celeste Borg, a returning senior, said the schedule so far feels like J-Term, a 3 1/2 week period where students used to take one class every day during January. She is interested to see what the seven-week block will be like.
"It's kind of like an abbreviated J-Term," Borg said. "There's been a bit of a learning curve. I think it will be interesting to be in block two and kind of see what professors are doing with that."
Students will be able to take a total of 144 credits over four years, but they only need a minimum of 120 credits to graduate. Vargas expects some students will occasionally take just one class during a seven-week block or take an entire block off entirely.
During the first two-week block this fall, groups of sophomores are meeting the new travel requirement. On Wednesday, one group made their way to France and more will be traveling to Peru; Vancouver in British Columbia, Canada; and Panama. Travel also will happen during the spring two-week block.
The college also has a new curriculum, moving away from the traditional major and optional minor. Now, students will choose a major, a minor in a different academic division from the major and an interdisciplinary emphasis area. Students must also complete the CORE, where classes for writing, speech and the travel are found.
Over the summer, the college has added the Gallup StrengthFinder, an evaluation every student will take that ranks 34 "strengths" the student has. The program was paid for by a $5,000 grant from last spring.
Borg, who is helping teach the freshmen, said reactions to all the changes has been mixed and large dependent on each student's class. She said freshmen are mostly excited to just be at college, and sophomores are optimistic because they went to Hastings College knowing the changes were coming. The traveling also happens during the sophomore year.
Borg said juniors and seniors are more split on the changes. Some juniors are frustrated with how curriculum changes affect their academic plan, while others are excited for the changes. She said some seniors are frustrated with having to deal with a significant change during their last year while others think the change will be better for the college in the long term.
"I'm definitely in that camp," Borg said. "The long-term benefits, I think, are huge and definitely worth a little heartache on our end."
The college had one of its largest enrollments this year with 330 incoming students.