Dazzling dresses and sharp suits lined the Hastings High School auditorium stage on Saturday for Hastings Tiger Clash, the school's first show choir competition since beginning its program four years ago.
Seven schools performed a wide range of musical numbers, each with choreographed dance routines.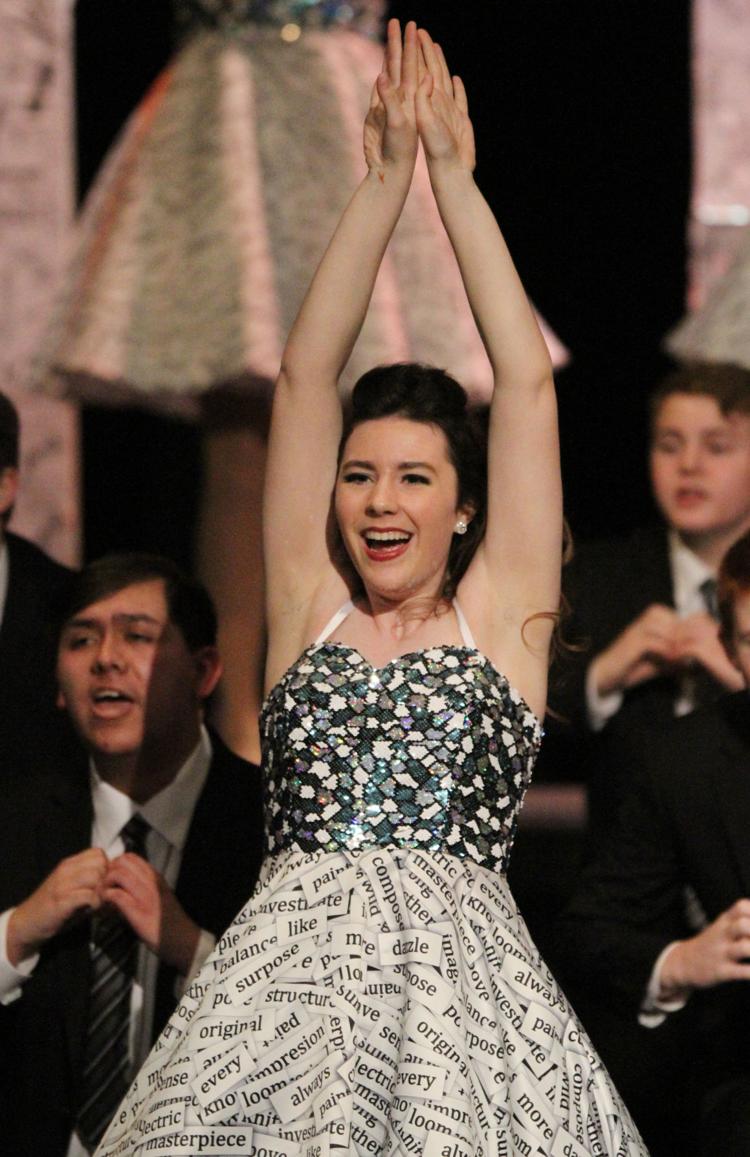 Hastings show choir members Jonah Smith and Alice Franssen served as emcees for the event, introducing the judges and performing groups, as well as skits through the event to highlight concessions and other offerings at the show.
For Franssen, a Hastings High senior, it's her first year participating in the show choir, Uncaged OnStage.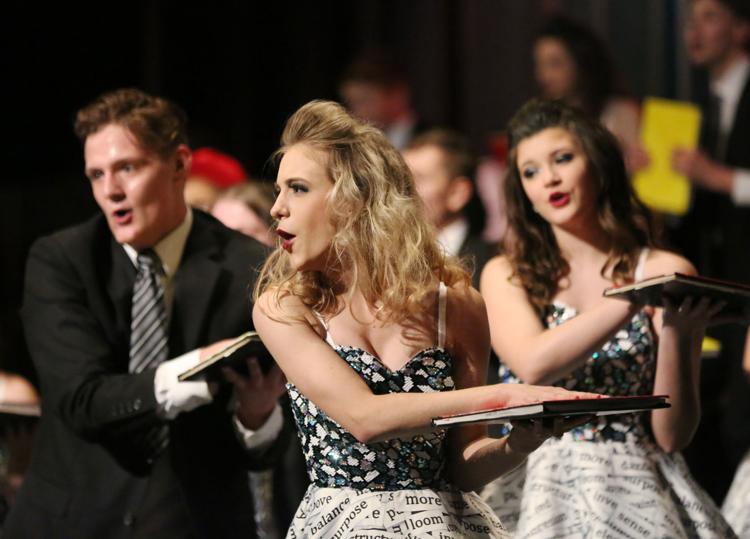 "It helped me grow in confidence and improve my vocal and dancing skills," she said.
Smith, a Hastings High junior, has been involved with the show choir for each of his high school years. He said he was glad to be a part of Hastings' inaugural show choir competition.
"It's really exciting," he said. "I love how everyone is getting involved. It's making me feel like we have a community. It shows how far we've come."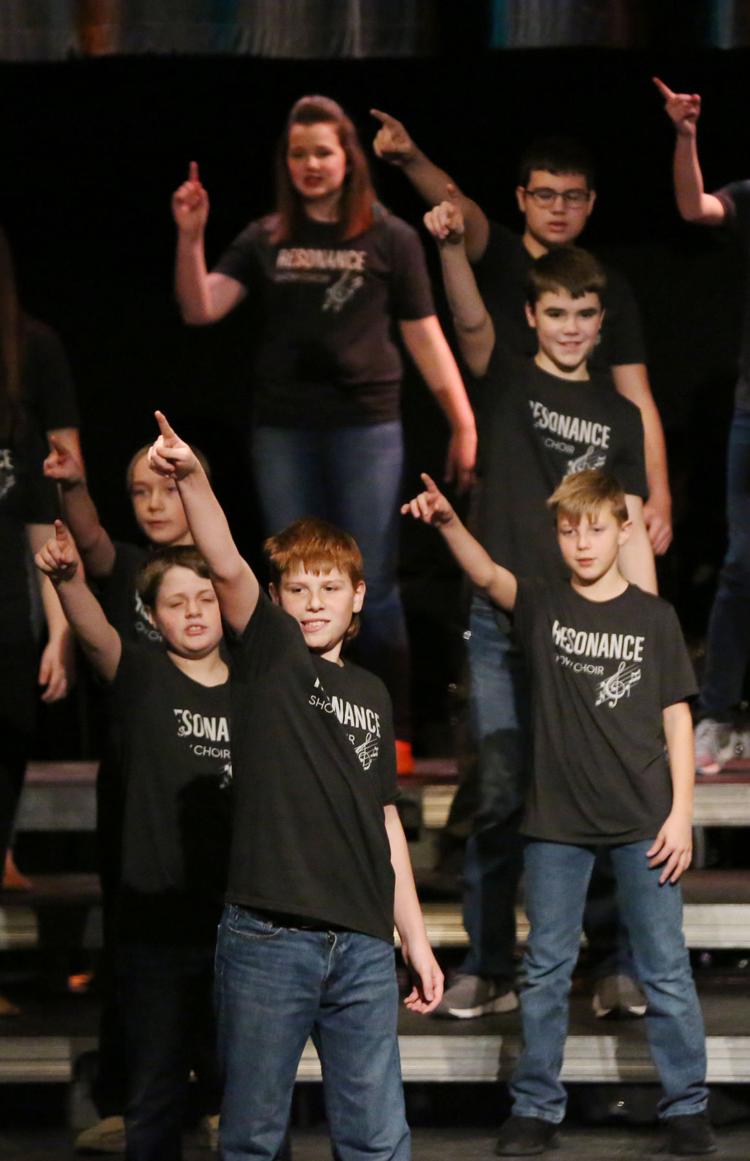 Jon Marquez, show choir director and vocal music teacher at Hastings High, said having students host the event is part of the competition's culture.
The emcees were only one piece of the dozens of volunteers needed to help during the competition. Students and parents alike pitched in to help with the various tasks necessary to act as the host school for the competition. Some took tickets or helped with concessions or T-shirt sales. Others helped as stage crew to set up between performances.
Marquez said the volunteers were crucial to making the show a success.
"It exceeded all the expectations I had," he said. "All the volunteers were great. Everyone was so helpful."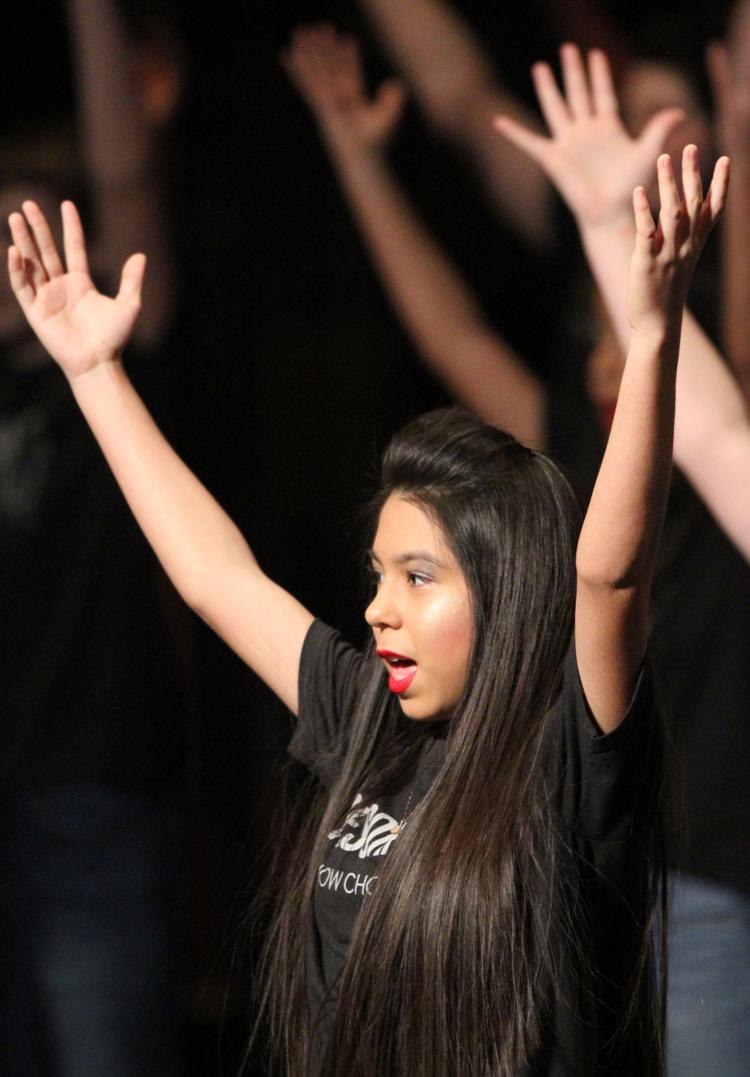 He said more than 400 high school students competed from schools across the state, ranging from Wahoo to Scottsbluff and Sidney. The seven participating schools expressed interest in returning and Marquez has heard from another four schools interested in joining next year.
Show choir competitions generally average around nine participating schools, so Marquez said another four would put Hastings in a good position looking forward at the competition.
Chris Walker, a junior in the Hastings choir, said the competition also helped forge bonds between Hastings and other performing schools.
"This is a really big moment for us," he said. "I think this will finalize our standing as a show choir school."
Bringing the competition to Hastings was also a boon to participants and spectators from central and western Nebraska.
Jeb Brant of Hastings has been to several competitions to watch his son, a junior, perform with the show choir. He said it was nice to have another event in their hometown.
"I think it's fabulous," he said. "It is nice to bring lots of people into the city. It's a great opportunity for the kids."
Mike and Anna Sorensen of Grand Island liked the fact that the event was so close to home as well. Their son performed with Grand Island High School's Ultimate Image team.
"It's nice to keep things regional besides always going east," Mike said.
Mike and Charlotte Waters of Hansen said they have been all over the state during the last five years to watch show choir events where their grandchildren compete. For Saturday, they were watching their grandchildren in Grand Island's Ultimate Image team.
"Show choir competitions are always fun," Charlotte said. "These groups work so hard to prepare. It's fun to watch."
They came to the event early to watch other schools as well.
"If we're going, we might as well make a day of it," Mike said. "Here, we can see schools we don't normally see."