Hastings Young Professionals awarded 30 people for the work they do in Adams County during their 30 under 30sih ceremony at the Lark Thursday night. HYP held the event to recognize young leaders in the community.
"At the heart of this, it is about celebrating our young leaders," said Travis Feezell, keynote speaker of the night and Hastings College president.
The 30 people presented with the award were chosen based on their community involvement, leadership, professional development, innovation and creativity and exceeding expectations, as determined by a committee. Everyone awarded also had to live in Adams County.
Maggie Vaughan, HYP vice president and a 30 under 30ish award winner, said they decided to hold the event because they felt it was the next step for HYP.
"HYP decided it was time to put together an event that would recognize top talent in Hastings," Vaughan said. "We wanted to put our spin on the event, which was a great opportunity for us to get a lot of different people who are in different industries under one roof."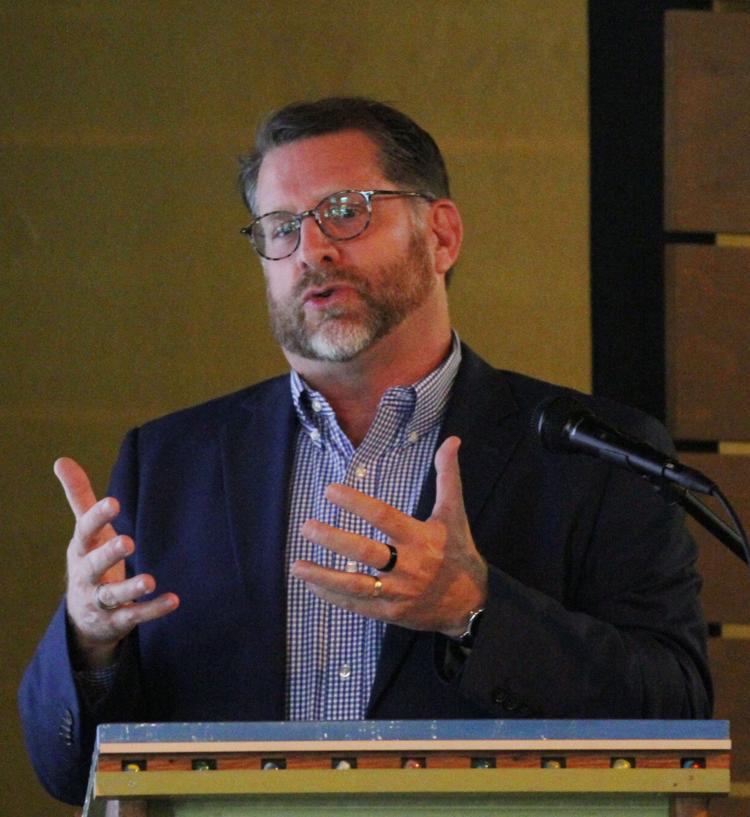 Those awarded included business founders and owners, bankers and teachers, among others. They often held other jobs and were in influential or advocacy positions in Hastings. But almost all of those awarded also contributed to the community through volunteering at a wide range of organizations.
Lisa Smith, a dean at Hastings College, and Dave Rippe, Nebraska state economic development director, presented the awards during the event.
"Communities, cities, countries, states around the globe are fighting for talented people right now," Rippe said. "It is truly special we are here tonight, celebrating 30 very talented folks."
Feezell gave the keynote speech at the end of the evening.
Rippe said there were 64 unique nominations for the award.
The event calls back to the Forbes 30 under 30 list, established in 2011.
All award recipients received a plaque and a year of membership in HYP.
This is HYP's first 30 under 30ish event. The event was sponsored by Pinnacle Bank.
The people who won the 30 under 30ish award are:
Adam Primm
Alyssa Anders
Amanda McKenzie
Andrew Vrbas
Anna Baker
Ashley Englund
Brandon Maendele
Cameron Brei
Christine Haba
Cortney Davis
Crystal Johnson
Derek Zeisler
Elizabeth Gartner
Gavin Raitt
Hannah Keen
Jayson Stoddard
Jo Springer
Joey Kaspar
Jon Marquez
Laura Stutte
Maggie Vaughan
Matt Fong
Megan Arrington-Williams
Meghan Reinhard
Molly Kluver
Shay Burk
Steve Stenner
Terri Brown
Valerie Bren
Wayne Perez