Take a piano, clarinet, trombone, bass and some drums, and you have jazz.
That's what the fifth-graders at Watson Elementary learned as Keri Chryst, a jazz vocalist, played a video of "Now You Has Jazz," sung by Louis Armstrong.
Chryst, who lives in Paris, is the artist in residence at Watson this week and is helping teach every grade about jazz. She is giving extra attention to the fifth-grade students who will be performing at their annual concert on Thursday and at a school assembly on Friday.
Chryst was brought to Hastings Public Schools through the Nebraska Arts Council, a group that connects vetted artists to organizations for the purpose of promoting the arts. The artist-in-residence program at HPS helps get kids excited about a new type of music — in this case, jazz.
Tom Michalek, vocal music teacher at Watson, said each music teacher tries to teach students about types of music and ways to make music from around the world. Jazz fits into that equation because it is "uniquely American," he said, and Chryst's experiences growing up in the Midwest and now living in Europe fit well in that curriculum.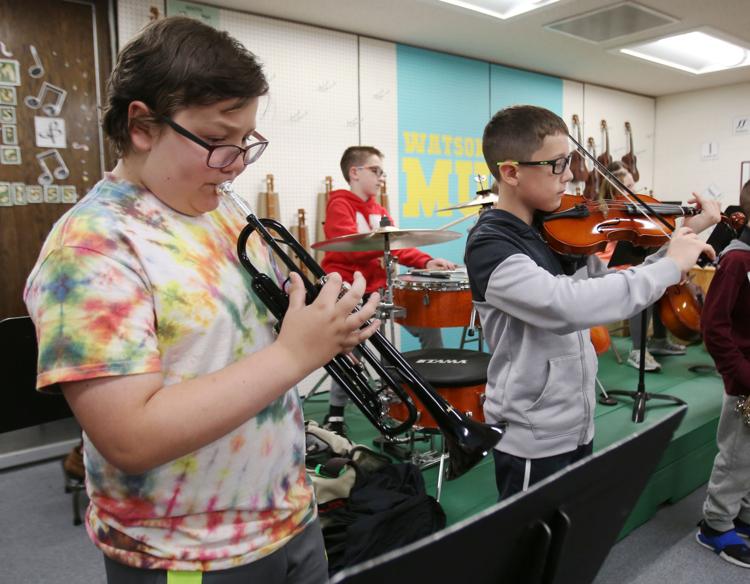 "She brings a Midwest sensibility, with such a worldly flair," Michalek said.
Jazz still is present in contemporary music genres, with rock, pop and country having roots in the style.
Chryst helped teach Michalek's class this week, conducting exercises and sharing her experiences with the students. Michalek said each music educator tries to teach the students using his or her own strengths, but there aren't many educators in the district with jazz experience, especially compared to Chryst.
"That's one thing that I can't give them, a perspective from someone with firsthand performance experience with jazz," Michalek said. "Even if she doesn't talk a lot about her performing career, that shines through in what she does."
Chryst said she wants to get kids familiar with jazz and swing music by giving them a name, like Armstrong or Duke Ellington — two names the students were introduced to over the week. Teaching those names is her way of passing the torch, she said.
"They often respond really well to it, but then they don't know that it has a name and they can go find more of it," Chryst said.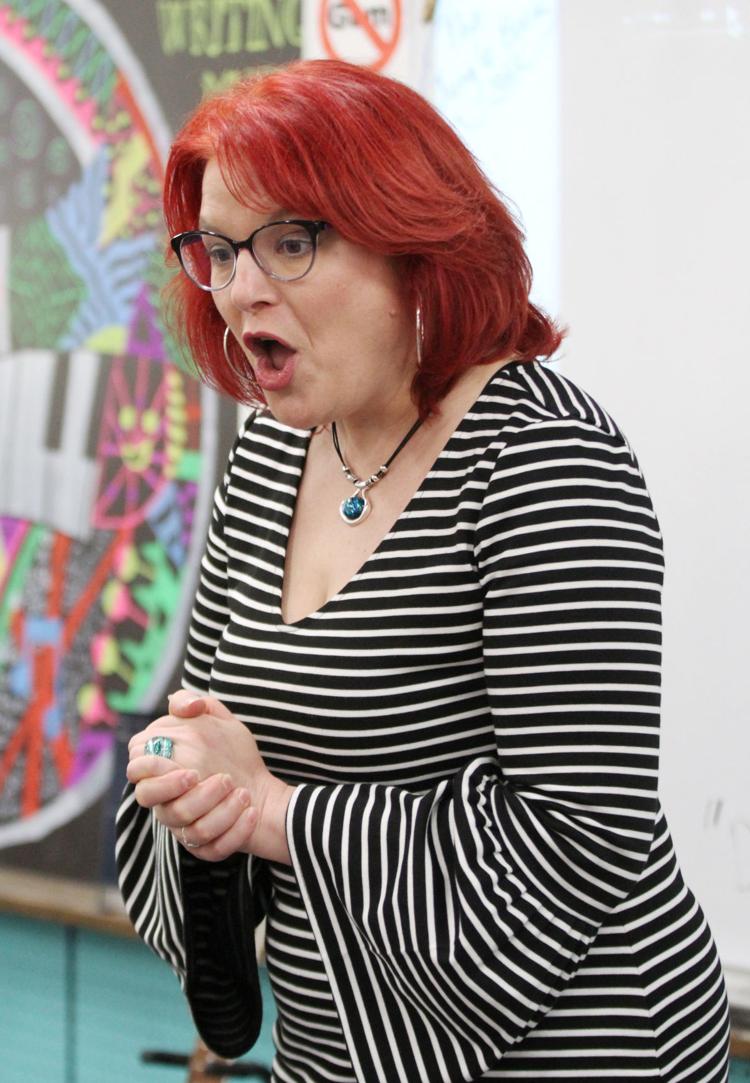 Chryst also is helping the fifth-graders learn "I Wan'na Be Like You," a song from the 1964 Disney movie, "The Jungle Book." The students began learning that song earlier this semester.
"I remember when I was a kid, I loved it," Chryst said. "I had no idea that all I had to do was go listen to Ella Fitzgerald if I wanted to hear more of that."
For the other students, Chryst is introducing them to the concept of jazz and improvisation, a skill that she said can appear daunting, but is easy to jump in. She hopes this exposure will help spark interest the students' interest down the road.
One way Chryst exposed the students to improvisation was by doing a call and response. Each student made an animal noise or said a word while keeping a rhythm, and another student would respond. While some kids would be shy or take their time making noise, others excitedly jumped into the exercise with laughter and grins.
"Creating music on the fly is intimidating. But people like Keri make it accessible," Michalek said.
This is Chryst's fourth time being an artist in residence in for Hastings Public Schools. Chryst has helped at Longfellow, Hawthorne, Hastings Middle School and Hastings High School. She also was at the Hastings College Jazz Festival Concert in March, which featured artists from the original Blues Brothers Band.
Michalek said he is grateful to share his class with Chryst, because he can learn new teaching activities and exercises.
Michalek also said he is thankful to have strong support for the district's artist-in-residence program from stakeholders.