Thinking about the development and growth of the South Heartland District Health Department, Judy Reimer compares it to a snowball.
"You start with this little thing, and you actually lose sight of what's actually inside that whole thing because you don't have time to rest on your laurels," she said. "You're always looking for something new. There's always something coming up. It's been a wonderful opportunity."
Reimer is stepping down from South Heartland's Board of Health after having served since the health department's inception in 2001.
She said there is a board position available for someone who really wants to make a difference. Health department officials hope to have someone recommended to the Adams County Board of Supervisors to fill the vacancy before the Board of Health's annual meeting in March.
There were four people on staff besides Michele Bever when she started in 2003 as the health department's public health risk coordinator.
Bever now is the South Heartland director, a position she has held since September 2007.
South Heartland now employs a dozen people.
"We couldn't have been where we are without her," Bever said. "Because of that history, the pushes she had and the vision she had."
She said Reimer helped train and encourage other board members and staff, including Bever herself.
"She's never been a board member that just said 'OK. I'm just checking off the list,' " Bever said.
She said Reimer is always thinking about how to make the health department better. "She's really interested in what we do and that we're doing it the right way to have the support we need," she said. "Which is what the board's for. It's not just a stamp."
Chuck Neumann has served as the Adams County Board of Supervisors representative on the Board of Health since 2007."It's a privilege and pleasure serving with Judy Reimer," he said. "I can't say enough nice things about her."
South Heartland's Board of Health includes a county board member from each of the four counties. Each county board also appoints two "public spirited citizens" to represent its own county on the Board of Health.
"Public spirited citizen" board members have included lawyers, law enforcement personnel, emergency medical technicians and ranches.
"We look for a cross-section of folks," Bever said.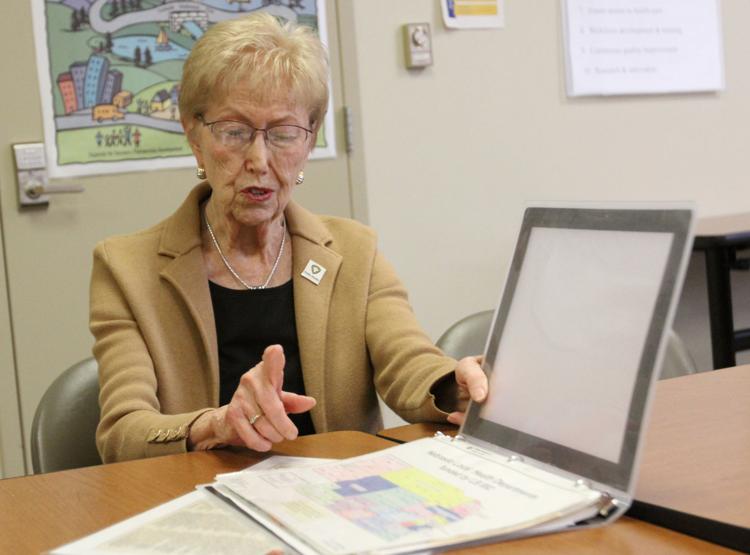 In addition to county board members and "public spirited citizens," the Board of Health also includes a physician, dentist and veterinarian who don't represent a specific county.
The board meets every other month, rotating through the four counties.
South Heartland, established at the end of 2001, was the first district health department created in Nebraska following the passage of LB692.
In spring 2001, the Nebraska Legislature passed allocation bill LB692 using revenue from the state's tobacco settlement. Included in the bill was funding for public health departments that either established or maintained a health department in a county with more than 50,000 residents or develop a health department among at least three contiguous counties with a population of at least 30,000 residents.
"I really credit Sen. (Ardyce) Bohlke for really taking a stand and seeing that (tobacco settlement funds) was turned into something. A lot of other states used that for a lot of things but here in Nebraska she advocated strongly. Because of that then it looked like this," Reimer said, holding up a Nebraska map depicting health department districts.
Clay County, one of 24 Nebraska counties that had its own health department prior to the passage of LB692, was not initially part of South Heartland but joined soon after.
"It has been a wonderful opportunity to see it from its infancy," Reimer said.
Whether through immunization clinics, collaborating with local agencies to establish breast cancer and cardiovascular screening through the Every Woman Matters program or many other public health initiatives South Heartland has been part of, Reimer said, it's been great to see the health department touch so many lives.
South Heartland started with a director and a board in a place at Mary Lanning Healthcare.
As a career nurse, Reimer has long had an interest in public health.
She retired in 2000 after working 33 years at Mary Lanning Memorial Hospital. During that time she provided direct patient care, worked as "house supervisor" and assisted in establishing a hospital-wide education department. She also was responsible for creating the Office of Medical Staff Affairs within the hospital and served as president of the Nebraska Nurses Association for four years in the early 1990s.
Since 2001, the health department has inhabited space downtown on West Second Street, on West Fourth Street near First St. Paul's Lutheran Church, and at its current location at 606 N. Minnesota Ave.
"We don't have any extra space; that's for sure." Bever said.
Everything South Heartland does must be applicable to all four of the health department's counties.
"We don't exist by ourselves," Reimer said, referring to Adams County. "We may be the biggest and our department may be here, but we've had some people who have really kind of held out feet to the fire, too. We can't just make things for Adams County."
Reimer stepping down from the Board of Health coincides with South Heartland recently submitted an application to the Public Health Accreditation Board for accreditation, the result of which should be known later this year.
Just preparing its accreditation application was a multi-year process.
"I wanted to see us through, so we could become accredited," Reimer said. "That takes history. That takes commitment of the board. I think having some history as past president and as an active participant on the board that I could motivate and help from the board's standpoint."
For information about representing Adams County on South Heartland's Board of Health contact Bever at 402-462-6211.