Longfellow Elementary School is more than halfway through its scheduled physical plant update as part of Hastings Public Schools' Elementary Facilities Improvement Project.
The building is expected to be completed in early 2020 and teachers given their keys to the building by that summer.
Longfellow, built in 1926 at 828 N. Hastings Ave., is getting an update because of its age.
"With today's education, it is so different," said Trent Kelly, director of technology and operations.
The project began in May 2018. Over the 2018-19 school year, Longfellow students were in class on the old Morton Elementary School campus at 731 N. Baltimore Ave. Students will continue to take classes at Morton through this upcoming school year.
One of the largest upgrades for Longfellow is a new gymnasium that also will act as a community storm shelter. Kelly said school officials worked with the local emergency planning committee to add a storm shelter near the center of Hastings.
"Longfellow fit the bill perfect," Kelly said.
The gymnasium was funded in part by an almost $800,000 grant from the Federal Emergency Management Agency. Because of the grant's guidelines, the gymnasium was completed by July 31 and had to be self-sustaining for at least two hours; it has its own backup power supply to run lights and heating, ventilation and air conditioning; has tornado doors; and is connected to restrooms.
"If we ever had a disaster in our community, this place is built to be a shelter," said HPS Superintendent Jeff Schneider.
The old gym has been renovated to serve as a cafeteria, and the building will have its own kitchen. Previously, food was prepared at Hastings Middle School and shipped to Longfellow.
The building also received new windows — with a similar look to those at Alcott — HVAC, electrical and plumbing systems. The walls have received more insulation, and the radiators have been removed from all rooms, making the building more efficient, Kelly said.
"Basically, the system was ran off of a boiler and there was no HVAC besides opening the window," he said. "I bet you it will be cheaper to heat and cool this building than it was just to heat the building."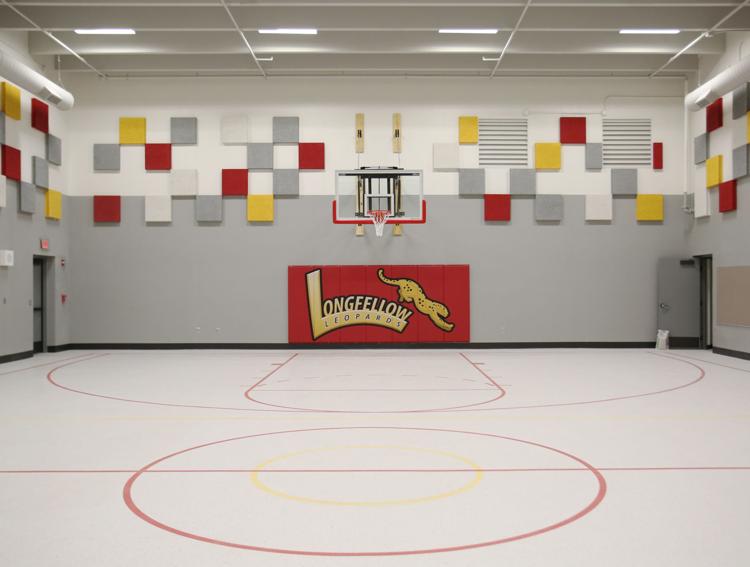 Before the building opens officially, the north entrance of the building — where two Corinthian columns stand — will be paved and a sidewalk added. A half-crescent driveway will be used for temporary parking, like when parents pick up kids for doctor appointments or drop something off. Kelly said the space likely won't be used for morning drop-off and afternoon pick-up because Ninth Street is too busy. Parents will use the east and west sides of the building for drop-off.
Side doors will be electronically locked, making the north entrance a controlled entrance with a system that requires those entering to buzz in and walk through administrative offices.
"Obviously it was security-driven, but I do believe aesthetically that is where the front entrance should be," Kelly said.
The technology structure also has been updated, with access points on the ceilings in all the rooms and 10 gigabyte speeds. Wire and cable had to be added to install the access points. Kelly said these improvements will enable easier technology integration.
"You just want it to be seamless integration into what they are doing right now," he said.
While the building has been almost completely gutted, a few elements of the old building have stayed, including wooden closet doors and a stone fireplace in one of the kindergarten rooms. Schneider said this was an intentional decision.
"We kept some of the old with the new to keep some of the feel of the building," he said.
The building also will be Americans With Disabilities Act-compliant, complete with an elevator for those with disabilities.
Most classrooms had large coat closets that now have been removed, adding a few feet of useable space alongside the edge of the room. Additionally, three of the kindergarten classrooms have been combined into two larger classrooms.
"That was just wasted space," Kelly said. "It just makes a bigger space for the students and teachers to work in."
Administrative offices also have been rearranged. Schneider said the nurse, counselor and school psychologist used to be in different areas of the building. Now, they will be together — something he says is important because the three positions work together through the day.
Longfellow will be outfitted with new furniture and some furniture from Morton.
Farris Construction, a local construction company, is working on Longfellow. Farris and Carmichael Construction, another Hastings contracting firm, both have won contracts for elementary school renovations throughout the city.
Schneider said working with local construction companies has helped keep quality high, because the buildings are in the same community where many of the workers live.
The Longfellow project is within its $5.895 million budget.
HPS suppressed Morton Elementary School as an educational institution in May 2016 as part of a master plan for the future of elementary instruction districtwide. The Morton campus then was used as a refuge site for Alcott Elementary while its building underwent updates in 2016-17 and 2017-18. The part of Hastings formerly served by Morton Elementary School now is served by the surrounding elementaries — primarily Watson School at 18th Street and Crane Avenue.
When Longfellow is finished and students and faculty move back a year from now, Morton may be left standing empty.
Schneider said there are no plans yet for Morton, but officials hope to create a facility advisory committee, made of Hastings residents, soon to develop ideas.
Schneider was tasked by the HPS school board to develop a plan for Morton as part of his superintendent evaluation.
The Longfellow building is the seventh HPS building to get a major update since 2006, he said.
Longfellow is the last building to be renovated by the Elementary Facilities Improvement Project that began in 2014 with a $21.5 million bond issue. Watson, Hawthorne, Lincoln and Alcott already have been updated.