"Willa Sibert Cather is greater than General Pershing; she is incomparably greater than William Jennings Bryan. She is Nebraska's foremost citizen because through her stories she has made the outside world know Nebraska as no one else has done" — Sinclair Lewis, April 1921
WEBSTER COUNTY — Two thousand eighteen marks the 100th anniversary of the original publication of Willa Cather's "My Ántonia."
The novel tells of the spirit and courage of immigrant pioneers and describes images of the prairie in early Nebraska history in a way few have done since.
" 'My Ántonia' certainly arguably is one of Cather's most popular and beloved novels," said Ashley Olson, executive director of the Willa Cather Foundation based on Red Cloud.
In her lifetime, Cather published a dozen novels along with nearly as many collections of short stories. That doesn't include some of her earlier works in magazines and other pieces she wrote through her life.
Cather was born in 1873 near Winchester, Virginia, and moved to the Red Cloud area of Nebraska in 1883 when she was 9 years old. She spent the rest of her youth in Red Cloud before moving to Lincoln where she graduated from the University of Nebraska in 1895.
From there Cather moved to Pittsburgh and eventually on to New York where she lived the rest of her 73 years.
While Cather spent more of her life outside of Nebraska than in the state, her Nebraska experiences unquestionably affected her writing, as many of her books and short stories have characters based on Nebraska people and describe scenes and places from the state, as well.
And that is certainly true of "My Ántonia," which tells the story of the immigrants who tilled the land and tamed the Nebraska prairie.
One hundred years since its publication the book has continued to resonate with people.
"While it's not the book she won the Pulitzer for, it seems to be the book she is the most well known for," Olson said. "In my mind it remains really timeless because it is this truly American story about this immigrant family who came to rural Nebraska to make a life for themselves."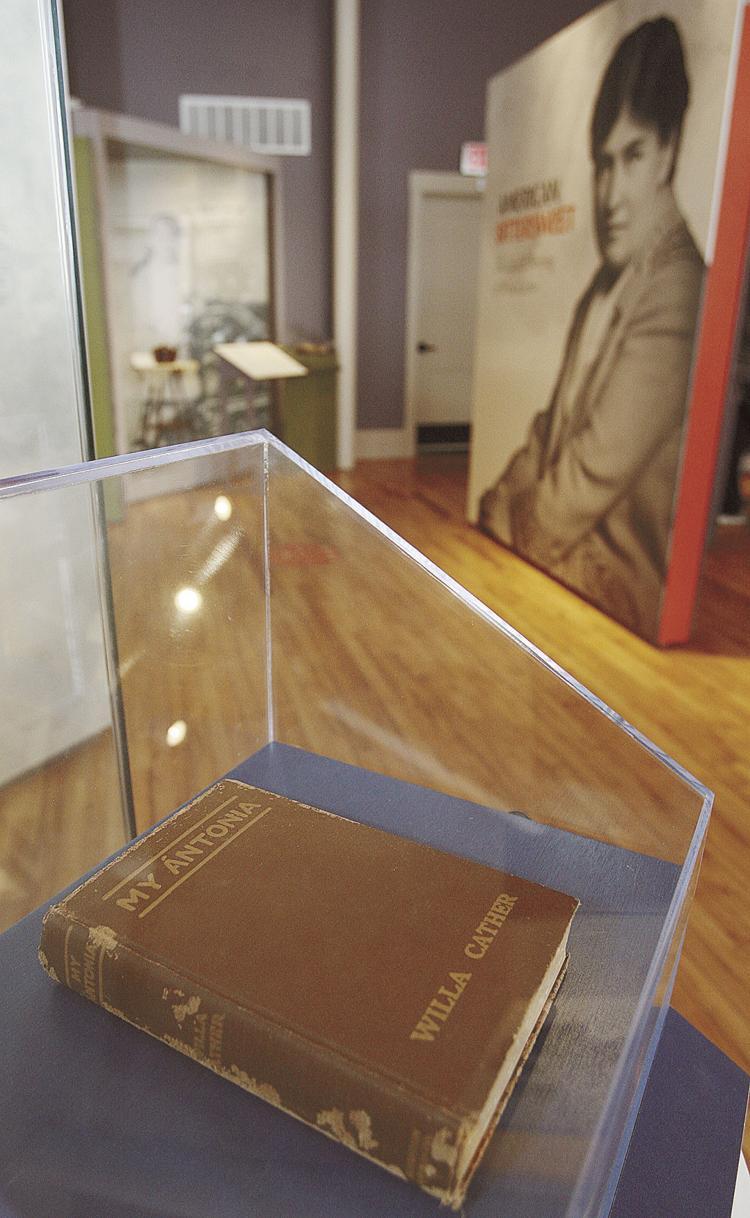 Olson said she believes part of the reason people connect so personally with "My Ántonia" is that the themes of the novel are those that people still address today, whether it be environmental stewardship, immigration or women's issues.
The book is set in and around the fictional community of Black Hawk, which is clearly modeled on Red Cloud and features characters correlating to real people Cather interacted with in her life. Some of the correlations are tighter than others.
Real-life Webster County residents John and Anna Pavelka, now long deceased, were the prototypes for Anton and Ántonia Cuzak in the book.
Anna Pavelka was a dear friend to Willa Cather in their youth — so much so that not only did Cather write about her and her family on several occasions, but she would visit Anna on trips back to Nebraska, as well as send her gifts and money.
"She'd send her money at different times 'cause she knew she was really struggling," said Antonette Willa Skupa Turner of the relationship between her grandmother and Cather.
Turner, age 97, has been telling the story of her famous grandmother and the even more famous book almost since she started hearing the stories from her grandmother.
The Bladen area resident started hearing the stories as a child but began to hear them more when she took over care of her grandmother in 1941. That's when one of Anna's own children moved away to follow her husband who had been drafted into World War II.
"So I took care of her and got her mail," Turner said. "We'd visit and visit, and she told me a lot of these stories."
Turner was born to the second of Anna's children, a daughter named Julia. And at nearly 98 years old — her birthday is in early June — Turner is the oldest surviving grandchild. Nine of Anna's grandchildren still are living.
When asked about her grandmother, Turner's eyes light up and she delves into the many stories starting back in the beginning.
"She was very special," Turner said. "She told me about when they came over they came on a ship."
Many of the stories sound familiar to the ones in "My Ántonia" because of the parallels Cather created in the fiction that mimicked reality.
One of those is the story of the family's first winter on the Nebraska prairie.
Anna's father was a member of the Czech orchestra and didn't necessarily want to move to America, but the women in his life persuaded him to make the move.
When they made it to Nebraska, the family found the home on their land was a hole dug out of the dirt to create a dugout with a single stove and a single mattress for the family of four.
The patriarch brought his gun and his violin — the instrument to entertain his family and the firearm to hunt rabbits and other animals for food.
And that's just what he was doing one day in December when Turner said her great-grandfather went outside and never returned.
" 'He had taken his own life. We didn't know what in the world to do,' " Turner said, quoting her grandmother as she had told the story.
Without a home church nearby, Anna's father was buried on a corner of the family's property, which is still marked to this day.
"She told me so many of those stories and so many people said, 'Is that true?' and I say, 'She said it, so I know it was true,' " Turner said emphatically. "We just can't fathom anything like that, can we?"
Olson said she believes it is those stark and realistic stories of life on the plains that helped to draw people into Cather's novel. While the story may come from a certain time and place, those struggles and successes are just as real today as they were 100 years ago.
"I think for those reasons it remains a book that really stands the test of time in a lot of ways," Olson said.
Turner said she believes her grandmother's strength intrigues people. That's why she has spent decades of her life sharing her grandmother's story with listeners ranging from church groups to grade school students and from new Cather fans to Cather scholars.
She's shared that "My Ántonia" is based on fact with teachers and students who at first didn't believe her. She once traveled to Colorado to speak to a niece's college class. And in 2002, Turner and a niece traveled to Chicago to speak about Anna at the request of Mayor Richard M. Daley after "My Ántonia" was picked as the book of the year in Chicago.
When asked what her grandmother thought of the book, Turner said at first Anna wasn't impressed.
"She thought, 'Na, I think Willa kind of stretched it,' " Turner said.
Cather didn't notify Anna beforehand that there would be a book coming out that paralleled much of her life.
"That's why it was such a shock to her," Turner said. "She had no idea at all. I don't think Willa even sent her a book or anything. I think she let her find out herself."
As the book gained popularity, Turner said, her grandmother warmed up to it more in her later years.
"She accepted it more, Grandmother did afterward," Turner said. "She said, 'It was true. I just didn't think it was worth writing a book about.' She was very humble, my grandmother was."
Listening to her speak, there's no doubt that Turner has nothing but a strong love and admiration for the woman who was her grandmother. That's why, she said, she continues to tell the stories.
"I feel she's worth it, and I always, always, always ended my story the same way. My grandmother told me, 'If I had my life to live over again, I'd live it the same way.' I said, 'Grandma, how can you say that with all the pain and the suffering and things you had to go through?' 'That's the way the Lord intended my life to be.' "
Celebrating 100 years
In honor of the centennial of the original publication of "My Ántonia," the Willa Cather Foundation is playing host to a variety of events in numerous locations.
Each year the foundation publishes several scholarly journals; this year, each will focus on "My Ántonia." The first, which was published only recently, features a series of 30 essays by people who wrote in with their story of why the novel is significant to them. There is also an article featuring Antonette Turner.
The foundation also worked closely with Cather's publisher, Knopf Random House in New York, to issue a commemorative 100th anniversary edition of the novel with an introduction by Pulitzer Prize-winning novelist Jane Smiley.
In terms of events, the annual Willa Cather Spring Conference centers around "My Ántonia" and features a number of special events tied to that including a scholarly symposium on the book, an art show featuring regional artists, and pieces inspired by the book and the Willa Cather Memorial Prairie.
In late July, Superior native and playwright A.P. Andrews will be putting on his modern interpretation of "My Anton/ia."
"This is his third contemporary adaptation of a Cather work," Olson said. "He has brought 'O Pioneers!' and 'Song of the Lark' before. His shows are always so high energy and fun and they integrate music and dance with theater. We're looking forward to that, of course."
The August meeting of the Panhandle Business and Professionals in Scottsbluff is themed "She was nearly as strong as I: Being Woman in the Workplace" and will feature the life and work of Cather.
In late September, there will be a marathon reading of "My Ántonia" at Gallery 1516 in downtown Omaha where people can stop in and catch passages of the book being read throughout the day.
Also in September will be a birthday feast to celebration the book's actual publication date of Sept. 21. The celebration will bring together local gardeners from Community Crops and Cather, highlighting the diversity that exists within Nebraska's capitol.
"We're trying to keep busy, and if you can't be part of the events there will be other fun ways to engage with the book," Olson said.
One way is that there will be a lengthy simulcast of the book through pictures of the book three pages at a time being displayed daily on a website starting May 30 and running through August with the intent of getting people to read all or at least parts of the book.
The project is being put on by an artist from Oregon who is putting the exhibit on display at places across the country including the University of Nebraska-Lincoln's Love Library, Constellation Studios in Lincoln and the National Willa Cather Center in Red Cloud.
"Really, no matter where you are you should be able to find a way to engage in some way," Olson said.