On a hot day when connecting participants were running behind schedule, John Greer and Bruce McReynolds talked about the first time McReynolds took part in the Pony Express re-ride.
McReynolds, who now lives in Rogers, Arkansas, was 19 years old and living in Fairfield in 1960 during the running of the re-ride that coincided with the 100th anniversary of the Pony Express. Participants had to be at least 21 years old, so McReynolds was unable to take part.
"For 49 years it upset me," he said.
Then, when 2010 and the 150th anniversary of the Pony Express came around he wanted to take part and was referred to Greer of Edgar, who is trail captain for the leg between the Oregon Trail Marker on Baltimore Avenue, near Saddlehorn Road, and Oak.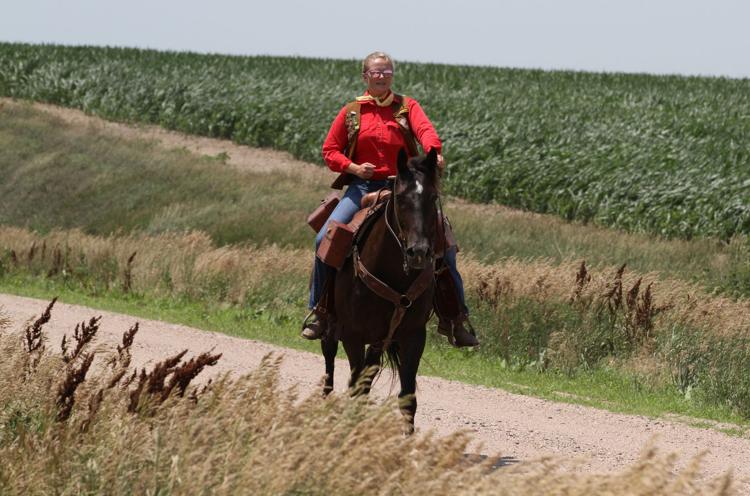 "I think my exact words to Bruce were, 'Anybody who's waited 50 years to ride in this thing is going to ride with me,' " Greer said.
The original Pony Express ran April 3, 1860, through Oct. 24, 1861. During that time more than 34,000 pieces of mail were delivered through 305 trips.
Mail traveled 1,966 miles, from St. Joseph, Missouri, to Sacramento, California. Each year the re-ride alternates east to west and west to east, traveling through the eight states between the two cities.
Greer said the Pony Express was the feel-good story of the West because there was no land grab or chasing Native Americans off the land.
"I find it fascinating because it only lasted for 18 months," he said. "The hardships those riders went through, I don't see how they made it at all in the winter time because they never stopped."
McReynolds retired to Arkansas after working for the Assurity Life Insurance Company in Lincoln. He's ridden with Greer's group since 2010.
"There's a good bunch of people who ride here," he said. "I enjoy coming out and riding with them every year."
Greer has been trail captain for more than 30 years.
His father, Merlin, was trail captain before him.
"We try to run as close as we can to the markers we find," he said. "We've deviated a little bit simply because some of the roads are easier to ride on and there's not as many houses and it's easier on the horses."
He's seen all kinds of weather on the re-ride. He remembered sitting in pouring rain on the year of the 150th anniversary.
"It's all kinds of weather, whatever happens," he said. "It's Nebraska."
History appeals to Greer but it's something he's also been able to share with his daughter and grandchildren.
"The whole idea that in 1860 they rode 2,000 miles in 10 days through country that — it's the same country there only there was nothing and nobody here," he said. "I think the feat was just amazing."