HOLSTEIN — This time of year is something to rejoice and it is especially so for 13-year-old Izabella Voelker and her family.
"The fact that she's here and healthy and our family is so abundantly blessed is huge," said Izabella's mother, Miki Eckhardt. 
After a roller coaster ride that has lasted 19 months, the spunky young girl with a love for animals and a zest for life is cancer free.
Bella, as she's known to many, was diagnosed with a rare brain tumor weeks after the end of her sixth-grade year in May 2016. 
The cancer, Stage IV pineoblastoma, is so rare that she was the 303rd child diagnosed with it, as most children afflicted are only diagnosed after death.
"They don't know much about it. There's not many studies out there," Miki said.
The pain first started in Bella's elbows the day she, her three sisters and her father returned to Nebraska from a trip to Florida where they visited Walt Disney World.
It was a Tuesday and Miki remembers getting a call from her oldest daughter saying Bella's elbows hurt to the point she was crying because of the pain.
"I had horrendous elbow pain," Bella said. "It's the kind of pain that will wake you up in the middle of the night screaming, really sharp pains."
A week later, Miki noticed an obvious change in Bella's behavior. She had reverted to acting like a toddler, saying and doing things like a toddler would do.
It was during a visit with pediatrician Dr. Daniel Leonard in Hastings that a mass in her brain was discovered and Bella was rushed to Children's Hospital in Omaha.
By 4 a.m. the next day, Miki was told surgeons would be going in four hours later for a biopsy on the mass and to relieve the pressure on her brain, as the tumor was preventing spinal fluid that normally drains from the skull into the spine from happening.
And while releasing the fluid alleviated the pain to Bella's elbows and her personality was back to her old self, it didn't take away the fact that there was still an aggressive tumor growing in Bella's head. Four days after the initial surgery, the tumor had grown to the size of a quarter.
"And her symptoms had gotten worse," Miki said. "By that point she was sick to her stomach and things like that."
While waiting for the surgery, the doctor explained to Miki the seriousness of the procedure to remove the tumor and that Miki needed to talk with her daughter about end-of-life issues.
Rather than get too upset by the news because of her condition, Bella channeled her emotions by writing her will — which included dividing her toys among her sisters — and planning her funeral.
"My mom had just died the November before and she said, 'You planned everything. You didn't have time to grieve. You're going to need to be there for my sisters,'" Miki said of her daughter.
In the end, the surgery that was slated to take about four hours lasted more than eight hours. The tumor that was supposed to be a quarter-size sack instead snaked through both hemispheres of her brain.
Miki knew that her daughter likely would never be able to look above the midline again, that she could suffer from permanent issues with her peripheral vision and could also have hearing issues.
When the doctor spoke with her after the surgery, he confirmed those worries, including that Bella would likely be deaf.
Bella was also expected to be in a coma for two to five days after surgery, meaning Miki had that long to learn sign language and set up what she needed to do to care for her daughter.
However, breaking all the rules as she tends to do, Bella did not go into a coma. She could move her eyes freely and had no vision issues and could hear at all tone levels.
The treatment
After surgery, the doctor was pleased to report that all of the tumor but a small bit on a vein had been removed. Now it was time for the cancer treatments.
Miki's fiancé, Craig Eckhardt, had checked all the options and determined that proton beam therapy was a much better treatment than gamma radiation for Bella. Miki likened it to a sniper rifle compared to a shotgun. The proton therapy would specifically target the areas of the brain and spine.
The only downside of the proton therapy was that it would mean Bella and Miki would be spending the next two months in San Diego. But with Bella's life hanging in the balance, the family decided to make it happen.
Bella was treated at Scripps Proton Therapy Center at Rady Children's Hospital-San Diego.
Ninety-nine percent of the children treated there are put under general anesthesia every day for their radiation treatment as a person has to stay totally still for 45 minutes during the procedure.
Based on her past experience with anesthesia, Bella didn't want anesthesia so she asked if she could stay awake, which is an option for adults. The doctors didn't like it but Bella proved she could do it.
That meant Bella spent a lot of time in the waiting room each day with the adults, most of which are middle-aged and senior men going through treatments for prostate cancer.
"Now her best friends are between 65 and 85," Miki said. "She loves them and they love her."
Bella no doubt is a curious girl meaning that she went on a tour of the facility with those men and learned quite a bit about prostate cancer in her two-months there.
Upon completing her radiation treatments, Bella returned to Nebraska with her mom where they created a "Bella protocol" treatment plan for Bella's chemotherapy treatments.
The cancer treatment protocol for pineoblastoma was created in 2003 and was created based on another related type of cancer, two things that didn't impress Miki. So she and Bella's Omaha oncologist worked with the doctor from San Diego who had worked on a pineoblastoma study at St. Jude's previously.
There were concerns about the amount of chemotherapy prescribed, the side effects of certain drugs and the possibility of Bella losing 30 points in her IQ from the use of one cancer drug.
"You're balancing, 'do you take her IQ and kill the cancer, kill the cancer, kill the cancer,' which is what we heard from so many doctors, with 'do you value quality of life and risk her potentially getting it back and it's a death sentence,'" Miki said. "We had a lot of talks and prayers and trying to figure out where that balance was. We decreased her dosage obviously or we would have had a totally different kid."
Once the protocol was created, Bella's chemotherapy treatments lasted six months with her completing the program in late March 2017.
The end result
With the end of her treatments, Bella is officially in remission.
She has scans every three months of her brain to look for any cancer regrowth. Just a few weeks ago, she had another scan of both her brain and her spine.
Bella will need to have scans for the next six years due to the high risk of tumor regrowth.
From her surgery and the subsequent chemotherapy, Bella was supposed to have hearing loss.
"She was called a freak of nature by person who did her auditory exam because she was hearing the buzz in the headphones," Miki said.
It's not to say Bella doesn't have any side effects from the cancer and subsequent treatments.
Of course as with many cancer patients, Bella's immune system isn't as strong as a normal 13-year-old girl. However with the help of some vitamins, Bella's overall health is much better.
She has short-term memory loss to the point that by the time she finishes reading the chapter in a book she likely doesn't remember the beginning of the chapter unless she took notes. She also tires easily.
With those two issues, completing her homework each day takes much longer than her peers. That's not to say she's not succeeding.
Bella missed her entire seventh-grade year at Kenesaw Public Schools yet returned this year as an eighth-grader.
Angels among us
Through her many friendships in San Diego, Bella has had dozens of amazing experiences there, including many days at Sea World where she fed orcas, swam with belugas and helped to train dolphins among other experiences.
"Since then she has become friends with all of the trainers and they still text her and they still talk to her and they still send her videos," Miki said. "Through her entire treatment she's become really good friends with the president of Sea World in San Diego.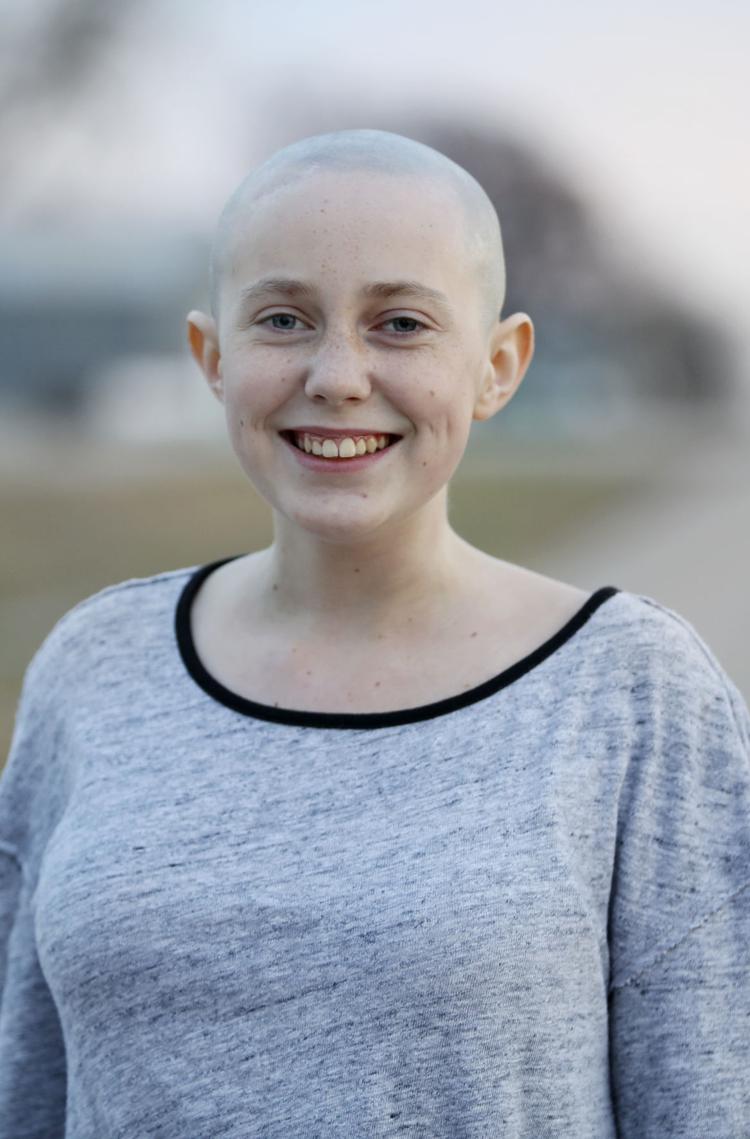 "It was these people, those other proton patients, it was the Sea World trainers who kept her going," she said. "Bella would be at treatment and be having a bad day and I would text a couple of the orca trainers and next thing we know she would be getting videos of the orcas. She has so many of the coolest videos you'll ever imagine."
For her Make-a-Wish trip, Bella narrowed her choices down to Africa, Iceland and Australia in that order.
"Cause she doesn't make anything easy," Miki said.
A few weeks ago, the family got the call that Bella, Miki and the entire family would be spending 10 days in December in South Africa.
"I get to walk hand and tail with a white lion," Bella said. "I get to walk hand and trunk with an elephant. I get to ride an elephant."
Miki said she is thankful for the experiences not only that she's had alone with Bella but the paid trips she's had and gets to have with her entire family.
In those early days before Bella was diagnosed with cancer, Miki lost her job with the state of Nebraska and Craig was forced to quit his job, which required traveling out-of-state, in order to stay home with the other children while Miki stayed with Bella in San Diego and later in Omaha.
That's where the Nebraska-based non-profit Angels Among Us came in.
At Children's Hospital in Omaha, Miki said the social worker asked what the family needed and found out about their financial situation which is not uncommon among families facing a cancer diagnosis.
Susan Nelson, executive director of Angels Among Us, said about 29 percent of families forego home ownership in this situation. She estimates that in close to 90 percent of these cases at least one parent has to leave the job to take care of the family.
That's why Angels Among Us provides $500 a month for up to 18 months to families with a child suffering from pediatric cancer to cover costs, including a mortgage, rent, car payment or utilities. Those payments are made directly to the creditor.
"Most of the time unless you're independently wealthy, a lot of cancer families lose their housing because you can't make the bills," she said. "We were trying to do that plus living out in San Diego."
In addition to the major financial support, Angels Among Us gives care packages to the children that including craft supplies, fuzzy socks and small toys. They provide food gift cards to families, especially those traveling to Omaha from across the state.
Angels Among Us supports any family living in or having a child treated in Nebraska. They are currently serving 44 families and have another 14 on a waiting list.
"Our goal is to get our name out there and let families know we're here to help and raise needed funds so we never have a waiting list of families," Nelson said. "While pediatric cancer is a terrible journey in itself, it's financially devastating, as well."
For more information on Angels Among Us, visit myangelsamongus.org.
Miki said she and her husband have not returned to work for fear they will lose the Medicaid coverage that is providing for Bella's continuing care. Even so, they struggle to take care of their large family and are just thankful for the things that God has provided.
"It will be nice to spend the holidays with the kids' aunt and my dad and go out and celebrate the holidays," Miki said. "It's better than being in a hospital. There's always concerns about bills and holidays and how you're going to make things work but none of that matters. The fact that we're all together is what matters."