Community members, city officials and more came out to bid a fond farewell Monday to Hastings Police Chief Pete Kortum at the Hastings Police Department.
Kortum announced his retirement in August. His wife, Mary, had moved to Chattanooga, Tennessee, to help care for their youngest son's children. Kortum will follow her after his final day as chief on Dec. 15.
Kortum said he will miss the men and women working with him in the department.
"They are good people to work with and very dedicated to public service," he said. "It was that way when I got here, and I think it's continued."
Capt. Adam Story jokingly said he is going to miss the chief's coffee and added he is going to miss the mentoring and leadership Kortum brought to the department during his five-year tenure.
"He brought us together more consistently," he said. "There were a lot of personnel changes and allowing others to grow within the organization. He wants to see people succeed."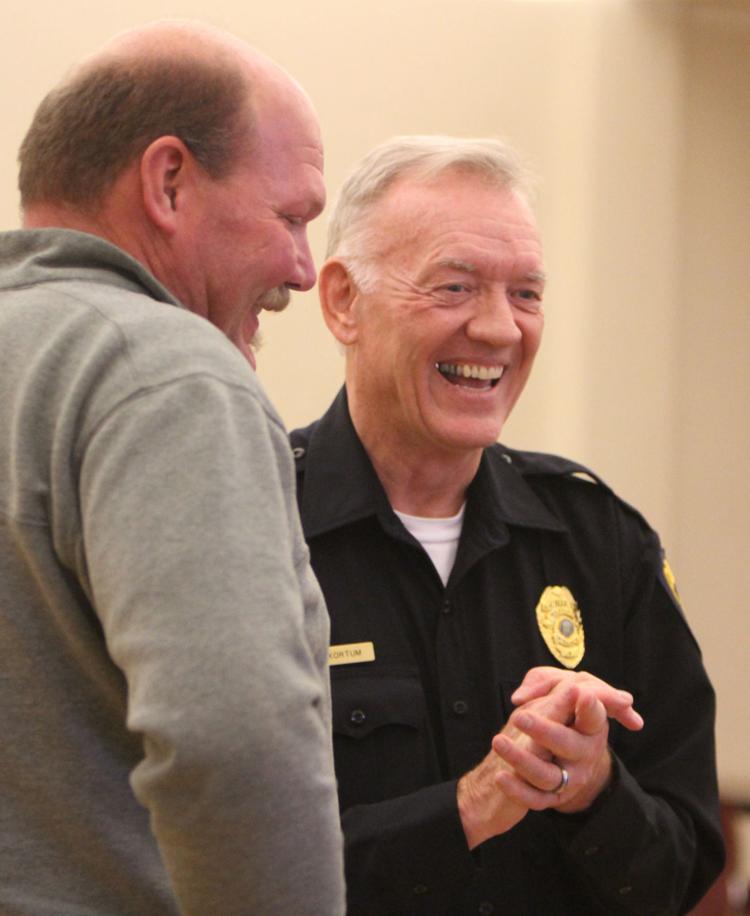 Along with helping officers within the department grow, Kortum oversaw several changes to the way technology has been handled by the organization. Story pointed to Kortum's involvement in the creation of a dedicated information technology person to integrate technological changes within the department.
Detective Allen Sedlak said he is going to miss Kortum, as well, though he wishes him luck in Tennessee.
"I would have liked to see him stay on a bit longer, but family comes first," he said.
Sedlak pointed to the Family Advocacy Network (FAN) as one of the accomplishments of Kortum's time in Hastings.
"He helped bring FAN here to Hastings," Sedlak said. "We owe him a lot for helping us get that."
The search to find Kortum's replacement is well under way.
City Administrator Joe Patterson said the civil service commission chose four candidates to interview. Following the interviews, the commission narrowed the list down to two. The final candidates were discussed by the Hastings City Council in closed session on Monday evening.
Patterson said the council may call a special meeting at the work session on Nov. 20 or vote on its top choice for the position during the next regular meeting on Nov. 27.
Kortum started his career with the Grand Island Police Department in 1974 and was promoted to sergeant in 1987. In 1998, he became a captain at GIPD and has served in that capacity in various areas of the agency. In 2012, he became chief of the Hastings Police Department.