LEBANON, Kan. – After Peter Zilliox traveled the state of Kansas by motorcycle with his wife and a friend in 2014, the group was looking for a new trek; thus the Smackdab Summer Solstice Run was born.
Now in its fourth year, the Smackdab Run takes place the Saturday nearest to the summer solstice, leaving the U.S. geographic center monument outside of Lebanon at 5:30 a.m. and following U.S. Highway 281 into northern North Dakota. Riders meet at sunset at the monument that marks the Geographic Center of North America in Rugby, North Dakota.
"There are lots of endurance rides people do," Zilliox said. "The neat thing about this is it's on this road, on this day."
Highway 281 goes from within one mile of the start of the run to within 34 miles of the end.
The solstice allows more than 16 hours of daylight to ride the 675 miles.
Before the first year, Zilliox posted about the ride on a motorcycle forum about it. A dozen other people joined.
He made embroidered patches for finishers.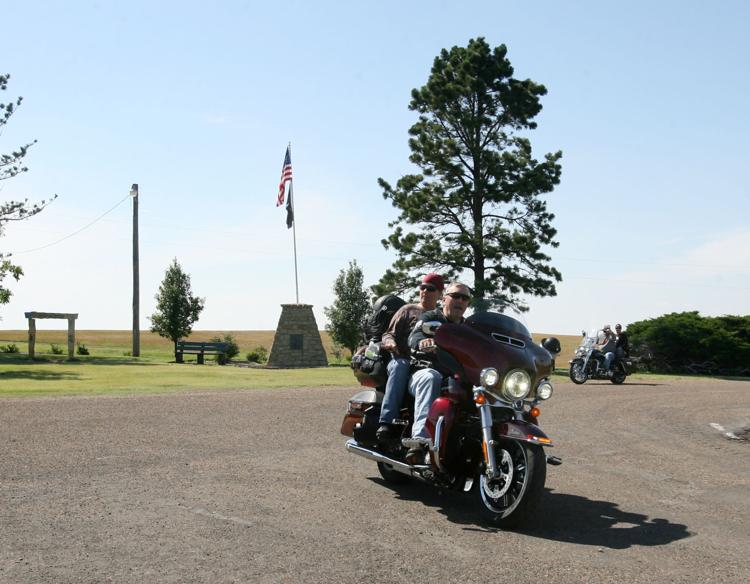 A handful of people did the run independently of the Zilliox, who did not participate in 2016.
After that year, Zilliox wrote a letter to the editor of Rider Magazine about the Smackdab Run.
"That's where all the growth came from last year, was just cause of that one thing," he said.
More than 80 people participated last year.
Based on registration, Zilliox said he expects about 100 motorcycles and 130 people to participate this year.
Stanley Goertzen of Walton, Kansas, was among 2017 participants who learned about the Smackdab Run from Rider Magazine.
"I thought that sounded like a fun thing to do, so I just signed up," he said. "I like to travel long distances. So I figured that was a reason to go somewhere."
He returned this year and was among riders who visited the U.S. Center monument Friday afternoon.
Also visiting the monument Friday was Gary Lynch, his wife Jean and their friends Willie and Amanda Miller — all of Gilmore City, Iowa.
Gary did the Smackdab Run last year. Willie Miller convinced the group to go together this year.
Gary saw friends on Facebook were going to do it last year.
"I just thought it would be neat," he said. "It was fun."
He and Jean go on 3,000- or 4,000-mile trips every year.
They place push pins in a large map, showing where they've traveled. That inspired Willie Miller to want to go.
The Smith Center Chamber of Commerce and American Legion Riders Post 166 of Kensington, Kansas, organized a barbecue for the riders Friday night at Smith Center's Wagner Park.
I told my wife I want to move to Smith Center, Kansas because the people are so incredibly inviting," said Zilliox, who lives in Lee's Summit, Missouri.
Chamber Director Diane Peterson is equally appreciative of Zilliox and the Smackdab Run.
"Anytime we can help support something like this it helps our economy through businesses and our sales tax," she said. "Also, just tourism; hopefully they'll come back again some time. If they like us they'll come back and maybe stay a bit longer."
Ross Flexhaug of Porter, Texas and Brian "Woody" Wood of El Dorado, Kansas, were among first-time Smackdab participants gathered at the barbecue.
He doesn't have a lot of familiarity with the area included in the run, but his mother lives in Williston, North Dakota. He'll visit her Sunday.
"This is on a route I would like to take," he said.
For Wood, it was a friend who brought up the idea of taking the trip.
"I thought what the heck, let's do it," he said. "I haven't been on a bike up into North Dakota."
Zilliox said there are some picturesque places on the route such as Fort Randall Dam near Gregory, South Dakota. However, there are also places, especially in North Dakota, where there are no trees or houses to be seen.
"I personally find that pretty breathtaking," he said. "Just the openness and the sheer scale of it can be really beautiful if you set your mind to appreciate it while you're riding. Some people can and some people can't. If you can't this probably isn't the ride for you.
"I still enjoy getting on a bike, opening it up on the road and going. I've been riding since I was 17 and I'm 55 now. I still don't get sick of just getting on a bike and riding. Those are the people who enjoy this event."
Despite the fact that that it is 675 miles and takes all day, Zilliox said it can actually be kind of laid back.
The run takes 11 to 13 hours, participants get more than 16 hours to do the ride.
He's stopped at diners and relaxed along the route.
"So this is an opportunity where you don't have to get crazy," he said. "You don't have to even exceed the speed limit."