Amy Sandeen was all smiles as she picked up stray Hula Hoops toward the end of the 10th annual Harvestfest at Prairie Loft Center for Outdoor and Agricultural Education Sunday afternoon.
Rain held off, the sun was shining and more than 1,200 people had entered the Prairie Loft grounds for Harvestfest. The final attendance total was 1,250, not far from last year's record-setting attendance of 1,325 visitors.  
"I'm thrilled," said Sandeen, executive director of Prairie Loft. "This group of people is such a fun community to hang out with. Everyone else also seems to have smiles on their face. So I do too."
Rain had been in the forecast for Sunday afternoon.
"I do that weather dance every time and it seems to be working," she said. "It changed hourly through the last few days. There were moments of worry, but we've got it figured out with our indoor space that rain or shine we're always going to have fun and there will always be people here and things to do, so it worked out this time with no rain."
New to Harvest this year, Taylor Keen of Omaha portrayed Chief Standing Bear, telling the Ponca American Indian chief's life story, including how he successfully argued before the U.S. Supreme Court in 1879 that Native Americans are "persons within the meaning of the law." Keen, an instructor with the Creighton University Heider College of Business, is a member of the Omaha Tribe and Cherokee Nation.
Chief Standing bear lost a son, daughter and granddaughter while being forced to relocate to Oklahoma during the Trail of Tears.
After his performance as Standing Bear, Keen answered questions from audience members.
"It's just a real honor to be able to portray Chief Standing Bear, such an important story in Nebraska history," he said later. "I know it's hard to hear because it pulls at my heart strings every time that I do it. It's just a wonderful experience to watch those people that are touched by the story and those that stay and have questions. I try to put a little bit in for everyone."
Keen also talked about his involvement in Sacred Seed, which embraces the return and use of indigenous seeds, particularly corn, beans and squash. The program is in the midst of its third harvest in the Omaha area.
Keen is working with Omaha chef Paul Kulik to incorporate that produce into dishes in Omaha restaurants for Thanksgiving.
"We're getting expanded diversity of new seeds every year," Keen said. "We keep finding more stuff and people find us and give us things."
Sandeen said Keen's cultural and personal respect for the Earth reiterates a message that is similar to the Prairie Loft mission: providing education of where food comes from and our role in the world.
"It's a good message to hear," she said.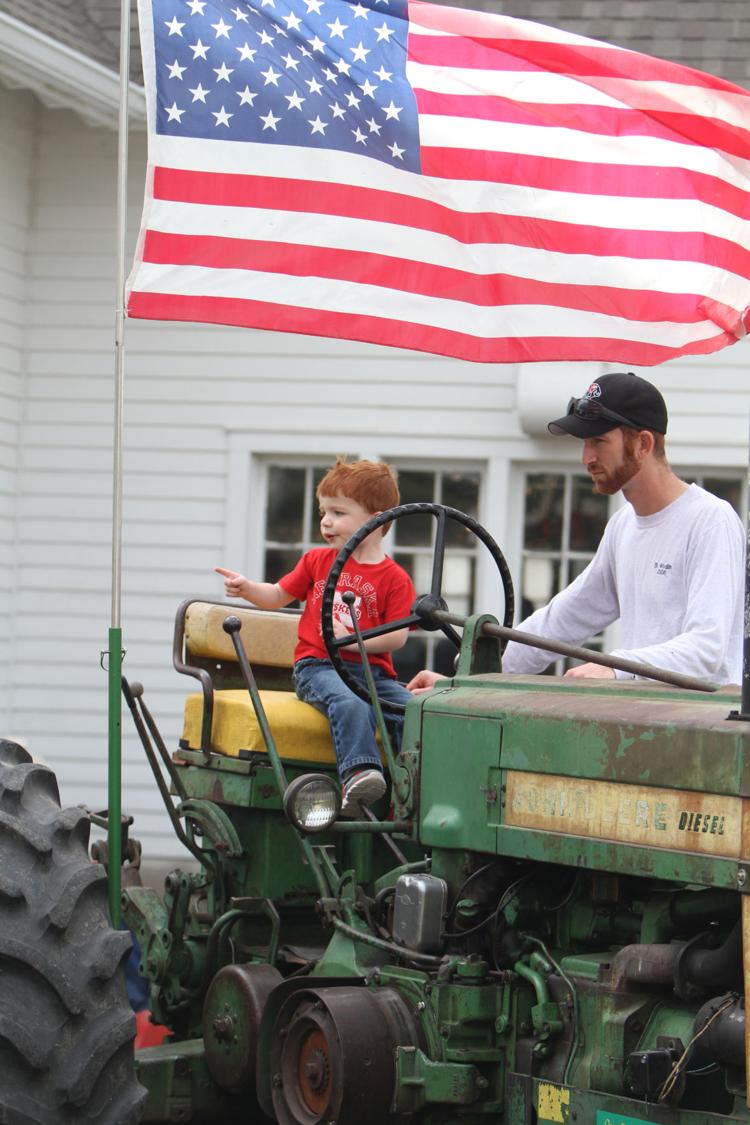 Also new this year, Andy Adams, music instructor at Longfellow Elementary, led circle game workshops during the day.
The activities were modified from the planned family dances. Participating children and their parents played games such as "Cut the Cake," "Chicken on a Fencepost" and "Jockey," where they danced or raced around a circle.
Adams said the games originated as folk songs from the farm or from New England around 150 to 200 years ago and have been modified over the years.
"I thought they would work great for harvest games. Let's bring them out here," he said.
Among other partners at Sunday's event included the Adams Central FFA chapter, the Nebraska Dairy Council, the Sandy Sheep Company and the Rural Ranchers 4-H Club.
The Rural Ranchers each year bring some of their 4-H animals that are put into the smallest barn on the property where children and adults of all ages can interact, pet and even hold some of them.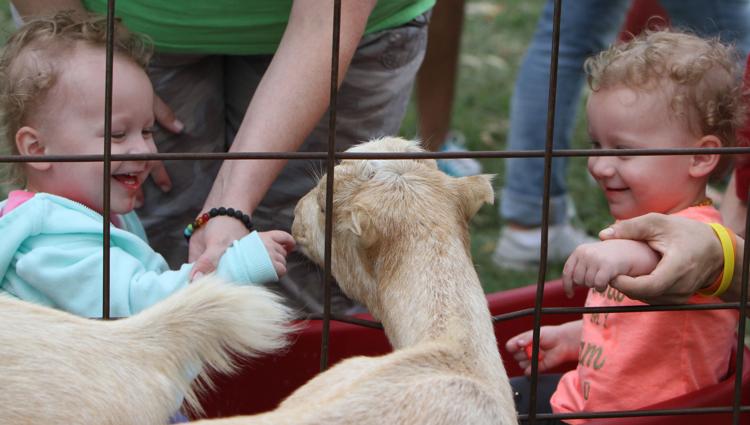 Guests had the opportunity to watch several sheep shearing demonstration by the Sandy Sheep Company.