GRAND ISLAND — If St. Cecilia was looking for any sort of revenge out of its first sporting event against Grand Island Central Catholic since being swept in the Class C-2 volleyball state championship match more than two months ago, it didn't come Thursday night.
The No. 2 Hawkettes (20-3) played one of their worst games of the season on GICC's floor, and consequently fell for just the third time this season 47-37.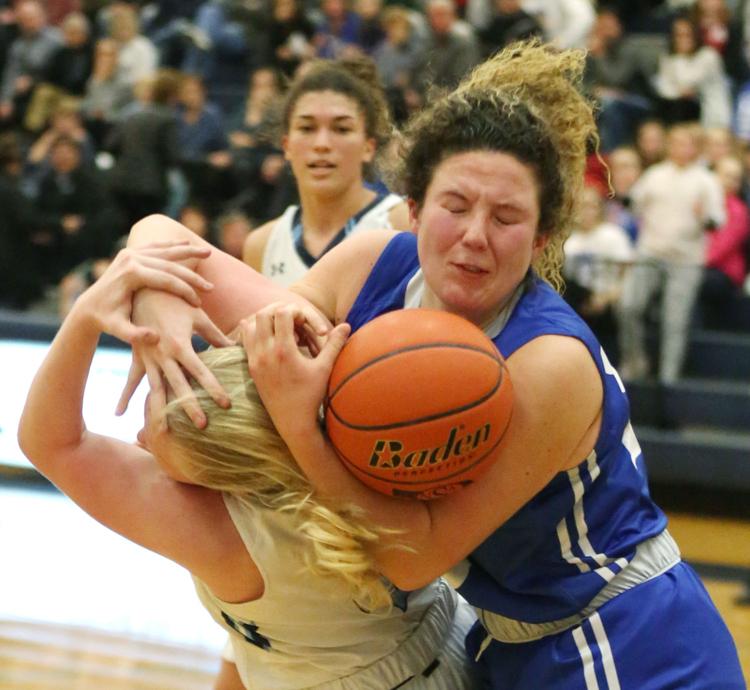 Their 37 points made for the Hawkettes' lowest scoring output of the season thus far. It's their second loss in the last four games — the other being the Centennial Conference tournament championship game to Lincoln Christian (48-45).
St. Cecilia shot just 22 percent (10-45) from the floor, with half of its makes from beyond the arc.
"You're going to have to hit some shots against a zone," STC head coach Greg Berndt said afterward. "I thought we got some okay looks, but (GICC) did a good job of matching up with our shooters, too."
The Crusaders (15-6) confused the Hawkettes with their 1-3-1 zone, and allowed virtually nothing in or around the rim.
Twenty four of St. Cecilia's shots were from beyond the arc, of which the Hawkettes hit just five.
Central Catholic also turned STC over 16 times in the game — 11 times in the first 16 minutes.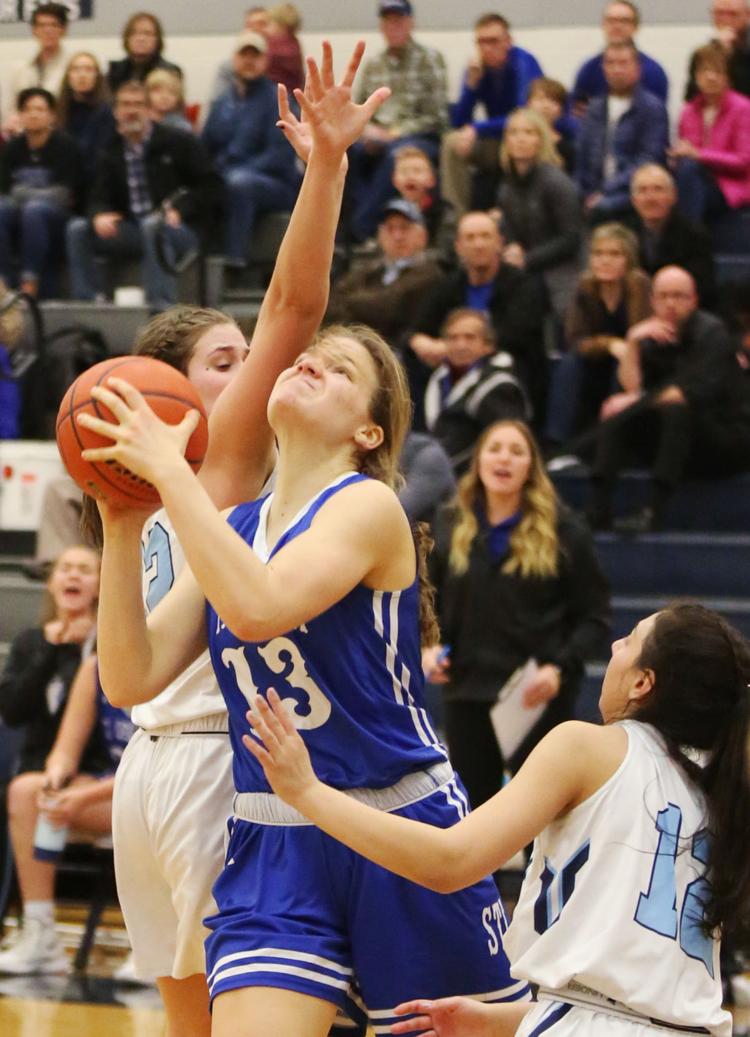 "I don't know if it's a not-ready-to-go thing," Berndt said. "It was just pretty evident that (GICC) came out hot and we came out flat. We've got to do everything we can to get that fixed next time out."
One area STC thought would control was second-chance points. But GICC pulled down six more rebounds than the Hawkettes, and while Tori Thomas hauled in 12 of St. Cecilia's 25, she didn't have the usual success in easy putbacks.
"That was one of our keys, was to limit (St. Cecilia) to one shot," GICC head coach Stacia Rice said. "I felt for the most part we did. They had some second-chance points in the fourth quarter, but you wouldn't expect anything else from a great team like St. Cecilia."
"The one thing we thought could give us some points was offensive rebounds," Berndt said. "(GICC) did a great job of keeping us off the glass. We didn't shoot well, but we didn't get those second-chance opportunities we were hoping we could get."
Rylie Rice paced Central Catholic with a 6-for-10 performance from the floor to finish tied for the game-high with STC's Makenna Asher with 16 points.
Rice was perfect on three attempts in the first half and opened the second half by canning a pair of her four 3-pointers in the first 1:40 of the third quarter.
GICC began the second half on an 8-0 run to grow its lead to 14 — its largest of the night.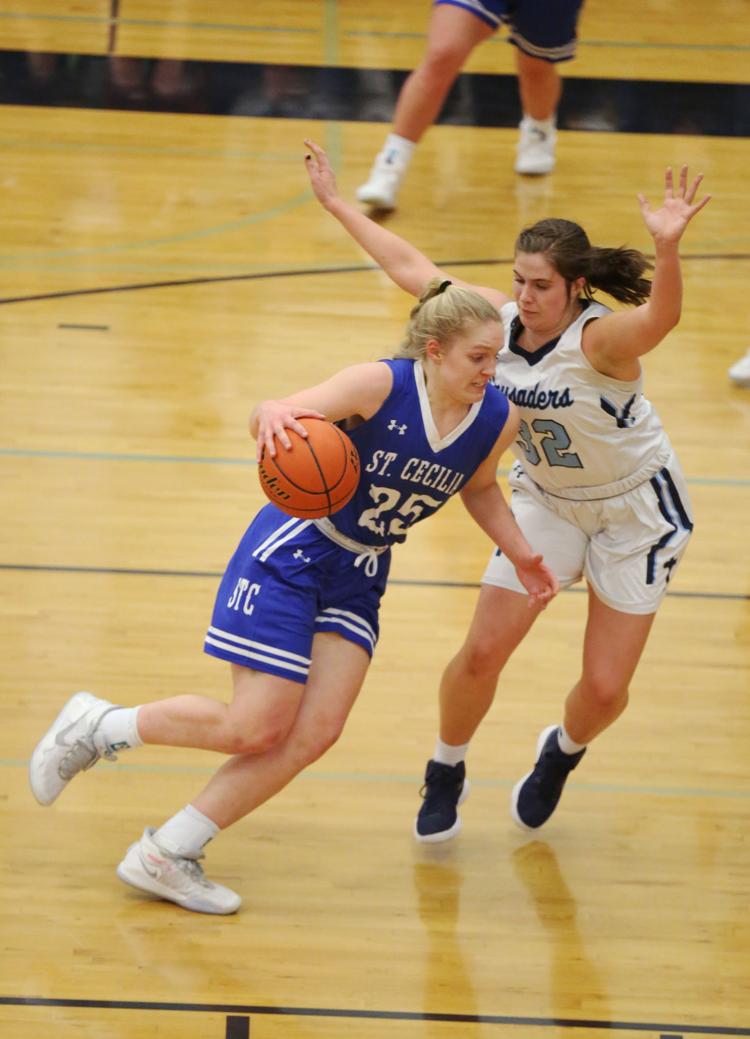 "We've been working on coming out in the third quarter and being able to hit shots and run our plays," Stacia Rice said. "Normally, St. Cecilia is the one that comes out on a third quarter run, so that was kind of a focus for us, is we were just trying to make sure we came out with a lot of energy and knew our game plan. I feel the girls did that."
St. Cecilia cut the lead to just six after a pair of free throws by Asher midway through the fourth, but GICC ended the game with an 8-4 run.
Nine different players contributed for the Crusaders, while only four Hawkettes made the scoring column.
Jenna Heidelk added 10 points for GICC, which will open the C-2, Subdistrict 9 tournament against Blue Hill next Tuesday. Chloe Cloud pulled down a team-high eight rebounds.
Thomas finished with 10 for the Hawkettes, while Natalie Kissinger swished three 3s for nine points, and Bailey Kissinger managed two points.
St. Cecilia will also play in the C2-9 subdistrict played at Adams Central, with a first-round game against Doniphan-Trumbull.
"Sometimes a team needs this to get a little focused, I suppose," Berndt said. "I'd rather have this happen now than later. It's definitely a time to regroup a little bit and get stuff figured out. Hopefully we can put on a better show next Tuesday."
St. Cecilia (20-3).......8 11 6 12 — 37
GICC (15-6).............15 10 14 8 — 47
St. Cecilia (37)
Chloe McCauley 0-5 0-0 0, Bailey Kissinger 0-11 2-2 2, Tori Thomas 3-9 4-4 10, Natalie Kissinger 3-10 0-0 9, Makenna Asher 4-8 6-8 16, Katharine Hamburger 0-1 0-0 0, Erin Sheehy 0-1 0-0 0. Totals: 10-45 12-14 37.
GICC (47)
Allison Kalvoda 1-2 0-0 2, Katie Maser 1-3 0-0 3, Rylie Rice 6-10 0-0 16, Elli Steenson 1-2 0-0 2, Chloe Cloud 1-4 0-0 2, Jenna Heidelk 2-3 5-7 10, Gracie Woods 1-3 0-0 2, Alexis Mudloff 2-3 1-2 5, Lucy Ghaifan 2-2 1-3 5. Totals: 17-32 7-14 47.
Three-point goals — STC 5-24 (McCauley 0-4, B. Kissinger 0-5, N. Kissinger 3-10, Asher 2-4, Sheehy 0-1); GICC 6-11 (Maser 1-2, Rice 4-6, Heidelk 1-2, Woods 0-1).
No. 3 Crusaders 57, Hawkettes 27
Facing the size disparity it was, St. Cecilia played vintage Bluehawk basketball for most of the first half and a snippet of the second half against No. 3 Grand Island Central Catholic Thursday night.
The Bluehawks (10-12) slowed the game down, burned some clock, and cut GICC's possessions down. It was successful for about 18 minutes, STC head coach Kevin Asher estimated.
But the Crusaders (19-2) hit their first 10 shots to open the second half, and finished the game 24-for-36 from the floor en route to a 57-27 win.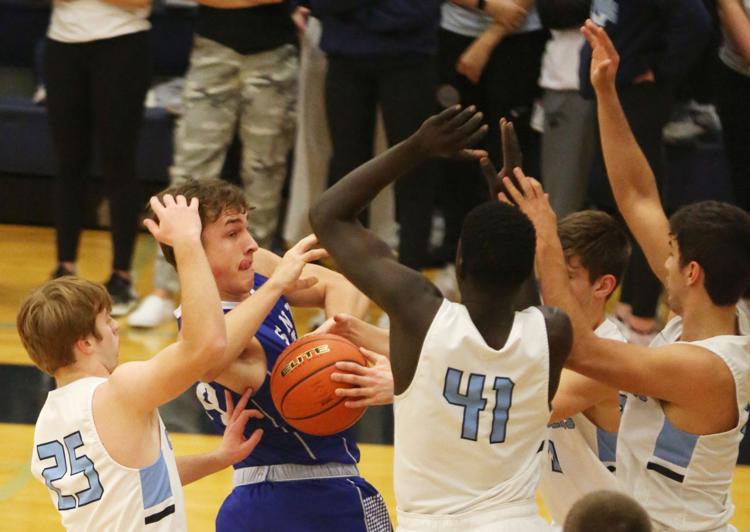 "We've had such great starts, and I think just the fatigue of the game and the strain of the game sometimes causes us to do some things like in that third quarter, throwing the ball away and not getting a good shot," Asher said. "But for the better part of our first 18 minutes, we did some good things. The big thing is we've just got to keep competing."
Brayden Schropp scored seven of his team-high 11 in the first half for the Hawkettes on a pair of drives to the rim and a 3-pointer. Paul Fago scored all six of his points in the first two quarters on hook shots in the lane. John Starr hit a triple and a layup in the third for his five points. Carson Kudlacek finished the third with an old-fashioned three-point play for his only points, and Garrett Parr split a pair on two trips to the free throw line.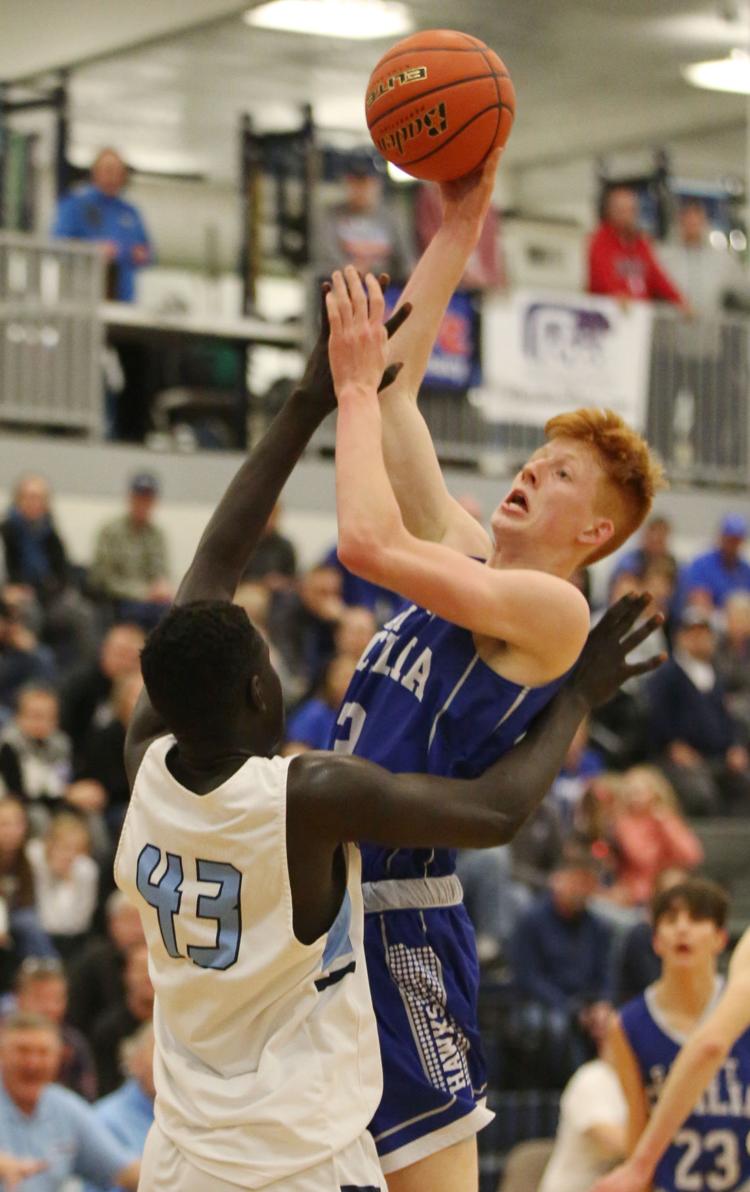 "(St. Cecilia) did a good job of getting the ball into the paint via the dribble," GICC head coach Tino Martinez said. "(Starr) and (Schropp) hurt us a little bit on that."
GICC powered the ball inside to 6-foot, 9-inch Dei Jengmer, who finished with a game-high 18 on 7-for-10 shooting. He was close to unstoppable by the Bluehawks.
"With (Dei) Jengmer in there, we didn't have a defense for him," Asher said. "It was really tough."
GICC's Koby Bales joined in double figures with 10 points while Isaac Herbek and Marcus Lowry each added nine points. Russ Martinez chipped in seven, and Connor Henke and Gil Dengmer had two points apiece.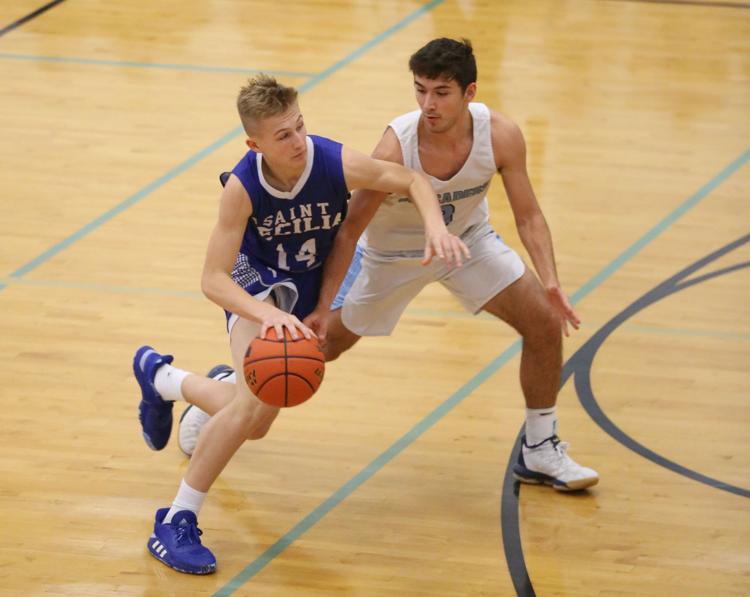 "We do a good job of getting the ball inside and scoring in the paint," Martinez said. "St. Cecilia is so tough. They're not having the type of year they're used to, but if people's down years were 10-11 I think they'd take that."
St. Cecilia lost its fourth straight game, shooting just 11-for-37 from the floor and 2-of-14 beyond the arc.
"The ball just didn't go down," Asher. said. "We did what we wanted to do in a lot of areas. We shut them down on baseline out of bounds plays, we pressed them when we needed to. We weren't going to turn them over, we knew that, but we just needed to make it not be a toe-to-toe contest. And it did get that way in the third quarter, and that's why they're a top team in the state."
The Bluehawks finish the regular season against Centura next week. Asher is proud of the growth he's seen, despite some of the results. He sees this group as another St. Cecilia powerhouse in the making.
"The ultimate goal is to be at the top of the Centennial Conference. And for 10 straight years we were in that top five. It made a difference at the end of the year," Asher said. "For this group, I definitely see some potential there if they keep working. We're going to have some depth and a little bit better size as we move forward with the growth and maturity of our sophomores. If we put our heart and soul into our offseason, I think we can back where we were 10 straight years."