Hastings is one step closer to getting quiet crossings along the BNSF Railway between Marian Road and Elm Avenue.
Representatives from several city departments as well as from the Nebraska Department of Transportation met Thursday with David Huntley, grade crossing inspector for the Federal Railroad Administration office of safety, and toured those nine crossings as part of the city's quiet crossing diagnostic review.
Huntley also reviewed designs for potential approaches to each of those nine crossings, with medians either three or four feet wide and 60 to 100 feet long.
There were designs for both one-way and two-way intersections on the downtown streets.
"What we went through today, if they do everything they've got here I see no issues, but they've got to work with the railroad to get it accomplished," Huntley said.
To receive approval from the Federal Railroad Administration, Hastings must achieve a certain score on a pair of FRA risk assessment scales.
The city achieves that score through supplemental safety measures such as one way streets, crossings closed, medians and automatic horn system with the horn stationed on the mast with the lights and gates instead of on the train.
"It's not really a quiet zone then, but the train will quit blowing the horn," Huntley said.
BNSF was noticeably absent from the diagnostic review, choosing not to participate.
The next step will be to state a notice of intent to establish quiet crossings.
The notice of intent will be followed by a 60-day comment period. Huntley said the city should expect to hear from the railroad then.
Provided the city gets approval from the Federal Railroad Administration and cooperation from BNSF, construction could then begin maybe as soon as 2020.
Huntley will do another inspection as part of the construction process.
"If I find issues, I've got to take away your quiet zone until it's fixed," he said. "I like to come before the date of establishment that way if we've got an issue we can fix it."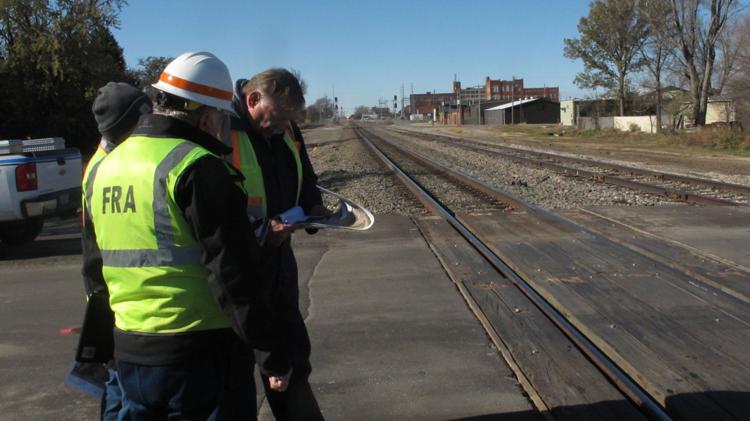 The city provided cost estimates for each of the quiet crossings, the total for all nine of which range from $2.4 million for the lowest alternate costs and no pad replacement to about $3.6 million for the highest alternate costs and pad replacement.
However, even those estimates are low because they don't include new arms at the crossing gates, which Huntley said BNSF will require.
He said BNSF will make upgrades to the railroad equipment and bill the city.
The quiet crossings are being paid for as part of the city's half cent sales tax, which was renewed in September 2017. Collection began in April 2018.
There is $350,000 set aside for engineering or construction work on quiet crossings in the 2019-2020 fiscal year. That amount is based on what has been collected so far.
In approving the city's one- and six-year street improvement plan, members of the Hastings Planning Commission and Hastings City Council both identified 2020 as the year for work to begin on quiet crossings.
The city would like to keep all nine of those crossings open, but there is an understanding that is not likely as part of negotiations with the railroad.
The crossings discussed during the diagnostic review most likely to be closed were at Laird and Lincoln avenues. That is based on traffic counts and cost for improvements.
The Department of Transportation representatives said the city would receive at least $22,000 to close a crossing. The railroad may offer more.
BNSF crossings in southwest Hastings, further east and the Union Pacific crossing on Baltimore Avenue aren't yet included in quiet crossing plans.
"We decided the southwest intersections didn't merit something at this time, or further east than Elm, like Showboat, with CPI out there and the Highway 6 project that's coming, we thought that's better left alone," City Administrator Dave Ptak said.