The Patriots went into the new wrestling season expecting to be a solid dual team, and that notion was put the test Thursday in the season opener against Central City.
Adams Central found itself tied with the Bison with just two matches remaining. AC sophomore Tyler Pavelka went toe-to-toe with the bigger freshman from Central City, Gunner Bailey. Pavelka dominated the match and pinned Bailey in the second period. The win allowed AC to finish off the Bison 40-28.
"We're proud of this win. It's good to get to 1-0, so we'll see what happens down the road," said AC head coach Dan Lonowski. "Central City is a little beat up, which kind of helped us. But, we didn't wrestle as well as we can. If we want to be a good dual team we've got to get a lot better. It'll come."
Lonowski said he wasn't surprised Pavelka took it to Baily in the eventual winning match. He knew the AC sophomore was going to come out of the gate firing.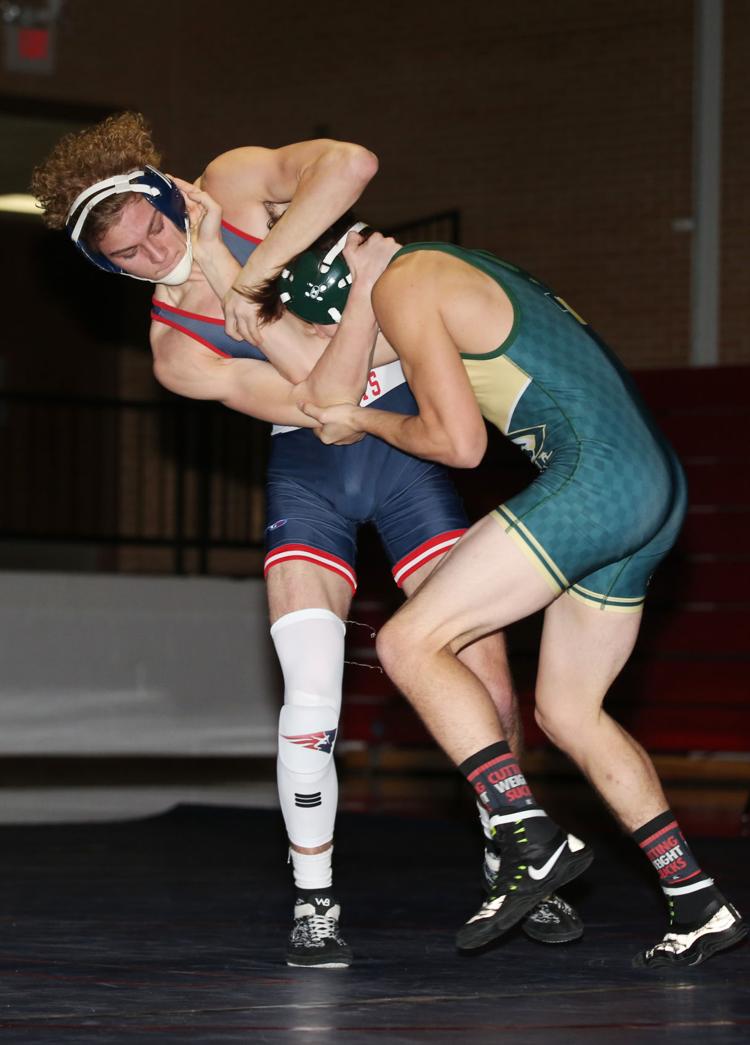 "Tyler wrestled well and got some takedowns and was aggressive on top and eventually got the win," the coach said. "Tyler's an aggressive, young heavyweight. It's kind of fun to have him."
Pavelka recorded a takedown just 15 seconds into the match and later found himself up 4-1, until Bailey made it 4-2 with an escape at the buzzer. But Pavelka continued his relentless attack, taking a 8-3 lead before finishing the match with a pin in the second period.
"I struggled a little bit with the cradles and stuff, but just a bear hug and a half really helped," Pavelka said. "I thought I kind of needed to (be aggressive)... In the beginning he almost had me, so I figured I actually needed to start doing some moves to actually win the match rather than get put on my back."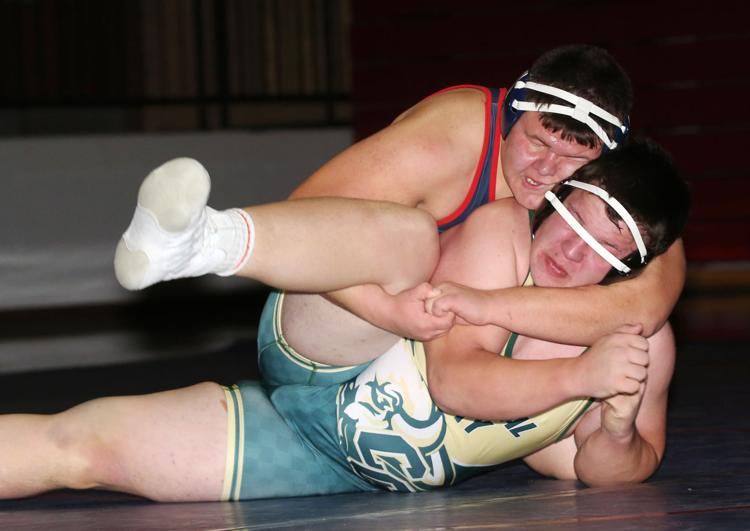 Pavelka knew going into the match how important it was for the team that he come away with points, or at the absolute least not get pinned. And afterwards, he knew his pin made things a lot easier on Tristen Obermiller, who pinned his opponent in the third period to seal the dual victory.
"I knew I just needed to help my team, get a pin possibly or just any points would help the team," Pavelka said. "That was a hard match. (Bailey's) a good wrestler."
Adams Central has three wrestlers that competed in last season's state tournament, and all three earned wins on Thursday. In addition to Obermiller's pin in the 106-pound match, 120-pounder Devon Ackles notched a pin in just 1 minute, 32 seconds, and Cameron Kort (138) recorded a major decision with an 11-3 win.
Freshman Braiden Kort earned his first varsity win, a 4-0 decision that kicked off the dual. After the Patriots fell behind 24-19, Oaklyn Smith (182) earned a 9-2 win.
Lonowski said even some of the matches that didn't go AC's way featured some good wrestling by the Patriots.
"Some of my kids that didn't win still wrestled well," he said. "Jeret Frerichs wrestled up a weight class — or even two before he's done — and Jackson Johnson wrestled up a weight. Jackson came to me and said, 'Coach, I'll wrestle up a weight if it'll help us.' I thought it would, and neither of those guys got pinned so that was big."
The Patriots will be back in action Saturday in the Cozad invite.
Adams Central 40, Cecntral City 28
113 — Braiden Kort, AC, dec. Drew Garfield, CC; 4-0
120 — Devon Ackles, AC, pinned Brandon Fye, CC; 1:32
126 — Konnor Howard, AC, won by forfeit
132 — Dyson Kunz, CC, pinned Nathan Mieth, AC; 0:48
138 — Cameron Kort, AC, maj. dec. Kane VonBonn, CC; 11-3
145 — Tanner Schneiderheinz, CC, pinned Kaleb Saurer, AC; 4:25
152 — Bryce Sutton, CC, maj. dec. Jeret Frerichs, AC; 15-3
160 — Sam Moore, CC, maj. dec. Jackson Johnson, AC; 9-0
170 — Jaramie Elton, CC, maj. dec. Blake Bonifas, AC; 12-4
182 — Oaklyn Smith, AC, dec. Kyle Dittmer, CC; 9-2
195 — Nik Erickson, CC, maj. dec. Sam Hemberger, AC; 12-3
220 — Jacob Deckert, AC, won by forfeit
285 — Tyler Pavelka, AC, pinned Gunner Bailey, CC; 3:52
106 — Tristen Obermiller, AC, pinned Cole Kunz, CC; 5:16