SPRINGFIELD — Both head coaches agreed the second quarter was where Platteview (16-8) seized control of Saturday's Class B, District 8 final.
The No. 10 Trojans finished off the quarter with a 9-0 run and never looked back.
Platteview's experience propelled it to a second state tournament appearance in three years, and the first under rookie head coach Gary Wood, with a 38-30 victory.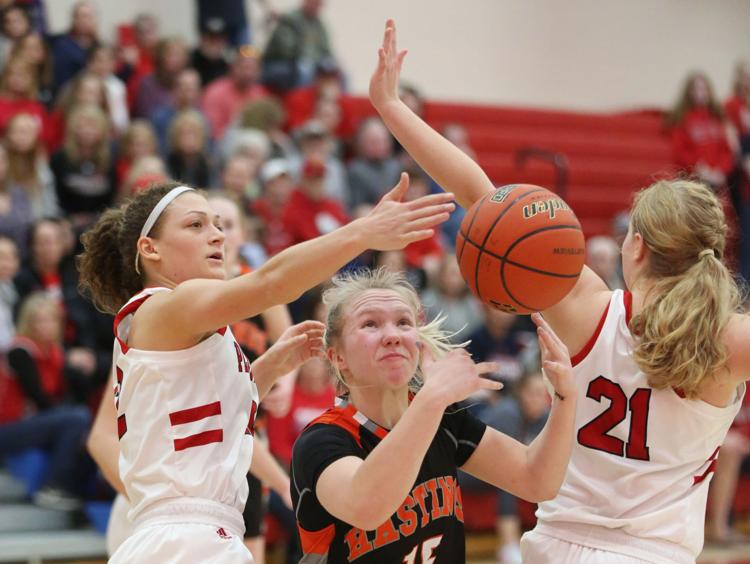 The Trojans' roster features eight seniors, and just three underclassmen.
Hastings (13-9), ranked ninth in Class B, brought a roster that has just two seniors to the district final.
The youthful Tigers struggled in the spotlight. The credit belongs to Platteview's defense, which greeted Hastings' ball handlers in the back court and applied plenty of pressure throughout the day.
"We knew it was going to be a 'Come to Jesus' night," HHS head coach Greg Mays said. "There was going to be the laying on of hands all night. I thought, other than the second quarter, we handled it pretty well. It was just a physical game."
The Trojans turned Hastings over 19 times — 13 in the first half.
"(Platteview) was really scrappy on defense, going after every loose ball, tapping the ball," said HHS sophomore guard McKinsey Long. "They were just a good defensive team and we didn't react well to it."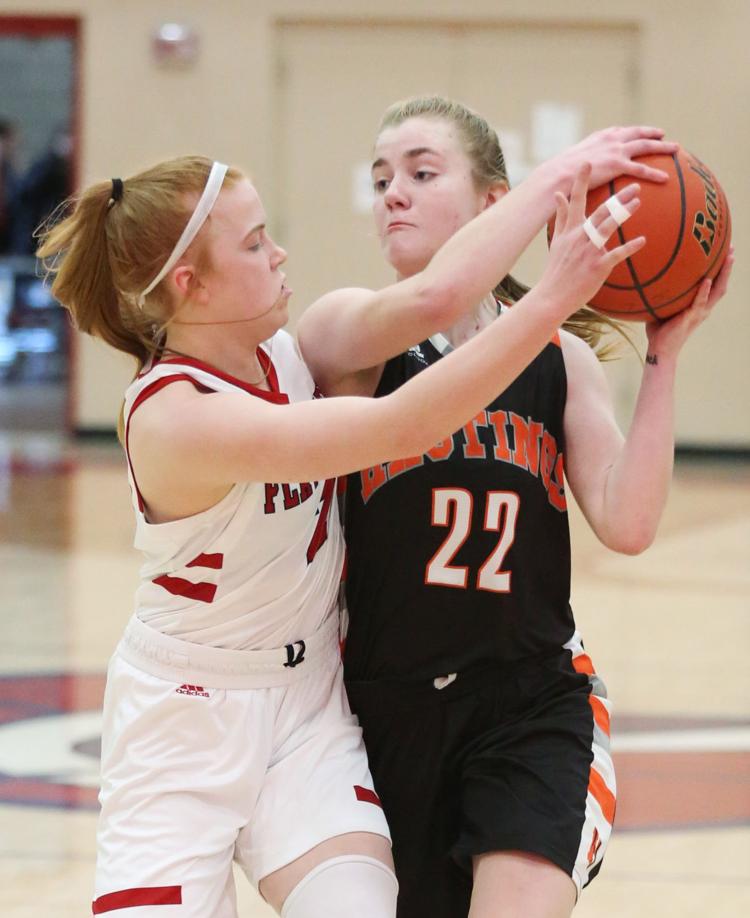 Long paced Hastings' offense with 14 of its 30 points. She drained all four of the team's 3-pointers.
Mays said he didn't think Long hit a shot all week during practice.
"Not a layup, a jump shot, anything," the coach said. "So, she was due."
Long added: "I just really wanted this game. I knew my team needed me to step up and score and we all needed to come together."
Long scored all eight of Hastings' points in the first quarter, but she and the Tigers found virtually nothing during the middle frames, where they were outscored 17-6.
Hastings' 16-point effort in the fourth, where the Tigers closed to just six points with 1:09 remaining, was too little, too late.
"They run very good sets," Wood said of Hastings. "I told the kids we've got to pick them up at half court and not let them get into their sets because once they get into their sets, they're getting wide open shots. It was out of a necessity, we had to get in their face to make it harder for them."
Allison Kuhl scored 12 of her game-high 17 for Platteview in the first half.
The Trojans earned trips to the free throw line often, which forced Hastings to cycle through different defensive strategies. They hit 18-of-28 attempts. Hastings was just 6-for-8.
Simply, Platteview was the aggressor.
"They got to the line and got their points," Mays said. "That was kind of the difference. They hit a few shots here or there, but the free throws were probably a bigger deal. They got us in foul trouble. They got us playing defense different.
"A lot of the times a basketball game is a contest of, whose practice is it going to look like? That game looked like their practice. I guarantee it."
The teams combined to shoot 18-for-76.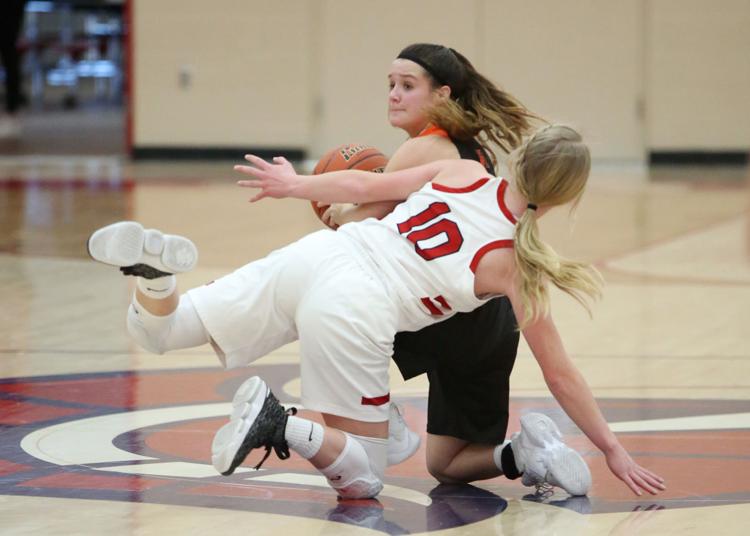 'I'll pretend I didn't hear that," Wood joked.
"Basketball is funny. One night you're on fire, and the next you can't hit anything. But both teams played good defense and that's part of it."
Jessica Wellman and Anna Koehler each added nine for Platteview.
Hastings' Dacey Sealey finished with seven points, including the only Tiger bucket of the second quarter. KK Laux chipped in four points. Lauren Hinrichs scored three, and Maddie Hilgendorf two.
The story of how Hastings reached a sub-state game outweighs the result of it. At one point, the Tigers won seven of eight and jumped into the conversation.
"My thoughts at the beginning of the season were: let's get 10 wins, let's be a factor in the conference, and let's get to a district final somehow," Mays said. "We went 2-5 to start the year and I thought maybe we need to reevaluate our goals."
Mays' young group came together when the calendar hit 2020, where the Tigers went 10-5. Hastings figured out how to win games, including an upset of No. 4 Northwest in late January.
"We passed (our goal of) 10 wins in our rearview mirror. I don't even know when we got there," Mays said. "We got to a district final and were competitive. We would've liked the frosting on top, but we couldn't get it done (Saturday)."
Hastings (13-9)................8 2 4 16 — 30
Platteview (16-8).............9 9 8 12 — 38
Hastings (30)
KK Laux 1-5 2-2 4, Dacey Sealey 3-8 1-2 7, McKinsey Long 5-15 0-0 14, Daelene Hinrichs 0-1 0-0 0, Lauren Hinrichs 1-7 1-2 3, Maddie Hilgendorf 0-2 2-2 2. Totals: 10-38 6-8 30.
Platteview (38)
Anna Koehler 1-6 6-8 9, Allison Kuhl 5-12 6-9 17, Halle Johnson 1-10 0-0 3, Emma Lewis 0-1 0-3 0, Jessica Wellman 1-6 6-8 9, Veronica Guenther 0-1 0-0 0, Lindsey Hutfless 0-2 0-0 0. Totals: 8-38 18-28 38.
Three-point field goals — HHS 4-11 (Laux 0-2, Sealey 0-2, Long 4-7); PHS 4-18 (Koehler 1-3, Kuhl 1-4, Johnson 1-5, Hutfless 0-2).