Having gone so long without being surrounded by students, the Hastings Public Schools teachers participating in summer school once again are in their element.
Those teachers, as well as summer school students, also get to practice new procedures that will become the standard during the continuing novel coronavirus disease, COVID-19, pandemic.
HPS summer school began Monday at Lincoln Elementary with about 100 students going into first through fourth grade.
These are the first in-person classes for the district since school was shut down effective March 16. Elementary teachers provided packets for students during the remainder of the 2019-20 school year.
Summer school runs through July.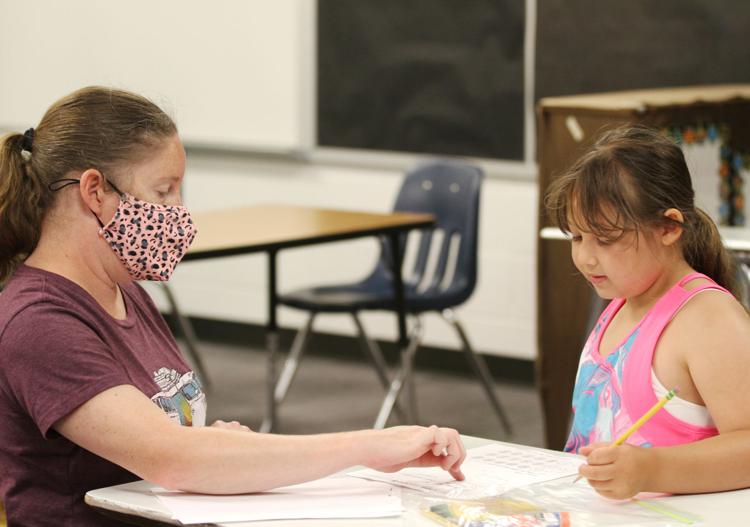 "We're glad they're here," Superintendent Jeff Schneider said of the summer school students. "It's a great chance for us to see how this is going to work, a little bit. More importantly than that, these kids need school. All kids need school, and they've been out of it since the middle of March. So it's really good to see some students back in the building."
Summer school coordinator April White said the opportunity to practice procedures teachers will be asked to put in place in the fall is big.
White, who had served as special education teacher at Hawthorne Elementary and will return to the classroom in the fall to teach third grade, said the planning process for summer school was "fast and furious."
"It was kind of a game of being on pause and fast forward all at the same time, waiting to know if we had enough information and enough things in place to go forward," she said.
Each class has about six or seven students, allowing those students to socially distance from one another.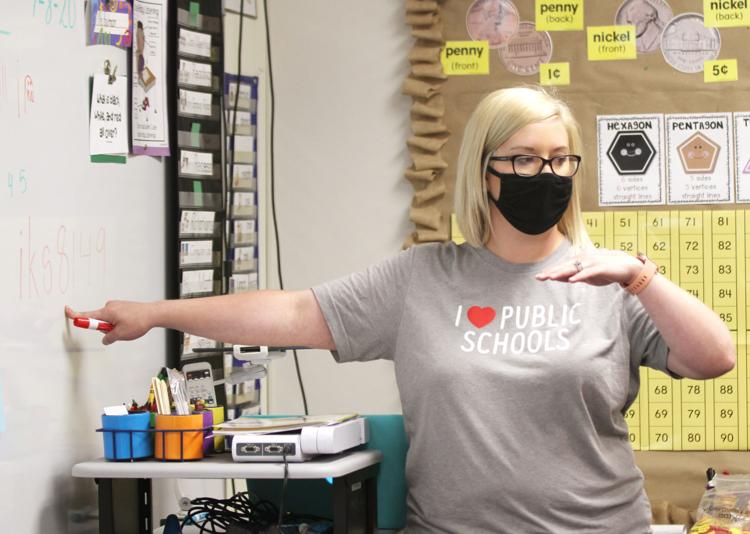 Summer school staff members are wearing masks. Students aren't required to wear masks, but making mask wearing mandatory for students "when possible" is the district's recommendation for the 2020-21 school year.
Summer school was scaled back this year, limited to four grades and with an emphasis on literacy. Other subjects are taught, as well, however.
"Research has proven that students being proficient in literacy by the third grade is a huge, huge indicator of their future success down the road," Schneider said. "So we wanted to do everything we could for kids this age. We really feel like literacy is one of the most important concepts we address."
When she was working on rhyming words with students during classes Wednesday, first-grade teacher Krista Niederklein briefly pulled down her mask so students could watch her enunciate the differences between words.
"We're telling (teachers), you can still do that, but be up front and be 6 feet away," Schneider said.
He said there was a lot of work by a lot of people that made even having summer school a possibility. The district cleared the plan with the South Heartland District Health Department.
"We were not going to hold this unless we had their OK to do so," he said. "Not only did we have their OK, they encouraged us. I think they too felt like it was a good thing for kids to be back in schools and that we needed to practice some of the safety measures."
Instead of eating lunch together at the end of the three-hour school day, students receive sack lunches — which are the same meals the district provides for all children 18 years old and younger each weekday from 11 a.m. to 1 p.m. at Hastings Middle School and Alcott Elementary, as well as at Lincoln.
Schneider said he's not sure yet how meals will be handled in the fall. District officials will be meeting with Lunchtime Solutions.
"I know it's not going to look like it did before," he said. "For example, at every building we had a fresh fruit and vegetable bar that was kind of a buffet style. That's not, probably, going to be the case. We're going to have to do things differently."