For Sydney Svehla, being pro-life means opposing abortion. But it begins with personal gratitude:
Gratitude for health and strength, the beauty of the world around us, and the blessings of community.
That, Svehla said, is why she believes a simple act like going for a walk or run can be a prayerful, meaningful way to witness to the sanctity of all human life from conception to natural death.
"I believe life is the greatest gift God has given us," said Svehla, who along with her friend Kinzie Beutler recently organized a Life Runners chapter in Hastings. "Using our bodies and being in nature and being with others in an active way is a way to celebrate that gift.
"That's what brings it all together."
In August, Svehla and Beutler, both of Hastings, put together a meeting to introduce other local residents to Life Runners — an international organization of individuals who share a commitment to the anti-abortion cause and gather in their own communities to give witness to their beliefs.
About 10 people attended the introductory meeting, and others have expressed interest in being involved, the women said. Their second event on Saturday was part of a program marking the National Day of Remembrance for Aborted Children.
More than 50 people gathered near a memorial to the unborn in Parkview Cemetery, which was erected many years ago by the Knights of Columbus, for a short program. Lt. Gov. Mike Foley made a short address.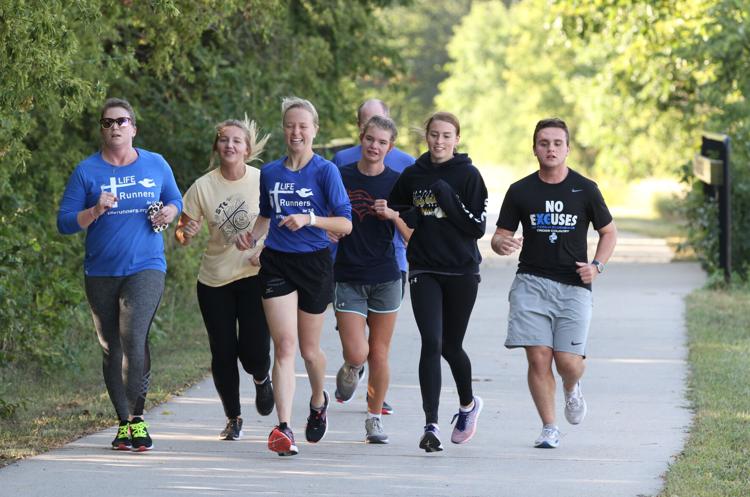 After the ceremony, the local Life Runners and others who were interested went for a jog together on the nearby Pioneer Spirit Trail or walked in the cemetery for around a half-hour. The group then reconvened for a closing prayer.
The Life Runners organization was founded in 2008 when a group of 12 teammates participated in the Chicago Marathon. As of this year, the group claims more than 15,000 members of all ages in 175 chapters, with a presence in 2,553 cities and 39 nations.
Members aren't required to run or even walk — only to wear one of the group's jerseys, which say "Remember the Unborn," to their gatherings. Svehla and Beutler said the local chapter will be having monthly "huddle" events, where members will gather for prayer and something as simple as a group jog, or perhaps sometimes as part of some larger event like Saturday's.
The Rev. Cyrus Rowan, the new principal at St. Cecilia Middle School and High School and a runner himself, is the group's chaplain.
Between huddles, members are encouraged to run or walk on their own, offering up their efforts as a prayer for the cause, and wear their jerseys out in the community. The members then can log their miles and/or "jersey time" as a way to quantify their efforts on behalf of the cause.
Many people who run or walk for exercise enjoy doing so for the solitude those activities provide. But it's also good to be part of a team working together for a common purpose, Svehla and Beutler said.
While dedicated runners and walkers may be the individuals most likely to be interested in the Life Runners, Beutler said, everyone is welcome.
She and Svehla said they hope the group's activities not only will draw fresh attention to the anti-abortion message, but also encourage those experiencing pregnancy and unsure where to turn for help.
"I would say just bringing awareness that there are resources out there that can help you," Beutler said, mentioning the Wellspring Pregnancy and Health Center, which provides information and assistance in Hastings. " 'Here's a place to start.' "
Saturday's program in the cemetery was coordinated by South Central Nebraska Right to Life. State Sens. Steve Halloran of Hastings and Dave Murman of Glenvil were in the audience.
In his remarks, Foley said America's future depends on citizens working together to put a stop to abortion.
As President Thomas Jefferson once wrote, Foley said, God is just, and "his justice cannot sleep forever."
"This will not stand," he said of the current legal status of abortion. "If we don't get this issue right, our nation will fall."
Connie Consbruck of Hastings, a leader of the Right to Life group, had local students in the audience release six balloons in memory of Julie Schmit-Albin, longtime executive director of Nebraska Right to Life, who died in August.
Consbruck said each of the balloons was meant to represent 10 million babies aborted surgically in the United States since the U.S. Supreme Court issued its Roe vs. Wade ruling, effectively legalizing abortion nationwide, in 1973.