SMITH CENTER, Kan. — When Smith County Memorial Hospital built a new campus here, officials concluded that because of Medicare reimbursement rules for Critical Access Hospitals in rural communities, a new long-term care unit could not be attached as part of the project.
That conclusion clouded the future for the men and women currently residing in the Long Term Care unit. Now, however, over one year after the hospital moved from its old location on South Main Street to the new campus on East U.S. Highway 36, the elders still living at the old Long-Term Care are about to move into a new home of their own and gain a sunnier outlook as part of the bargain.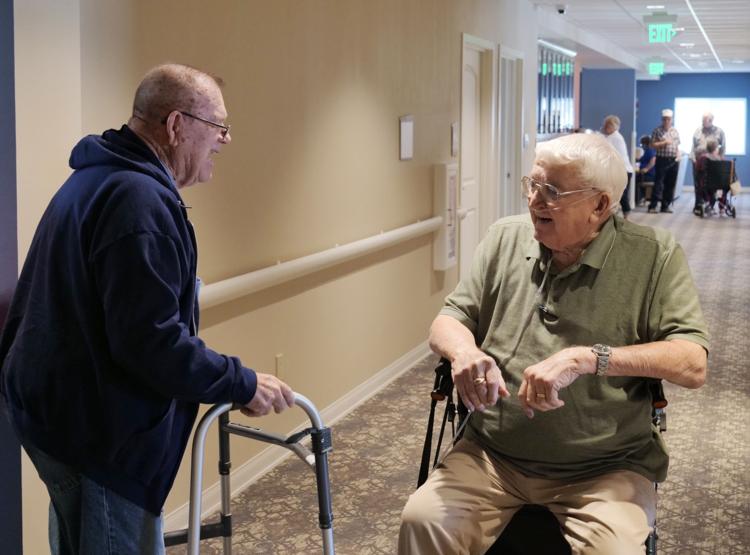 That's "sunny," as in SunPorch of Smith County, the nonprofit organization that took over operation of Long Term Care from the hospital in October 2017 and is now opening a brand-new campus with both nursing home and assisted living options. Seniors move into their rooms Oct. 1, three months later than originally planned.
SunPorch will open with two skilled-nursing residences called Green Houses, each with 10 suites for up to 11 elders (one of the suites in each house has two bedrooms), plus 12 assisted-living apartments in a third building. The structures have been built on either side of a new street, giving the entire development the feel of a new neighborhood on the east edge of town.
Ground was broken for the construction project in summer 2018. The SunPorch property is near Smith Center High School and just a few hundred yards south of the new hospital.
The SunPorch organization, which is led by Executive Director John Grace of Topeka, Kansas, has adopted the Green House Project model of senior living developed by Dr. Bill Thomas, a physician and entrepreneur from Ithaca, New York.
Thomas, a visionary in his industry, also developed the Eden Alternative, which, like the Green House Project, represents a cultural change in the field of elder care.
The Green House Project model focuses squarely on the elders and their quality of living, rather than on the institution itself and its operational efficiency. Green House Project core values are giving elders a real home, helping elders to live a meaningful life, and empowering employees to make a difference in the lives of the elders they serve.
"He felt like elders should have an improved life," said Jaleesa Shamburg, who came on as board as director of nursing with SunPorch of Smith County in April, of Thomas and his motivation for developing the Green House Project.
Green House Project Homes are operating in around 400 locations today. "Green House" is a registered trademark, and all locations operating under that name are held to strict quality assurance standards by Thomas and his organization, Shamburg said.
In practical terms, the Green House Project model involves up to 10 or 11 seniors, always called "elders" instead of "residents," making their homes in a building called a Green House residence, with their 10 rooms arranged around a central hearth and gathering space. Each room has its own full, private bath.
Each Green House is outfitted with its own kitchen and a large farm table for meals and activities. The house is staffed around the clock by two "shahbazim," certified nursing assistants who help elders with their daily personal needs, but also cook their meals, do cleaning chores, develop personal relationships with the elders and just spend time with them one-on-one when they need a friend.
"It's like a big family," Shamburg said in an interview May 16.
"Shahbazim" comes from a story about a king who commanded his bird, shahbazim, to take care of other royalty. As the bird flew to care for other royalty, it saw the non-royal folk and took care of them.
A third shahbazim will be added as a swing person as the needs of the elders in skilled nursing care dictate.
Unlike in an institutional nursing home, where residents adhere to a set daily schedule that includes appointed times for wake-up and meals, Green House elders set the parameters of their own day, including when they get up in the morning and when they eat their meals. They also have a choice in what they will be served and even have access to the kitchen between meal times so they can cook their own food.
"If they want to sleep until 10, that's perfectly fine," Shamburg said. "The Green House model is 'elder's choice' and dignity of risk.' "
While staff will gather input from the elders in developing the main meal menu for the week, elders who prefer to eat something different at any given meal will be able to do so. Elders also have the input on plans for recreational activities within the house and will be able to get outside and enjoy the fresh Kansas air and sunshine on secure patios. The Green Houses are built to feature plenty of natural light and convey a sense of warmth.
"It's the way it should be," said Shamburg, a northern Kansas native and registered nurse who has worked at the Smith County hospital and in many other communities as a traveling nurse but returned to Smith Center full time to get in on the ground floor at SunPorch. "It's living at a home rather than a facility."
The elders will continue to have access to 24-hour nursing care, physical therapy services and other amenities associated with traditional nursing homes, plus a strong schedule of entertainment.
High hopes
Many of the elders at Long Term Care hail from Smith Center and the surrounding area, so having to move out of town would have displaced them from their communities.
Elders at LTC got to tour their new homes Sept. 27 during a ribbon cutting ceremony. Family members and those from the community got to tour the buildings as well.
Residents' families often wonder how the shahbazim staffing the Green Houses will have enough time to do all the work being put on their plates, Shamburg said. But the staff has been preparing for the change for months and has visited another Green House location in Akron, Colorado.
Shamburg and Tammy Pettijohn, administrator of SunPorch of Smith County, previously made a trip to Florida to visit a John Knox Village location where a lot of Green House staff training occurs.
"By going through a lot of the education we've been through in the last year, it's very doable," Shamburg said of staff having enough time to do its work well.
She added that employees at other Green House locations seem comfortable with their responsibilities and love their jobs.
"They're very happy in their setting," Shamburg said.
The assisted living building includes 10 one-bedroom and two, two-bedroom apartments, as well as common dining and living rooms.
Shamburg said she is excited for moving day to come and is looking forward to the challenge of operating the Green House project model day by day, handing back to the elders more control over what their lives are like.
"It's a whole mind shift," she said. "Before, it was whatever the nurses and the doctors thought was right. Now the elders get to decide."
SunPorch is available to elders through Medicaid, Medicare, private insurance and private-pay arrangements.
Obstacles overcome
The Green Houses originally were planned to open to elders in June, but concerns over safety caused delays and led to the Oct. 1 move-in date.
Ryan Grace, vice president of Grace Team, the management group for SunPorch and son of John Grace, said the delays were caused by a difference in regulation between long-term care housing and assisted-living. The assisted-living includes a therapy gym for speech and occupational therapy and a beauty salon.
Those in the long-term living buildings plan to visit the therapy room and salon. Fire marshals, who followed regulations set by the Centers for Medicare and Medicaid Services, were concerned that elders visiting the building would have difficulty escaping in the event of a fire. The difference stems from the amount of help assisted-living elders have, compared to more help those in long-term care have.
Ryan said after explaining that long-term care residents visiting the assisted-living buildings are accompanied by an employee, CMS gave their approval.
Major investment
The two Green Houses and assisted living buildings represent Phase 1 of the SunPorch project and carry an estimated overall price tag of $1.7 million.
Around $6 million worth of financing for the construction project was obtained through loans from the U.S. Department of Agriculture along with tax credits.
Key private contributors to date had come from local entities including the Srader Foundation, Hubbard Foundation and Smith County Community Foundation.
"We are extremely grateful to these local foundations that understand the importance of investing in long-term care in our area," Pettijohn said.
A timetable for the planned second phase of the project remains to be determined, but is envisioned to include two more Green House residences and 12 senior independent-living apartments. Those plans remain subject to change.
Officials estimate that by the time the entire campus is built, $10 million will have been invested in the SunPorch project, and the organization will employ 200 people. Thirty-seven workers have been employed by SunPorch at the old LTC.
Plus for community
Smith County has been recognized through the years as having one of the United States' largest concentration of residents age 85 and up as a percentage of the general population. But Smith Center, population 1,669 in 2010, also is known for its strong school system and vibrant local business community. And Smith County residents have given their strong support to maintaining high-quality local health care services.
In a 2016 countywide advisory vote, 80% of Smith County's voters gave their approval to the plan for the new hospital, which cost $21.3 million to build and several million more for land acquisition, furniture and other related expenses.
Shamburg said she is pleased to see a progressive new model of senior care become available in Smith Center.
"We have a lot of support from our community," she said. "We're small, but we're mighty."