As Pippa White told the story of the Orphan Train, she used the word resourceful to describe the riders.
White provided the oral history of several Orphan Train riders on Friday afternoon at the Hastings Public Library as part of the library's 115th anniversary celebration.
The Orphan Train transported orphaned and homeless children from crowded Eastern cities of the United States to foster homes in rural areas of the Midwest in freight trains and coaches.
The orphan trains operated between 1854 and 1930, relocating more than 200,000 orphaned, abandoned, abused or homeless children.
The Orphan Train was the work of pioneering child welfare advocates like Charles Loring Brace, who established the Children's Aid Society and wanted to find a home for the more than 30,000 children who were homeless on the streets of New York City in the 1850s.
White, who is from California, didn't know about the Orphan Train until she moved to Lincoln, where her husband works at the University of Nebraska-Lincoln. She became a teaching artist with the Nebraska Arts Council.
She wanted to delve into the history of the Orphan Train. This was in the early '90s when there were only two books about it in the Bennett Martin Public Library in Lincoln.
Those books contained personal stories of Orphan Train riders.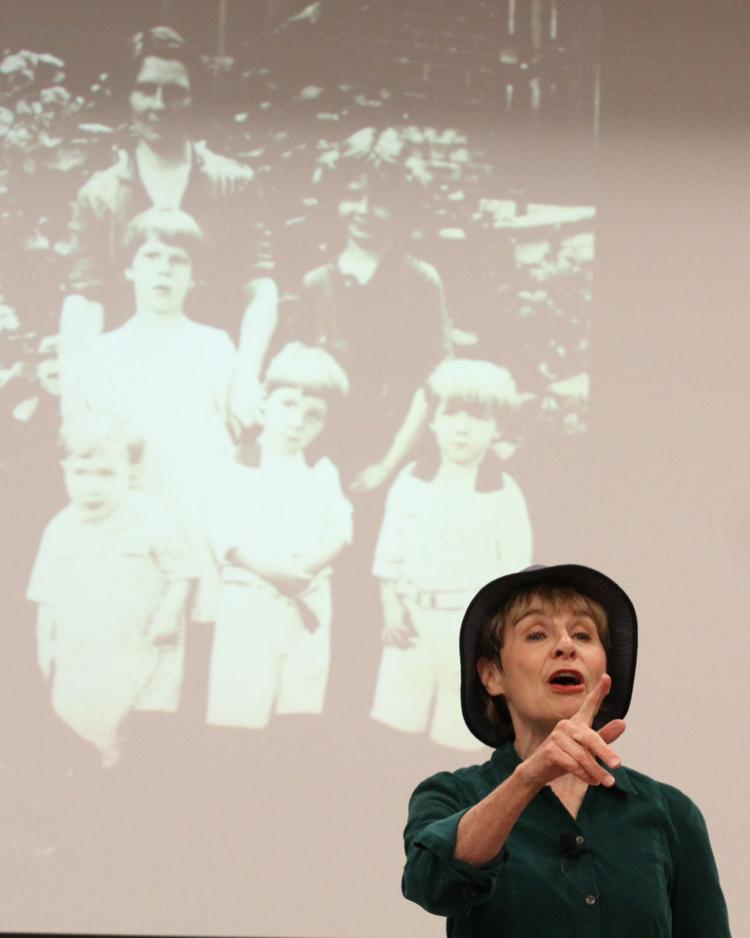 "When I saw those stories I thought 'Oh yeah, that's drama,' " White said.
Wearing hats and using accents, White gave the riders life as she told their stories.
White sang songs from the period between character narratives.
Her performance contained eight characters, most of whom she met while researching the Orphan Train.
That includes Alice "Toots" Bullis Ayler, who was separated from her four siblings as they traveled halfway across the country on the Orphan Train. Ayler ended up in Oklahoma City.
White met Ayler at an Orphan Train rider reunion. Ayler asked White why she was there.
"I said 'I'm an actress. I want to do a show about this,' " White said. "She said 'An actress, that's what we need.' "
Only a handful of Orphan Train riders are still alive, but White said the riders collectively have more than 2 million descendants.
After her performance, White was greeted by several audience members who shared their own personal experiences with the Orphan Train, either with a family member who rode or a hometown that participated.
This feedback happens for White at every small Midwestern city she performs.
"I love it," she said. "It brings it more alive for me than ever."
Among the riders included in her performance was Toni Weiler, who lived part of her life in Hastings.
White said it was an honor to be part of the library's anniversary celebration because she relied heavily on libraries to research her presentation.
Library director Amy Hafer said she was amazed at how White brought the riders to life.
"It's an amazing way to tell the story, making you really appreciate the emotion and feeling behind the story," Hafer said.
Representatives from the Hastings Area Chamber of Commerce honored the library with an anniversary plaque before White's performance.
Hafer said she takes pride working for an institution that has been a cornerstone in Hastings for so long.
She was also happy to see such a large crowd, about 75 people, for White's performance.
"I'm really pleased," she said. "Everyone was really excited on the way in and on the way out."