LINCOLN — Morgan Baker had goals she wanted to accomplish through her high school swimming career.
Baker hoped to earn at least two medals per season at the state meet through her performances in the 50- and 100-yard freestyle races.
Through her hard work and progression, Baker had no trouble doing that. She earned all eight, highlighted by a fourth- and fifth-place finish in the events as a junior.
The finals in her seniors season didn't yield the placing she had aimed for, but when she looked at the timing board inside the Hendricks Training Complex at UNL Saturday, she was pleased with what she saw.
"This has been the hardest year in forever for the the 50 freestyle," Baker said. "My times that I swam in prelims this year would have gotten me in the top three last year. It's just crazy. I improved this year, but everybody is improving as well."
Baker finished sixth in the 50 free with her time of 24.34 seconds. She took seventh in the 100 free at 53.26 seconds.
"My dream has been I want eight medals. It was so hard for me at prelims because I knew how bad I wanted that," Baker said. "After prelims (Friday) I knew that I had that.
"I'm very proud of myself and what I've accomplished this season. Although the place may not have been as high as last year, my times were better. I am proud of where I'm at right now."
Medaling each year in her trademark events was something she expected of herself, but Baker never thought she'd lay claim to nine medals.
The ninth was courtesy of Hastings' 200 free relay team that advanced to the finals with a 1:41.33 mark in the prelims that was nearly two seconds improved from its seed time.
Baker, Diana Brailita, Hayden Stephenson, and Kate Delaney finished eighth in the championship final race Saturday with yet another improved time of 1:41.29 — which broke the school record.
"I never dreamt I'd be finishing my career with nine (medals) with the relay," Baker said. "That was crazy."
"We knew we had a shot to get a relay medal," Scribner said. "It's been due, and these girls put their hearts into it to do it. To get those four girls on the podium together, it means the world to them."
The fact that Hastings even had a relay team in the finals was notable for the program.
"It shows to everybody else, us that we're among the best in the state. There's no taking that away from them forever," Scribner said. "Being outside of the Lincoln/Omaha area, you can find success and compete with the best. We don't have an abundance of swimmers, but we produce quality swimmers."
Baker, Brailita, Delaney, and Lexi Anderson broke the school record with their time in the 200 medley relay, which started Saturday's meet. The Hastings quartet swam it in 1:53.16.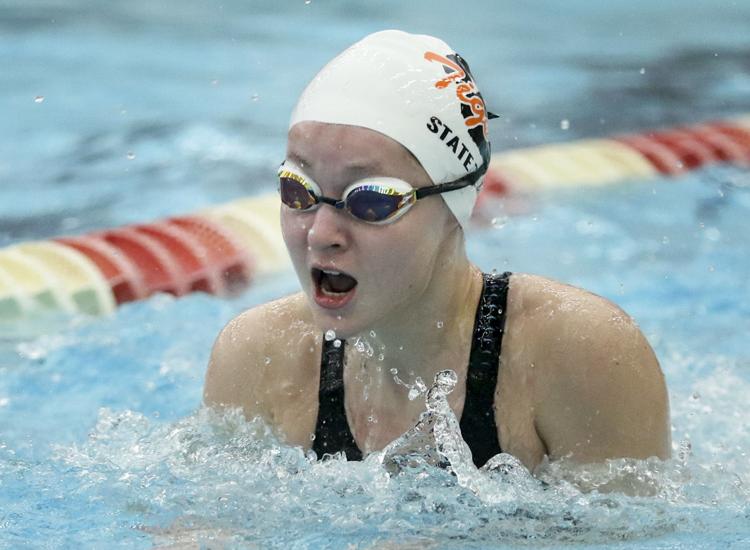 Brailita was the only other individual swimmer competing for Hastings outside of relays. The junior finished fifth in the 50 free consolation race with an improved time of 24.59 seconds — her prelim time was 24.81 seconds. Then in the 100 free, Brailita swam a 54.35 for third place, which was 27 hundredths better than her prelim swim.
Scribner was glad to see Brailita succeed in her consolations because he thought she could have easily been in the finals had she been herself in prelims.
"Diana looked like Diana (Saturday). (Friday) she just looked like she couldn't breathe behind the blocks," Scribner said. "(Saturday) she was calm, cool, and herself behind the blocks. It paid off. She swam times that if she would have swam them (Friday) they would have drastically changed her place. I'm super proud of her with how she overcame her prelim performance and improved."
Brailita, who swam in the finals of the 100 and 200 free last year, felt accomplished with her finish to the season, given her shaky start to the final meet.
"I was just nervous going into prelims because I knew that I wanted to make it back to the (championship) final," Brailita said. "(Saturday) I just knew I had nothing to lose and so I just gave it everything I had."
Scribner sees Brailita filling the shoes of Baker, who will swim at Nebraska-Omaha, next year.
"That's the role that she's going to have to fill," he said, "is being that leader, that person who everybody turns to, that's going to have that performance that when you call on her she's going to deliver."
"I am excited for Morgan, to see what she does at UNO," Brailita said. "But I can't wait to just be the leader of the team and step up and I hope that I can do exactly what she did."