ROSELAND — Blue Hill and Kenesaw virtually had the same bullet points on the whiteboard Monday night.
The Bobcats and Blue Devils were each running 2-3 zone defense, and, in turn, running similar schemes offensively.
For one, the game plan was executed better than the other.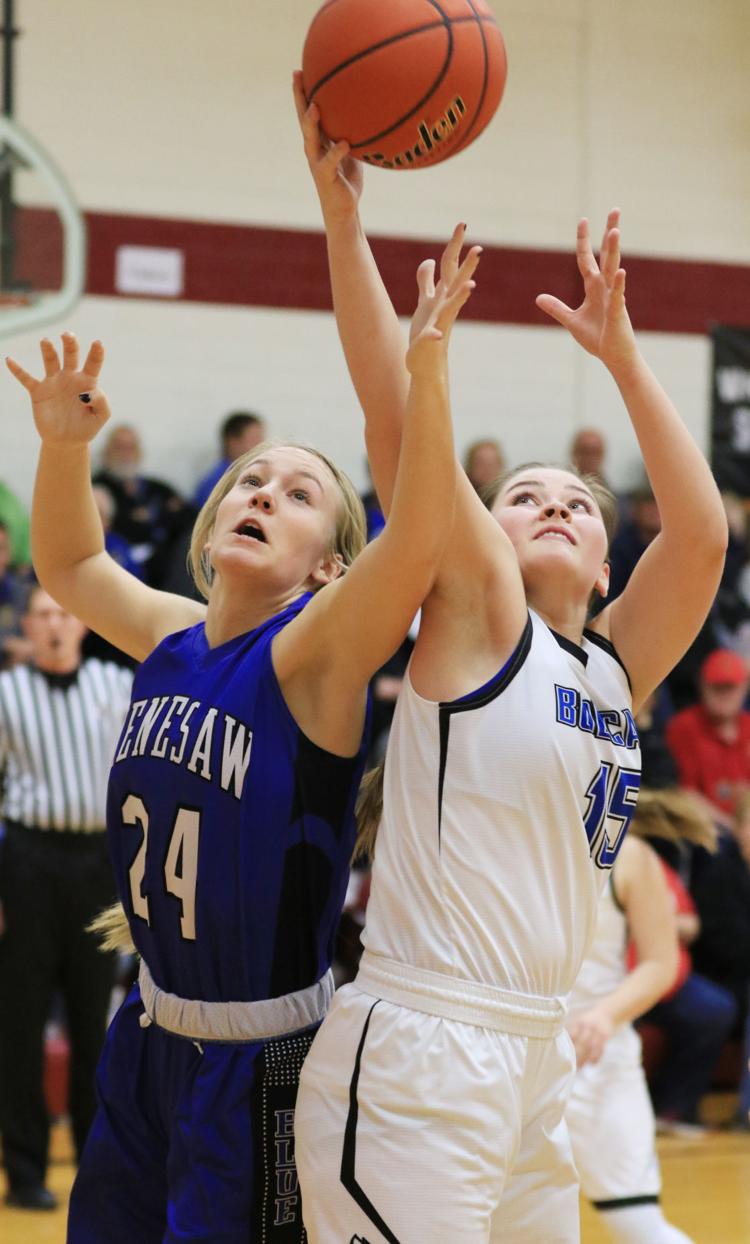 Blue Hill turned Kenesaw over 23 times and shot close to 50 percent, and advanced to the semifinals of the Twin Valley Conference tournament, to be played Thursday night, with a 50-26 victory.
After going the first 2 1/2 minutes scoreless, Blue Hill broke the ice with one single free throw from Brooklyn Kohmetscher.
With another 1 1/2 minutes gone, Madison Menke sunk a pair from the stripe, and then Kyra Meyer added one there, too.
At the 2:30 mark, Blue Hill finally got its first field goal to fall through the twine. And a Kenesaw turnover on the ensuing inbounds pass was quickly converted into points for the Bobcats, who finished the opening period up 10-0.
"We got out of the gate a little slow on offense, so the defense picked us up," Blue Hill head coach Tim Streff said. "Our press finally created some turnovers — we got four quick points off of that — and it kind of created a nice spread and we relaxed and then the offense started going after that."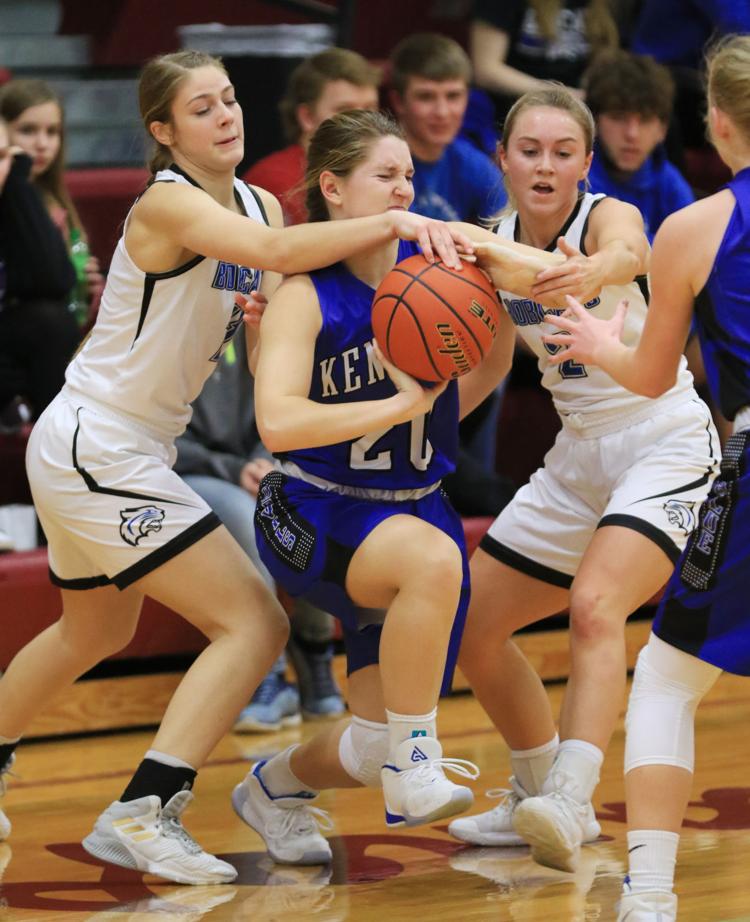 Kenesaw missed its first 11 shots, going scoreless over the first 9 minutes, 13 seconds. Hope Nienhueser, who tied Kaylee Steer for a team-high six points, finally put the Blue Devils on the board with a free throw early in the second quarter.
"You never like to see that goose egg up of the scoreboard, but we came out in the second quarter and scored 10," Kenesaw head coach Jace Morgan said.
Those 10 points put Kenesaw within 15 points of the Bobcats at halftime, but the Blue Devils hit just one field goal in the third quarter, and shot 3-for-13 over the final one.
Kenesaw shot just north of 15 percent on the night (6-for-38).
"I was proud that we didn't just lay down and die after the scoreless quarter," Morgan said. "Quite honestly, a 10-point quarter for us is a good quarter. We're not a high-scoring team at all."
Half of Kenesaw's points were made at the free throw line.
Most of Blue Hill's points were from within a few feet of the basket. The Bobcats scored plenty in transition as well.
"Once you get that first bucket, they always seem to come in bunches for us," Streff said. "That first one has just been hard to come by for us for some reason.
"We rebounded well and we were able to get out in transition off of that."
Menke and Meyer paced the Blue Devils with 12 points each. Kohmetscher added seven points and hauled in eight rebounds.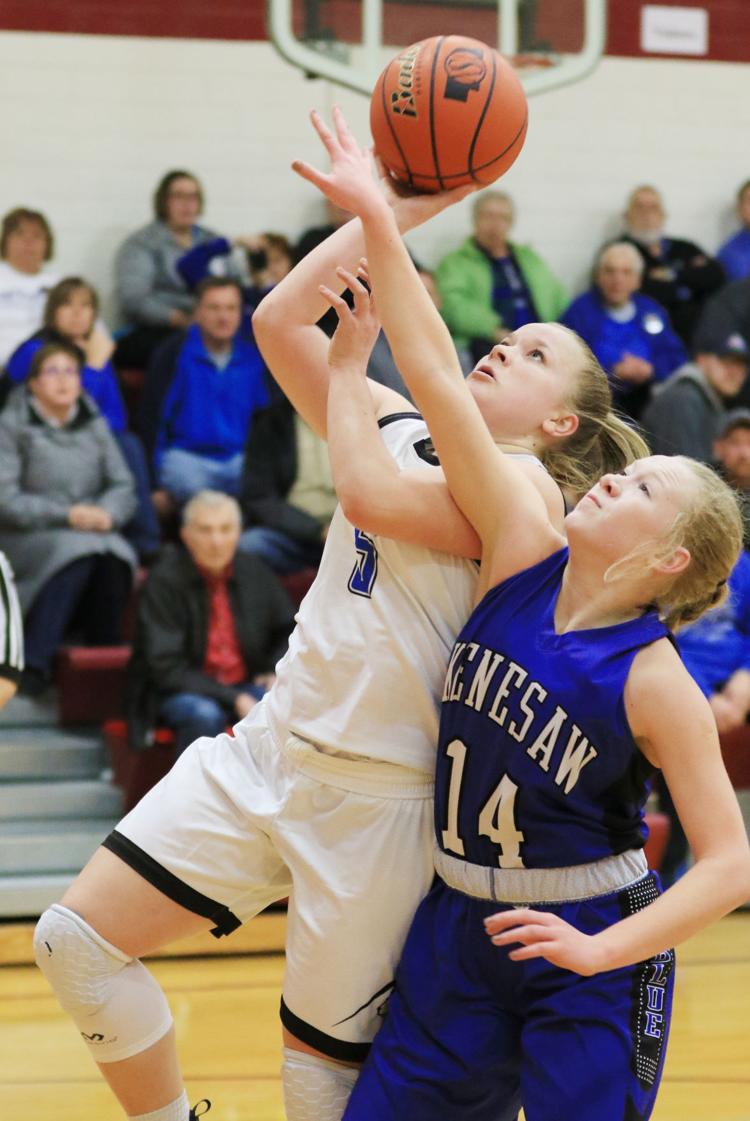 "I felt like (Blue Hill) played tougher than us," Morgan said. "There were times we showed we could be tough with them, but it wasn't every possession. We knew what we had to do and I felt like they just out-physicaled us, and we played a little timid."
Kenesaw (6-12).............0 10 4 12 — 26
Blue Hill (10-7)...........10 15 10 15 — 50
Kenesaw (26)
Rylee Legg 5, Cassidy Gallagher 1, Savannah Williams 3, Hope Nienhueser 6, Kaylee Steer 6, Chloe Uden 3, Micha Cordes 2.
Blue Hill (50)
Kenzie Bunner 4, Kyra Meyer 12, Brooklyn Kohmetscher 7, Madison Menke 12, India Mackin 2, McKayla Faimon 5, Abigail Meyer 4, Jasmine Menke 4.
No. 9 Silver Lake 57, Red Cloud 20
Abbie Skupa scored 30 points to lead the Mustangs to the semifinals of the TVC tournament with their 57-20 win over Red Cloud Monday night.
In the process, Skupa surpassed her sister MacKenzie to become the program's all-time scoring leader. With her first made free throw attempt at the 5:53 mark of the second quarter, Skupa tied her sister's record. Her second, put all other names behind hers.
Skupa had 22 points the first half. She finished the night 13-for-19 from the floor, and 4-of-5 from the charity stripe.
"It's a big deal to me because I have worked really hard to get here," said Skupa, who has 1,142 points to this point in her career. "My teammates have been a really great help to me, and it's really all because of them."
"She's been a key cog for us all four years," Silver Lake head coach Joshua Drake said of Skupa. "When she was a freshman and sophomore, we weren't very good. But we just kept building around her and she's led us throughout the whole stretch."
MacKenzie Skupa's previously held record was 1,131 points.
"It feels really good because I'm the last one," Skupa said. "(MacKenzie) was really good in high school, and when I was little I always told my parents I wanted to be like her. Now growing up, I'm kind of being like her, so it's like accomplishing a dream."
The No. 9 Mustangs (13-3) turned Red Cloud (0-17) over 28 times.
"We had a goal for 30 deflections. I think we probably got pretty close to having that for the game," Drake said.
"I think the girls' minds are right and they're ready to come out and compete every day and learn every day. If we rebound a little better and knock down a few more shots, I'd be way more confident."
Marissa Hersh led Red Cloud with eight points, including a pair of 3-pointers. Beau Lewis added six points and hauled in 10 rebounds. Olivia Horne and Hunter Watts each chipped in three points.
Katelyn Karr added eight points for Silver Lake. Makayla Dinkler had six, Kerigan Karr three, and two points each for Trista Hanson and Lexi Wengler.
"Everyone on the team wants it so bad," Skupa said. "We've worked so hard in practice to get here and Drake is great coach. It's just hard work and determination that got us here."
The Mustangs will face Blue Hill in the TVC semis Thursday in Kenesaw at 7:30 p.m.