Hastings College unveiled its 2020 version of Bronco football Saturday, and the socially-distanced home crowd liked what they witnessed.
Sparked by senior running back Tyree Nesmith's four touchdown runs, HC cruised to a 45-7 win over Dakota Wesleyan University in a conference contest at Lloyd Wilson Field.
"There were a lot of good things to see today," said Bronco coach Tony Harper. "I thought our offense played fairly well. I thought our defense played fairly well. Our special teams, I was proud of what those guys did."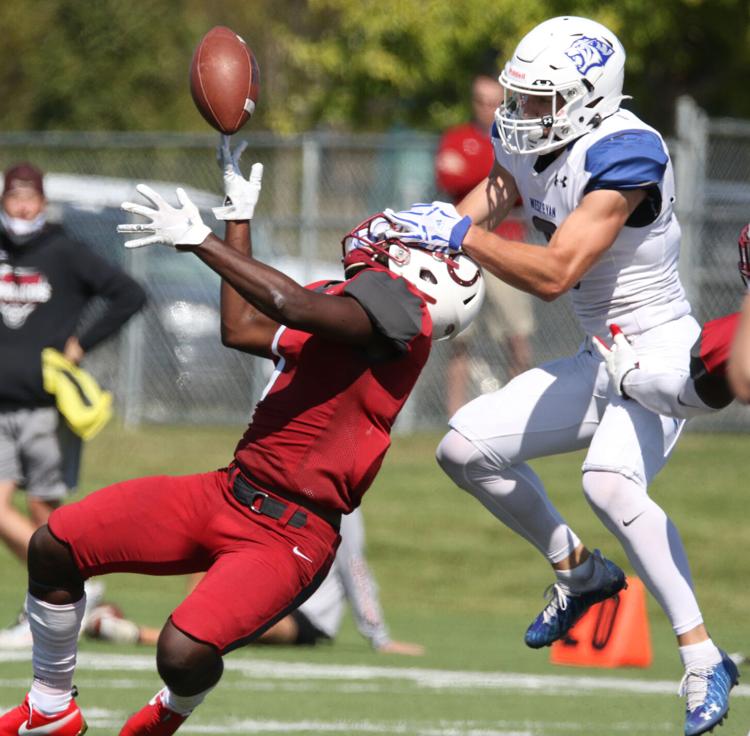 Saturday's big win allowed Harper to reflect back on other opening days he's experienced.
"I haven't been a part of a lot of opening days like this," Harper said in reference to the 38-point victory.
HC competed like there was no tomorrow in the midst of the COVID-19 pandemic that has already ended the seasons of thousands of other football players. The team members are fully aware of that possibility and feel fortunate to be able to continue playing football.
"You never know, and our guys have bought into that," Harper said. "You don't know what's going to happen tomorrow," Harper said. "We can only worry about ourselves and take care of ourselves. We can't control anything that's outside of our group, and that's what we talk to our guys about."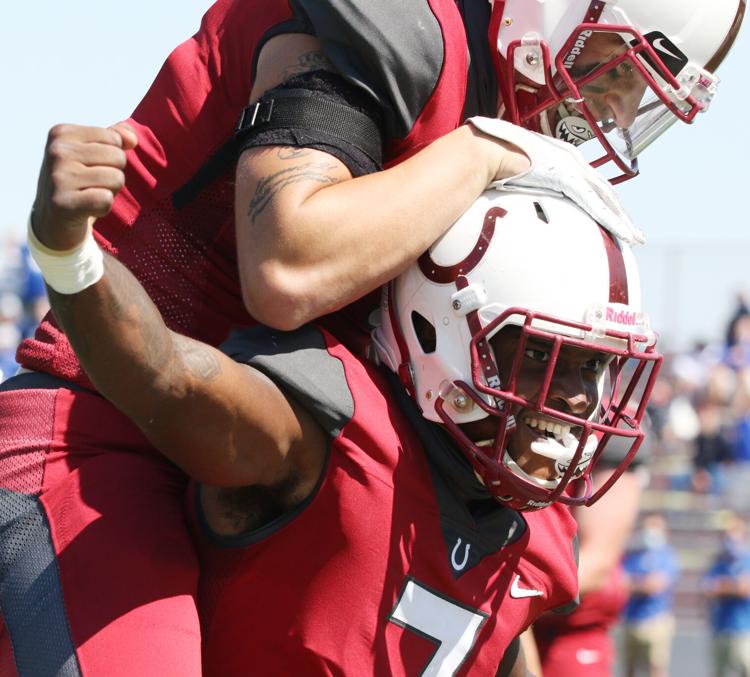 In Saturday's game, Hastings College got to pay dirt first. Nesmith bulled across the goal line from two yards out for his first TD.
After Nesmith's plunge, Jason Bachle kicked the extra point. Bachle had a perfect day on conversion kicks, making all six attempts.
Bachle closed the game's scoring by booting a 37-yard field goal.
Nesmith produced a game-high 108 rushing yards on 24 carries for a 4.3-yards per carry output. He tallied two TDs to highlight the Broncos' 21-point second quarter. Nesmith also caught two passes for 60 yards.
"It starts up front and what coach (John) Grinde has brought to the offensive line. But Tyree ran extremely hard. He was hungry and played hard," Harper said.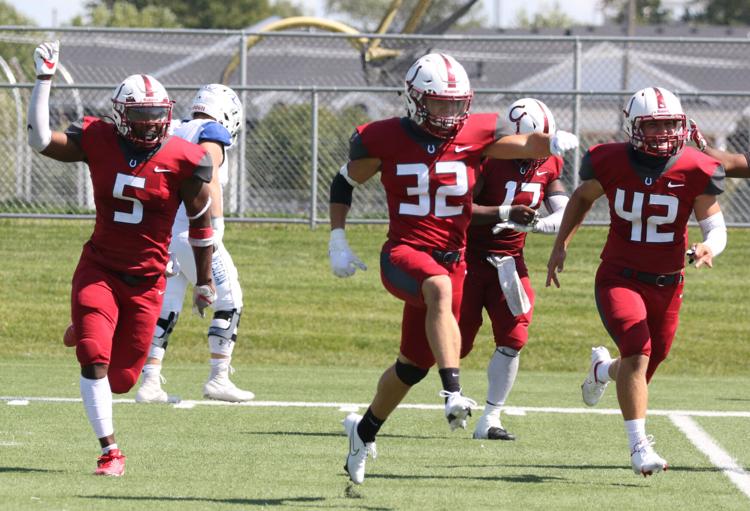 Nesmith, who missed all of last season with an injury, had one of the better days among GPAC running backs Saturday. His four touchdowns was Nesmith's career high and just one short of the school and conference record. The school record is five scored by Travis Soucie back in 1999 against Bethany in the opening round of the playoffs.
HC rushed for a team total of 247 yards on 49 totes.
The Broncos' best drive took place on their first possession. Hastings strung together an 11-play, 73-yard march that ended with Nesmith's first TD.
Brett Simonsen a Sutton sophomore, became the featured Bronco running back in the fourth quarter. The former Sutton Mustang crunched out 78 yards on 14 carries.
After HC's opening touchdown, Dakota Wesleyan adjusted their defense and kept the Bronco offense silent for the rest of the first period.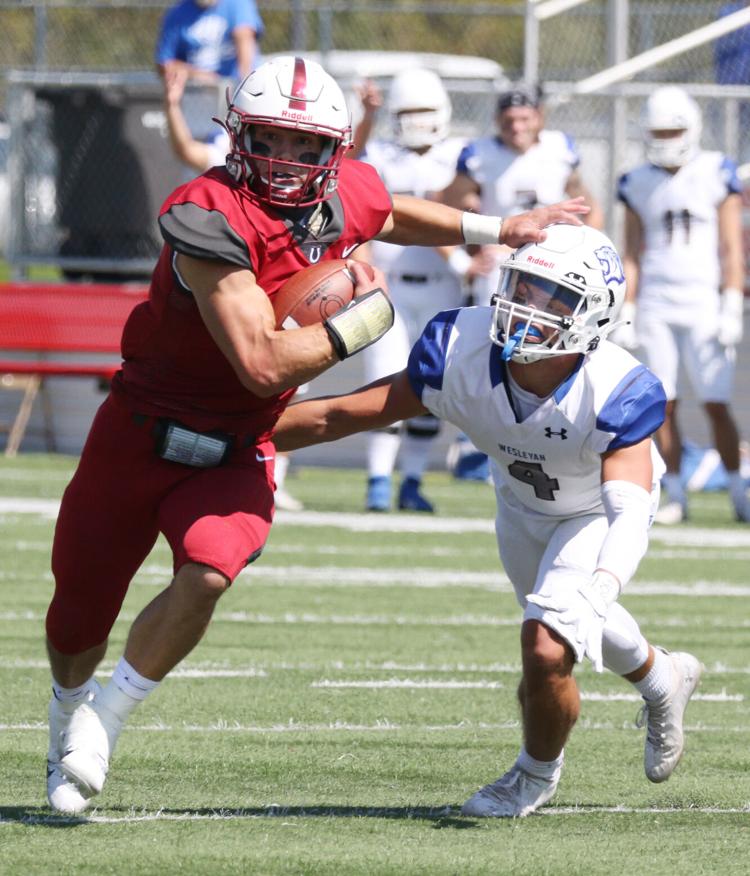 The Tigers knotted the game at 7-all on a 60-yard bomb two minutes into the second quarter.
"We knew (DWU) would play hard. We knew they'd be physical," Harper said. "We didn't really know what to expect with a new offensive coordinator. Their defense got after us early and caused a lot of problems. I thought our guys kept their composure and continued to compete."
The scoring floodgates opened for HC when Quentin Synek snared a 21-yard touchdown pass from quarterback Jesse Ulrich in the second quarter. It capped a five-play, 75-yard drive that included a 41-yard pass from Ulrich to Keiotey Stenhouse.
Later in the quarter, Nesmith's two touchdowns put the Broncos ahead 28-7 at the break. His second TD of the second quarter was set up on a long punt return by Brenton Bell from near midfield to the Tigers' seven yard line. Nesmith pushed across the goal line on the next play.
HC widened the score to 35-7 as Stenhouse hauled in a 14-yard touchdown aerial from Ulrich.
Nesmith scored his final touchdown on a one-yard run early in the last quarter to put the Broncos on top 42-7.
Ulrich enjoyed a good day. He ran for 39 yards and passed for another 284 yards to go along with his pair of touchdown tosses.
The Broncos now ready themselves for their next game, a 6 p.m. kickoff at Seward against Concordia University. The Bulldogs opened their season with a 24-7 win over Doane.
DWU (0-1) ................... 0 7 0 0 – 7
HC (1-0) ................. 7 21 7 10 – 45
HC – Tyree Nesmith 2 run (Jason Bachle kick)
DWU – Chance Sorenson 60 pass from Zachary Lester (Tate Gale kick)
HC – Quentin Synek 21 pass from Jesse Ulrich (Bachle kick)
HC – Nesmith 9 run (Bachle kick)
HC – Nesmith 7 run (Bachle kick)
HC – Keiotey Stenhouse 14 pass from Ulrich (Bachle kick)
HC – Nesmith 1 run (Bachle kick)
HC – Bachle 37 field goal
HC DWU
First Downs 25 10
Rushes-Yards 49-247 29-59
Passing Yards 184 192
Total Offense 70-431 57-251
Punts-Avg. 6-46 9-32
Fumbles-Lost 0-0 1-1
Penalties-Yards 4-40 6-46
Possession Time 32:11 27:49
RUSHING – DWU, Jamin Arend 13-43, Lester 8-(-1), Isaac Mack 2-9, Jimme Garewal 1-7, Jaden Bloemendaal 4-3, Tziah Owens 1-(-2). HC, Nesmith 24-108, Brett Simonsen 14-78, Ulrich 6-39, Austin White 1-12, Matt Murphy 1-3, John Zamora 1-2, Kelvin Heyward 1-2.
PASSING – DWU, Lester 13-25-1 192, Garewal 0-3-0 0. HC – Ulrich 12-21-0 184.
RECEIVING – DWU, Sorensen 5-85, Arend 2-34, Spencer Neugebauer 1-32, Daniel Libolt 3-27, Jakob Oxos 2-14. HC, Nesmith 2-60, Stenhouse 3-59, Brenton Bell 3-23, Synek 1-21, Luke Fairbanks 1-12, Riley Ostendorf 1-8, Heyward 1-1