After starting the season 5-1, the Hastings College men's basketball team hit a skid where it lost four straight games.
Granted, one was a 107-105 defeat, another to the No. 4 team in the country, and a third was a three-point loss in an exhibition game against Pittsburg State, a NCAA Division II school, but the Broncos were ready to finally notch another W.
They did just that on Tuesday, defeating Nebraska Christian College 87-63 at Lynn Farrell Arena. HC's Bart Hiscock said Tuesday's game wasn't so much about the outcome, but rather just playing at a highly competitive level.
"Last Wednesday, we came out against Midland and we were not ready to go. The last week in practice, we took a good look at ourselves and figured out we can't play like that. We came out and we were ready to go (Tuesday)," he said. "This game wasn't really about winning or losing, it was playing hard and getting back to how we play basketball."
Broncos head coach Bill Gavers knew the first step to getting back on the right track was to execute on the defensive end. Through the first six games of the season, Hastings allowed just 74.8 points per game, but during its four game losing streak opponents were scoring nearly 90 points a night.
But on Tuesday, the Broncos shut down the Sentinels, holding them to just 63 points and a season low 33.3 percent shot percentage from the floor. HC held Nebraska Christian's top scorer — Drue Aguilera, who averages 19.4 points a game — to just 13 on the night, as he went 4-for-9 from the floor.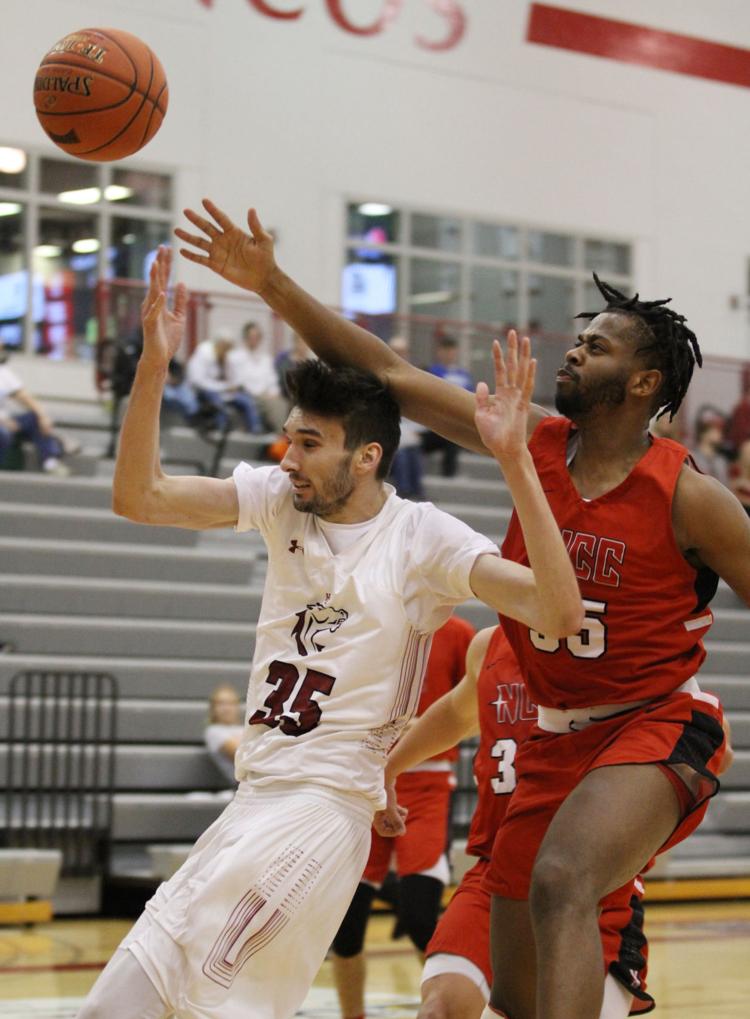 "I thought early in the game our denial, our activity, our energy was really, really good. We were playing five as one, we were rotating, we were seeing the ball, we did a good job of taking away tendencies — we made progress, no question," Gavers said.
Hastings College got after it early in the game.
After Nebraska Christian scored the first two buckets, the Broncos went on a 12-0 run to take a 12-4 advantage. HC built the lead up to as much as 15 points midway through the first half, and a lot of the Broncos' success was coming from inside the paint — especially when the ball was in Hiscock's hands.
"I know I'm good inside and stronger than almost everybody that plays basketball, so I just wanted to get around the rim. My teammates threw me the ball inside and did a great job," Hiscock said.
The senior forward had 17 points in the first half on 6-for-7 shooting. He made his only 3-point attempt and knocked down all four foul shots he attempted in the first 20 minutes. Hiscock finished the game 8-for-10 with a game-high 24 points.
"He did a good job of getting deeper catches, finishing around the rim," the HC coach said.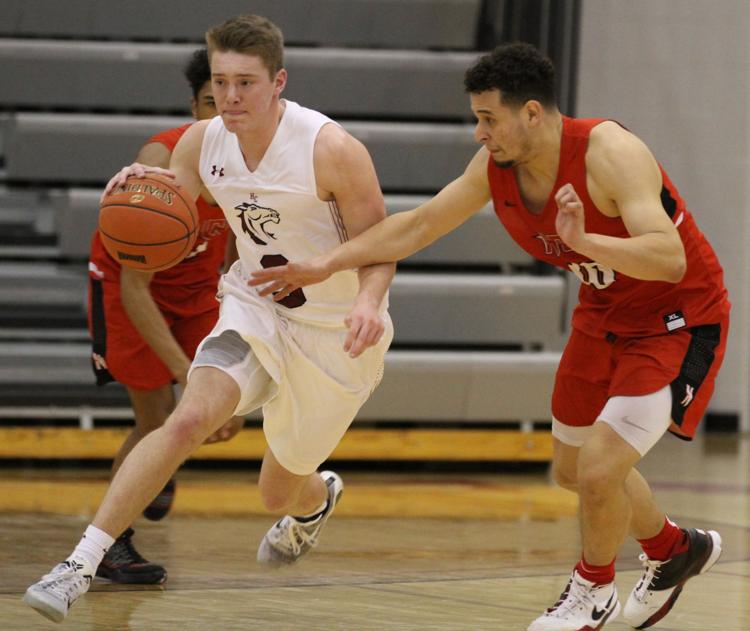 Hastings College's lead reached 15 again with fewer than 2 minutes remaining until hafltime. But the Sentinels scored five points to close the half and go into the break down just 10.
The Broncos extended the lead to 17 early in the second half, and that prompted Nebraska Christian to show its full-court press. But it was little match for HC freshman Mason Hiemstra, who diced his way through the pressure, often leading to open baskets for him or his teammates.
"He just plays so hard every day in practice," Gavers said of Hiemstra. "We talk a lot about inspiring others, and he's a kid that you watch and it inspires you to watch somebody play that hard. We had that collectively."
Hiemstra had the best night of his young career. The 6-foot guard tallied 14 points, six rebounds and five assists.
"When we recruited (Hiemstra)... I saw film and in the first 3 minutes of film, I thought to myself, 'We want that guy.' He just plays so hard," Gavers said. "He's just not afraid of anyone. He just goes at you. He's just going to get better and better. And he's a natural leader, too. He inspires other guys to play hard."
The game was never really in doubt in the second half. The Broncos led by as many as 27, while the defense held Nebraska Christian to 8-for-25 shooting and 1-for-8 from 3-point range.
Hastings also did a better job of limiting the Sentinels to just one shot in the second half. HC allowed five offensive boards in the first 20 minutes but none in the final 20.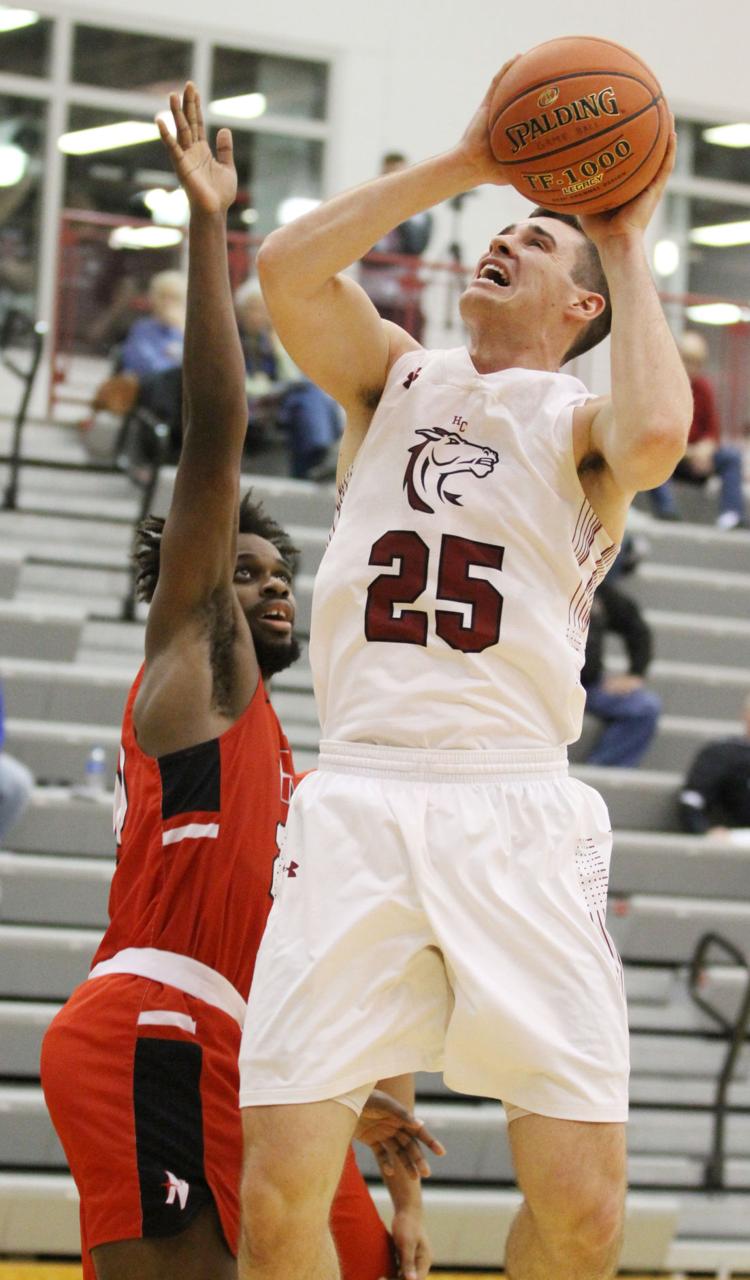 "We have to win that battle. It's a physicality battle, an effort thing. At Pitt State, we were more physical than we have been, and I thought we were more physical (Tuesday)," Gavers said. "That's something we have to continue going forward in league play."
Logan Cale was the third HC player in double figures with 11 points. He also led the team with seven assists.
Hiscock fell one rebound shy of a double-double — of which he has three on the season. Tribland graduates Brendan Lipovsky (Sandy Creek) and Zach Kitten (St. Cecilia) both finished with eight points. The Broncos shot 54.5 percent from the floor, the fifth time they've shot over 50 percent in a game this year.
With the losing streak over, Hastings College will prepare to travel to Northwestern on Saturday.
The Red Raiders are receiving votes in the NAIA top 25 poll and are 8-2 on the year (2-1 in the conference). Gavers is expecting Northwestern to be a challenge, but he said the Broncos need to be more concerned with their own play.
"It's really about us again. It's about us carrying over our mentality that we don't care what time of day it is, we don't care what gym it is, we're going to play physical, we're going to play tough," the coach said. "You're never going to play perfect but your mentality has to be perfect. That means getting through adversity, getting through struggles. There'll be highs and lows in that game just as there were (Tuesday). Responding to those things is what's important."
Nebraska Christian Colleg (5-4)
Jeremiah Coleman 2-6 2-2 6, Grant Minneman 0-0 0-0 0, Kyle Bohuslavsky 1-7 1-1 3, Richie Dowse 0-0 0-0 0, Drue Aguilera 4-9 3-6 13, Tyler Durham 0-0 0-2 0, David Perea 0-0 0-0 0, Semaj Shepheard 3-8 3-4 9, Isaiah Collier 0-4 0-0 0, Nathan Michaels 0-0 0-0 0, Jeff Butler 2-5 4-6 10, Uzi Felix 2-8 4-4 8, Jordan Makanjuola 4-6 1-1 9, LeAnte Mitchell 1-4 2-2 5, Grant Filippi 0-0 0-0 0. Totals 19-57 20-28 63
Hastings College (6-4)
Mason Hiemstra 6-9 2-3 14, Karson Gansebom 1-4 2-4 5, Brendan Lipovsky 3-5 0-1 8, Zack Johnson 2-3 0-0 6, Logan Cale 4-8 0-0 11, Eli Hunter 0-0 0-0 0, Bart Hiscock 8-10 7-10 24, Shane Chamberlain 0-4 2-2 2, Zach Kitten 4-5 0-1 8, Josh Quinn 0-1 0-2 0, Ryan Ierna 0-0 3-4 3, Evan Tricker 2-4 2-3 6, Trevor Adelung 0-2 0-0 0, Bragan Meyer 0-0 0-0 0. Totals 30-55 18-30 87
Three-point field goals: Nebraska Christian College 5-21 (Bohuslavsky 0-3, Aguilera 2-4, Shepheard 0-3, Collier 0-4, Butler 2-4, Felix 0-1, Mitchell 1-2); Hastings College 9-29 (Hiemstra 0-3, Gansebom 1-4, Lipovsky 2-3, Johnson 2-3, Cale 3-7, Hiscock 1-2, Chamberlain 0-3, Quinn 0-1, Tricker 0-1, Adelung 0-2). Rebounds: Nebraska Christian College 34 (Coleman 7, Felix 7), Hastings College 38 (Hiscock 9). Fouls Nebraska Christian College 23, Hastings College 18. Fouled out: Chamberlain . Technical: none. Assists: Nebraska Christian College 8 (Aguilera 2, Mitchell 2), Hastings College 21 (Cale 7). Steals: Nebraska Christian College 11 (Aguilera 4), Hastings College 9 (Hiemstra 2). Blocked shots: Nebraska Christian College 0, Hastings College 4 (Tricker 2). Turnovers: Nebraska Christian College 19, Hastings College 15.