DONIPHAN — The Doniphan-Trumbull Cardinals were at home Tuesday evening to host the Thayer Central Titans. It was senior night at Cardinal gym and one senior had a night to remember.
After coming off their Lou Platte Conference championship, the Cardinals were looking to get back to business for the end of the regular season and get ready for postseason play. The Cardinals' seniors led the way for D-T as they would clinch the victory 61-44.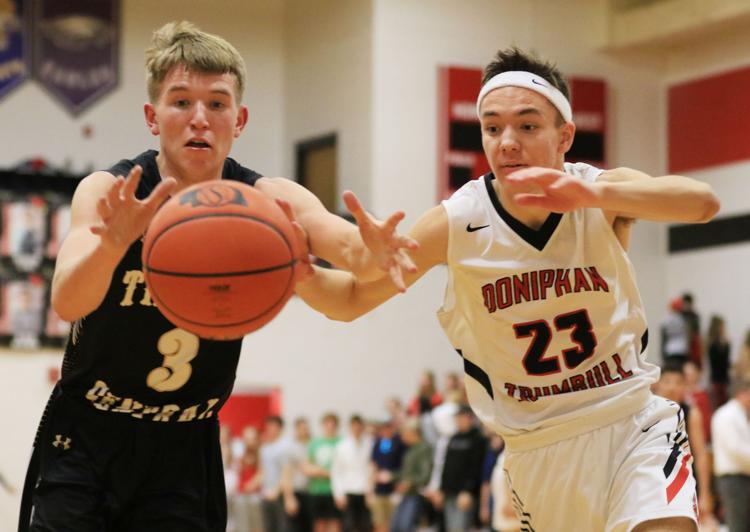 "A special night for the seniors. What a great group of seniors we have had. We have had a ton of success," said D-T head coach Kelan Buhr. "I was super happy. I had some real good stories. I had a kid that came out for his senior year and had a kid who suffered an injury and was not able to play. This year he was cleared. It was a great deal for Brady (Harrenstine) to get into the game and to have one go in."
D-T got onto the board early in the period. The Cardinals went on a 4-0 run to start the game. Both buckets were from Riley Carpenter. Thayer Central would answer right back with a 4-0 run of its own. The Titans made two baskets from Logan Wiedel and Luke Templin.
The Titans would later add a trey from Wiedel and a made free throw Templin. The Cardinals had made trey from Myles Sadd in the period. Keithan Stafford and Andrew Stock each made a bucket, while Stock also made two free throws. D-T would lead 13-8.
The second quarter was dominated by the Cardinals. At the 7:45 mark, Sadd got on the board. He was fouled on a layup in which the ball fell through the hoop to make it a three-point play. Sadd made the free throw to extend the lead.
Thayer Central got on the board a bucket at the 7:25 mark with a bucket from Grant Wiedel. D-T would answer. Cade Sterner woke up the crowd with back-to-back possessions where he made a bucket followed by a trey to force a Titan timeout at the 6:12 mark.
D-T would continue its run with two made buckets and a free throw from Stafford, two buckets from Stock, and a trey from Angelo Shafer. During that stretch, the Titans went three minutes without a bucket until under four minutes to go. The Titans got a trey from Grant Wiedel, and a made basket from Trey Fischer to go along with two made free throws. D-T led 33-19 at halftime.
"We are wanting to play our best basketball going into subdistricts. We wanted to start thinking that we got a shot going into sub-state and give ourselves a chance to get down to Lincoln," Buhr said, "Our kids understand the situation. Tonight was senior night. There are a lot of emotions going on. Our kids will buckle up and understand that we can't take a step back with the number of games left this year. Every game matters now, whether it is regular season or districts. Every game you are going to get better or worse and you want to get better every game."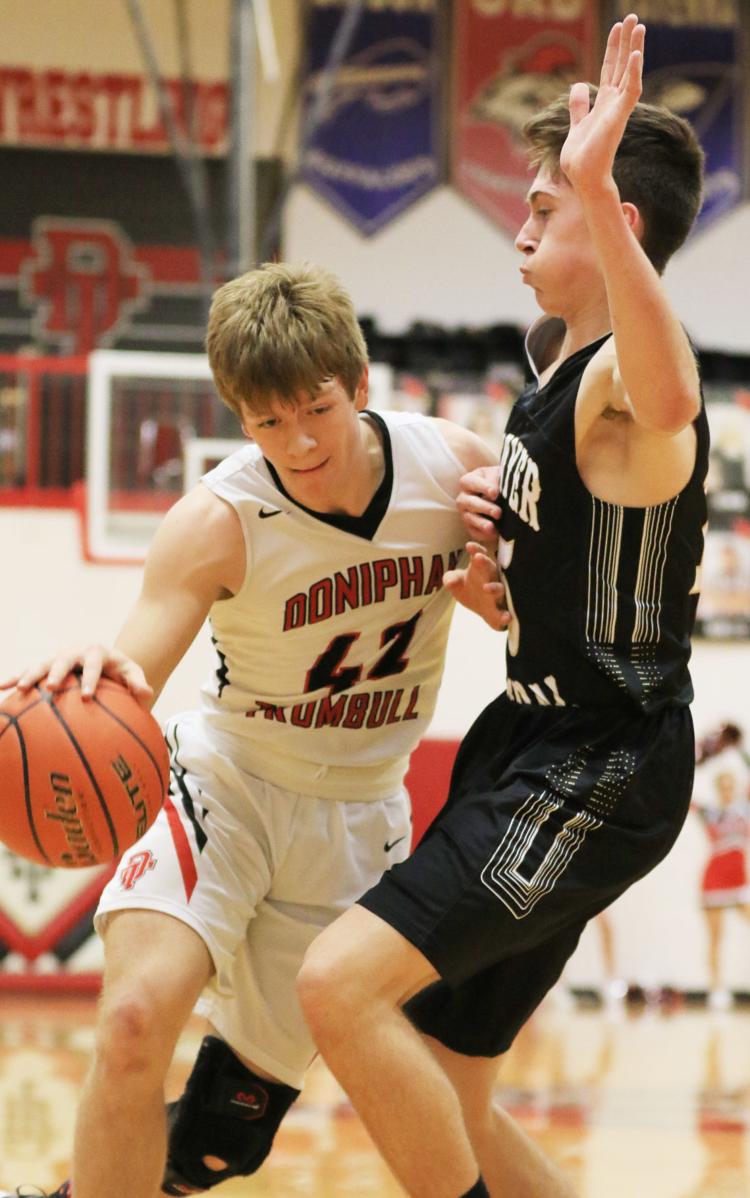 The third quarter for the Titans was dominated by Andrew Heinrichs. He made three buckets to go along with a made free throw. Logan Wiedel had three points that included a bucket and a made free throw. Fischer would contribute with a made bucket.
As for D-T, they had five different scorers in the period. Stafford got on the board at the 6:25 mark of the period to help extend the lead. Stock got in on the effort by sinking two buckets for the Cardinals. Blake Detamore would contribute with a bucket. Sadd had two made buckets to go along with a made free throw, and Griffin Hendricks also contributed with a bucket. D-T led 48-32.
The fourth quarter belonged to the Cardinals. Stafford got the party started with two quick buckets to start the period. He would make one more before the night was over. Stock helped with a made bucket, as did Shafer. The biggest moment of the night was when Harrenstein came off the bench in the last three minutes of the game. Each time D-T would be on offense they would give the ball to Harrenstein. He tried two treys and came up short, but on the third try it happened. Harrenstein made the trey and the crowd erupted. There was not a single person left sitting down, as the crowd continued to get louder.
As for the Titans, they made five buckets. The first came a the 7:05 mark with a bucket Trey Fischer. Fischer would make another bucket late in the period. Grant Wiedel helped with a bucket and Logan Wiedel and Templin each had a bucket and made free throws.
"We just have to find a way to come out and be more focused. We talked about that we needed to be energized and focused,'' said Thayer Central head coach Ryan Olson. "Very rarely we were energized but we did not play very smooth. We had some offensive keys and some defensive keys and we did not execute them. We had a lack of focus and that cost us tonight."
Thayer Central will play next versus Southern.
"We've shown some resolve this season to get together after some tough losses this season," Olson said. "We lost to Johnson County Central, and then bounced back to beat Nebraska Christian. We've shown the ability to do that."
D-T has played their final home game of the regular season. The Cardinals will finish their regular season on the road. Their next game they will take on Wood River.
"Wood River is a conference opponent. It's another opportunity to play," said Buhr. "Last year, we played them in the conference championship game. The towns are close enough. We play them in football. It's a little bit of a friendly rivalry there, so we will rest our kids and get mentally prepared for them. We will have to show up Friday. They will want a shot at us just like everyone is right now. We are going to get everybody's best shot, and we've got to make the most of it."