It's hard to count this Hastings Five Points Bank team out of any game, even against some of the best teams in the Midwest.
For the second time during the Mid-South Regional tournament, Hastings found itself trailing late in the ball game only to rally for a come-from-behind victory.
"The one thing we told the guys is, 'Seven innings; you have to play seven innings because nothing is going to come as easy as it did yesterday (during Friday's 10-0 win)," said FPB head coach Kevin Asher.
Hastings was shut out for five innings against the only unbeaten team remaining in the tournament, but the Chiefs stormed past Festus in the sixth inning for a 5-2 win, setting up a rematch with Arkansas Bryant before a potential winner-take-all final.
"Our goal is to win it. We're going to have two great games (Sunday). It's going to be very difficult with Bryant in the first game," Asher said. "We talked about, right after the game, that we can compete. There's no doubt about that. We just have to do a great job preparing ourselves mentally for game one and not worry about game two."
Five Points was trailing 2-0 until the sixth inning. With runners on first and second and two outs, Leif Spady laced the first pitch he saw into the gap in left-center. The double scored Josh Brooks, but the throw to try and get Mason Brumbaugh at third got away from Festus third baseman Charlie Pratt and went into the Chiefs' dugout.
The errant throw allowed Brumbaugh to score and Spady to advance to third. Two pitches later, Jacob Shaw plated Spady for FPB's first lead of the game.
"It started with getting those two guys on first, and that just gave us energy to keep it going. (Festus pitcher Jake Leitner) is a strike pumper so first pitch I knew I was swinging, and I just happened to get a good bat on it."
Spady said the FPB dugout was electrifying after that inning, and the hometown crowd matched that intensity.
"It was awesome. Everybody's cheering and it's great to see us succeeding so well and great to do it in front of this home crowd," said Gabe Conant. "To have the game sold out pretty much and the stands filled, it gives us so much more energy and more drive to play and last throughout this tournament."
Hastings tacked on two more runs in the top of the seventh on an RBI hit from JT Cafferty — who had three hits on the night, including a double — and an RBI groundout from Brooks.
With a 5-2 lead, Conant, who took the mound in relief in the fifth, hit the first batter he saw in the bottom of the seventh, but he retired the next three batters without the ball leaving the infield.
Conant and Five Points Bank starter Jacob Shaw combined for an outstanding outing on the mound. 
Shaw started the game and gave up two runs on three hits in the bottom of the first. But he quickly settled down, allowing just one hit over the next three innings.
"They hit me around a little bit in that first inning, and I didn't get the call I wanted that would have got me out of that jam. But then, just getting ahead of hitters and seeing the tendencies they had — and I had great defensive players behind me. That was really key," Shaw said.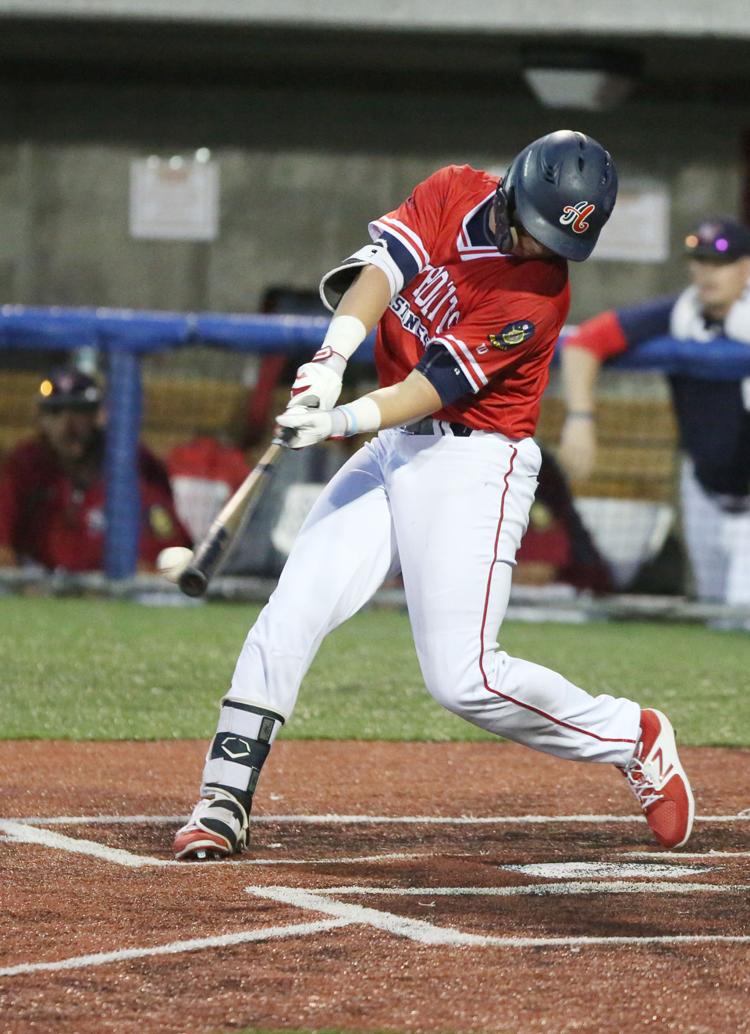 Just as he did in Hastings' second game of the season, Conant took the mound in a relief appearance and shut out the other team. He faced just one more batter than the minimum during his three innings of work and didn't allow a hit. 
"It's been fun. I haven't really closed so many games in a row, but it's been fun to do it. When I get support like that, it's really easy. I'm just trying to come through for coach Asher and the boys," Conant said.
"Jake Shaw was outstanding," Asher said. "We needed three or four good innings out of him and then we knew we could get it to the bullpen. It was important to have Gabe in the backside of that."
Shaw's final line included four innings pitched, two runs and four hits allowed, and three strikeouts. Conant tossed three innings and struck out two. Conant recorded his second win of the tournament.
Festus had two golden opportunities to extend its lead. In the third inning, Jordan Duncan advanced to third on a FPB error to lead off the inning, but Shaw sat the next three batters down in order. 
In the fourth, Eddie Martin started the inning with a leadoff double and moved to third on a wild pitch two batters later. But with the infield in, Martin tried to score on a ground ball to first, where Spady fired home to cut down Martin by several steps. 
"We had our chances," said Festus head coach Zachary Bone. "We had opportunities to extend the lead and didn't, so credit to (Hastings), they made some plays when they had to and big pitches when they had to. They played great the last few innings of that game.
"That's a really good baseball team. That's not a typical host team that's in it because they decided to have the tournament. I know they were in the state tournament; it wouldn't have surprised me if they were the Nebraska state champions."
Cafferty led the team with three hits and had an RBI, while Mike Boeve added a pair of base knocks. 
Having beaten Fremont Friday, Festus had already clinched a spot in the regional final. Hastings' victory advances it to the final day of the tournament, as the Chiefs will face the Bryant Black Sox (Arkansas state champ) in a rematch. Bryant won 3-2 in the opening round of the tourney. 
Hastings and Bryant will play at 1 p.m. at Duncan Field, with the victor facing Festus for a winner-take-all game following that first contest. The regional winner will play in the American Legion World Series in Shelby, N.C.
"When you're in the semifinals with Bryant, Arkansas, the team you started with, you have to be happy to be where you're at. But we're not satisfied by any means. There's a lot of baseball left in this team," Asher said.
Hastings..........000  003  2 — 5  11  1
Festus.............200  000  0 — 2  4  2
W — Gabe Conant. L — Jake Leitner.
2B — H, Leif Spady, JT Cafferty; F, Eddie Martin.
3B — H, Ashton Valentine.