The Adams Central, Hastings boys basketball rivalry has provided some entertaining games recently, with five of the last eight being decided by single digits.
And while the crosstown showdown is always a big game, few installments in the series have had hype of this magnitude heading into Tuesday's game.
Only once in the last 12 years has the game involved two teams with a winning record. But in Tuesday's match-up, the Tigers and Patriots each have just one loss and both are in the top three of their class in the state rankings.
Another unique similarity both teams have involves the personnel. Both Adams Central and Hastings are coached by men with sons who have been key contributors to the teams' success thus far.
Connor Creach leads the Class B No. 2 Tigers in scoring and has hit several clutch shots as the team currently boast a 17-1 record, while Cam Foster has been an integral part on both sides of the ball to help C-1 No. 2 Adans Central go into the big game with an 18-1 record.
Hastings' head coach Lance Creech said Connor has been helping out the coach's teams since he was 4 years old. After helping out at practices, games, and shoot-arounds throughout the years, Lance estimated that Connor has filled up about 30,000 cups of water, he said with a chuckle.
"He's probably been to more high school and collegiate gyms than most high school coaches. He's been everywhere," Lance said. "His familiarity with what needs to be done and the time, score of possessions and the nuances of the game — like most coaches' kids, when you grow up in the gym you're just more privy to those situations than the normal high school player. He's done a lot of film study and a lot of times he'll make corrections on the floor just because of his ability and willingness to prepare for every game.
"It's a pretty good situation to have such a good player in your program and a kid who has worked so hard. As a father, to have that player be your son, it's pretty special."
For Adams Central head coach Zac Foster, being able to witness and be a part of Cam Foster's growth as a player and a person has been a joy.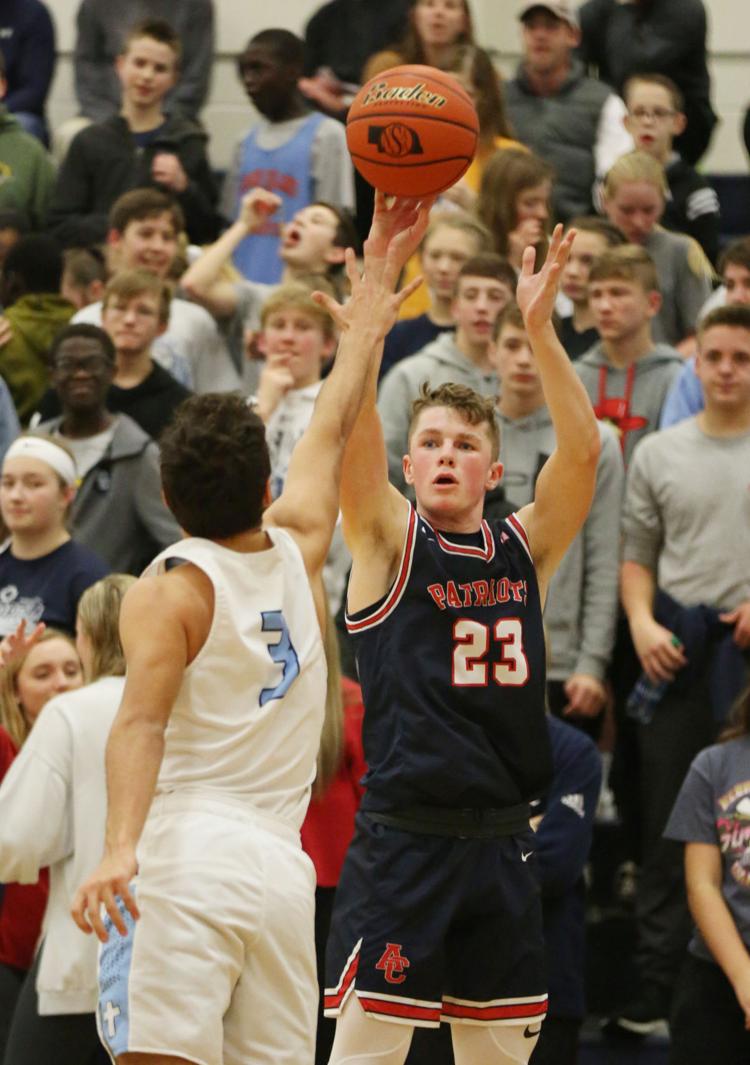 "It's gratifying to see him grow up and mature as a player," Zac said. "He's been in the locker room with me since he was a baby and we've been through a lot together. He's helped me become a better coach and I hope I'm helping him become a better player. It gives me great appreciation for his teammates and the sacrifice they make, as well."
Both players have elevated their games this season. Last season, Cam was one of the first players off the bench in the Patriots' rotation, but this season he is a starter and one of the team's leading producers on the court.
"He's matured a lot as a player this year. He's done a really good job with decision making of when to be aggressive and when try to facilitate for other players. Sometimes, as a young player, that's difficult to know when to do that," Zac said. "In terms of leadership and communication, he's improved. I think every player does that, matures as they get older. I think that's the biggest thing, maturity and decision making has helped him have a nice year so far.
"I've seen Connor from age 7 all the way up. We have a lot of respect for him and the way he plays the game and for his love for the game. It's been fun to watch his rise as a player, as well."
Connor has been a starter for all four years, and he's racking up the milestones that epitomize a great career. While all of those accomplishments are being noticed in his final season on the hardwood, Lance said those accolades are all because of the hard work he's done when no one is watching.
"I know I probably don't give him as much credit as he deserves and I know he probably gets a lot more of the burden and criticism than he deserves, but to me, that's part of being a coach's son, right, wrong or other. That's a responsibility that a coach's kid has to take," Lance said. "His growth, maturity and his ability to continue to use his body — his body has grown into his game — and his desire to be better every time we take the floor... He's gotten a lot of accolades and he's deserved every one of them, in my opinion."
Both Cam and Connor will surely have an impact on the way Tuesday's match-up unfolds. Both team's sixth man may have a say, as well, as both squads are expecting each fan base to create quite the environment.
"I think it will be a great environment, especially in a facility like ours, where we'll easily have 3,000, no doubt. Not many times in a high school basketball career do you get to play in front of 3,000 people," Creech said. "We're two one-loss teams, teams that are playing very well and ranked in the top five of their respective class — not that it hasn't been a big game in years past, but this year, it's pretty hyped... I would assume that we'll have darn near as many Adams Central people as Hastings High because of the location and the familiarity. I think the kids are very excited; if you're not excited for this one, you need to check your pulse."
"We've talked to the kids about appreciating the opportunity to play in front of a crowd like that because there are a lot of people don't get to play in front of crowds like that. A lot of people go all four years of high school and won't get to be in an atmosphere like they will (Tuesday) night," Coach Foster said. "We just appreciate the opportunity to play somebody very, very good in a great atmosphere. Appreciating the moment, that's the biggest part of it."
Adams Central's strength this season has been its 1-3-1 defense, and Creech knows his team is going to have to hit some shots outside to try and decrease the effectiveness of the Patriots' zone.
"When it comes to the end of it, you have to make a shot. If you're not making perimeter shots against the zone, it's going to be a very difficult night," Lance said. "If we can make some baskets from the perimeter and loosen it up a little bit, I think there are some things we've seen that we can take advantage of, but we have to get to that point before we can talk about adjustments and tweaks in our system."
Knocking down shots is something Adams Central does at a rapid rate. The nights the Patriots have scorched the net have far outnumbered the nights that included shooting struggles, but one of those rough nights was against Class C-2 No. 2 Grand Island Central Catholic. Adams Central lost 54-40 for its only defeat of the season.
"For every team, you have an identity. And for us, we have to be able to share it and shoot it well," Foster said. "Individually, we aren't that impressive, but as a unit who plays together I think we are a very impressive group. And our guys understand that, and have bought into that, good shot making starts with good decisions and passing the ball. I think a lot of our shot making will rely on trusting each other and passing the ball. You can't force the ball to go in all the time, but you can control the type of shots you take and your discipline in terms of passing and sureness... More often than not, if we get great shots we're going to knock them down."
Spectators, some of whom are probably better off walking to the Hastings High gymnasium rather than trying to find a place to park, are surely in for an entertaining game Tuesday. While the battle should be fun, it ultimately doesn't have much say in the way either team's season will end. But we sure can enjoy it for the time being.
"If Hastings wins our season isn't over, and if we win their season isn't over. We both have similar goals, to get to Lincoln and make some noise when we get there," Foster said. "I think both teams will look at this as an opportunity to play in a state opportunity atmosphere against a state tournament level opponent and see where you're at."