On Friday, the Northwest girls basketball team wrapped up its Hastings circuit, with Hastings High being the third team from Hastings the Vikings have played in as many games. NW edged out St. Cecilia by five and escaped with an overtime victory against Adams Central.
The Tigers, who went into the night having won five of six, weren't intimidated by the Class B No. 3 Vikings. In fact, it was Hastings that delivered a punch to the defending state champion's gut by winning the first quarter 17-7.
Northwest rallied over the final three quarters and tied the game in the fourth, but Hastings never backed down and retook the advantage and held on for the upset, winning 47-42.
"We hit some shots we haven't always hit, but we will. This is a team that will hit those shots. We felt like we needed 46, 47, 48 points to win because we knew we couldn't keep them to 33. They're too good," said Hastings head coach Greg Mays. 
Hastings' first quarter was about as perfect as its had this season. The Tigers were 7-for-16 shooting, led by eight points from KK Laux. And on the defensive end, HHS forced the Vikings to go 2-for-13 from the field.
The focal point of the Tiger defense was NW's Whitney Brown, who averages 18.3 points per game. But in the first quarter, she was 0-for-4. And in the second, she made just one of her five field goal attempts.
Mays made sure his girls kept Brown from being the one to beat the Tigers.
"We said, 'Okay, she's not going to beat us.' We played lots of extra help on her and turned at least one other girl loose and just said, 'Beat us.' And they about did," Mays said with a laugh.
Brown finished the game 4-for-18 and had 12 points, her fourth lowest total of the season. But despite her struggles, the Vikings still overcame a 28-14 halftime deficit.
Three Vikings players scored five points each in the third quarter, as Northwest outscored Hastings 19-5. HHS couldn't slow down the Vikings as its 14-point lead evaporated into a 33-33 tie at the end of the third.
Some teams would have lost all confidence after seeing such a big lead disappear, especially teams as young and inexperienced as the Tigers. But Mays has seen his squad grow in maturity throughout this season, and the players showed it in the fourth quarter.
"(We said) 'They're going to come after you. Physically, they're going to come after you, and you have to make passes and make catches. Pass the ball, catch the ball and you'll win the game.' And that's a sign of growth because we couldn't do that in December, but we could do it here," Mays said.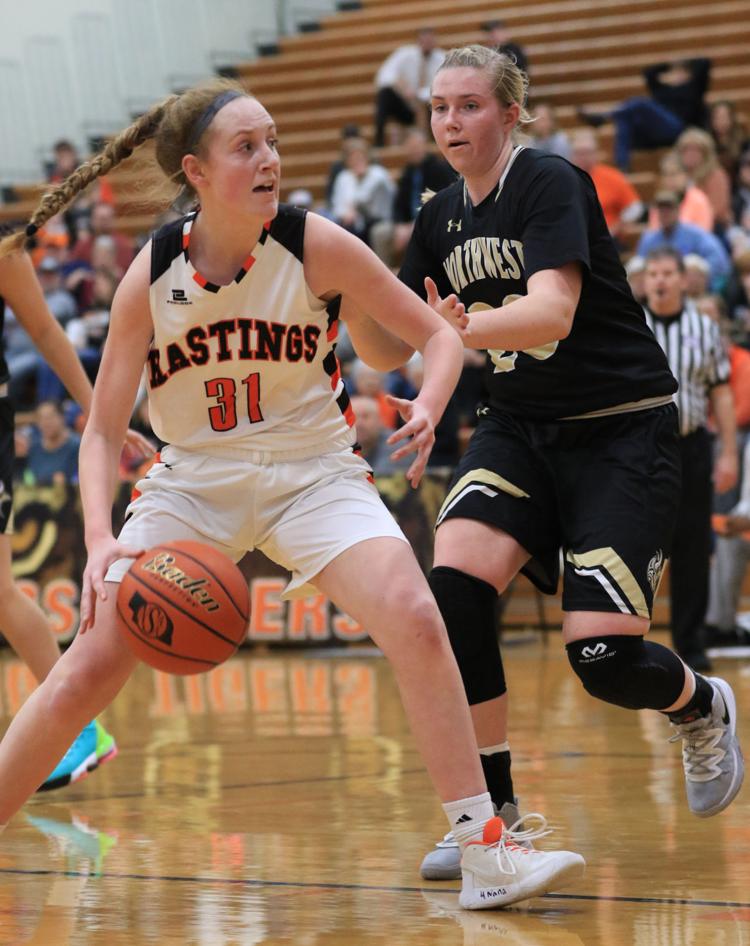 Maddie Hilgendorf got the final frame started with a 3-pointer to put HHS up 36-33, but the Vikings responded and eventually tied the game at 37-all. Dacey Sealey came up with a big 3-pointer to put HHS up by three, and then Hilgendorf came back with another trey as Hastings took a 43-37 lead with just under four minutes left in the game.
"I've been working on my shot and coach has been telling me to shoot a lot more," Hilgendorf said. "I was like, 'Okay, I'm just going to let it go.' "
"We have to have her shoot at least four times a half or she has to run. That's good for her; we have to have her shooting," the HHS coach said with a smile.
Hilgendorf scored a team-high eight points in the fourth quarter, including a pair of free throws. The Tigers shot just 5-for-12 from the charity stripe in the final period, but Hilgendorf, Laux, and McKinsey Long all made shots from the stripe in the final 1:38 to seal the upset victory.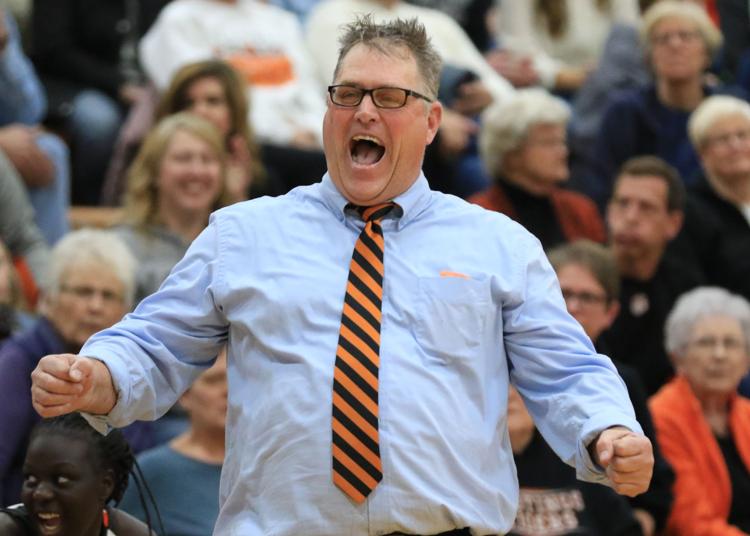 "(After the buzzer went off) we were just all excited we beat the defending Class B state champs," Hilgendorf said. "It was just so exciting and so surreal."
Hilgendorf's 14 points led all HHS scorers, while Sealey and Long each added 10 points. Laux tallied nine points on the night, and Lauren Hinrichs hauled in a team-high 11 rebounds, as the Tigers out-rebounded the Vikings 34-27.
Lauren Hauser led Northwest with 15 points. The Vikings finished 15-51 (29.4 percent) from the floor.
Hastings will host its second consecutive top-five opponent in No. 4 Beatrice on Tuesday. The Tigers have now won six of their last seven, and Mays believes his team's confidence is growing.
"It was nice to have each (player) hit some shots on the same night... It was a great team effort. Everyone did their little part of it," he said. "That's how you win games like this and maybe put yourself in a different conversation now heading down the home stretch."
Northwest (12-4)...........7  7  19  9 — 42
Hastings (8-6)...............17  11  5  14 — 47
Northwest (42)
Whitney Brown 4-18 2-3 12, Claire Caspersen 2-5 2-2 6, Lauren Hauser 5-11 3-5 15, Shanae Scuttles 3-8 0-0 7, Skylee Nelson 0-4 0-0 0, Adriana Esquivel 1-5 0-2 2. Totals: 15-51 7-11 42.
HHS (47)
KK Laux 3-6 1-2 9, Dacey Sealey 4-8 0-2 10, McKinsey Long 3-6 2-2 10, Delaene Hinrichs 1-2 0-0 2, Lauren Hinrichs 1-6 0-0 2, Maddie Hilgendorf 4-7 3-8 14, Nyagour Duang 0-0 0-0 0. Totals: 16-35 6-14 47.
Three-point field goals — NW 3-14 (Brown 2-9, Scuttles 1-4, Esquivel 0-1); HHS 7-15 (Laux 2-4, Sealey 2-4, Long 2-3, Hilgendorf 3-4). Rebounds — NW 27 (Caspersen, Hauser 10); HHS 34 (L. Hinrichs 11). Steals — NW 10 (Brown, Scuttles 3); HHS 5 (Long 2). Turnovers — NW 9, HHS 16.