Fairbury's offense was due. That's all there is to it.
The second-seeded Jeffs, who were held to just three runs on five hits in their lopsided opening round loss to Malcolm on Wednesday, smacked 20 hits in a 16-run outpour Thursday that eliminated No. 7 St. Cecilia from the Class C state tournament.
The Hawkettes (23-13) struck first — and last, but Fairbury moved on through the consolation bracket to defend its 2019 title at Smith Softball Complex with its 16-10 victory.
Fairbury, which averages just under 10 runs per game, exploded for eight in the third inning.
The burst answered a two-run home run by STC's Kiersten Kober in the first inning.
After Fairbury (25-8) tacked on two more runs in the fourth on a double by nine-hole Casidy Sipek, St. Cecilia could have easily chosen to throw in the towel. But that's not who this group of 10 players is.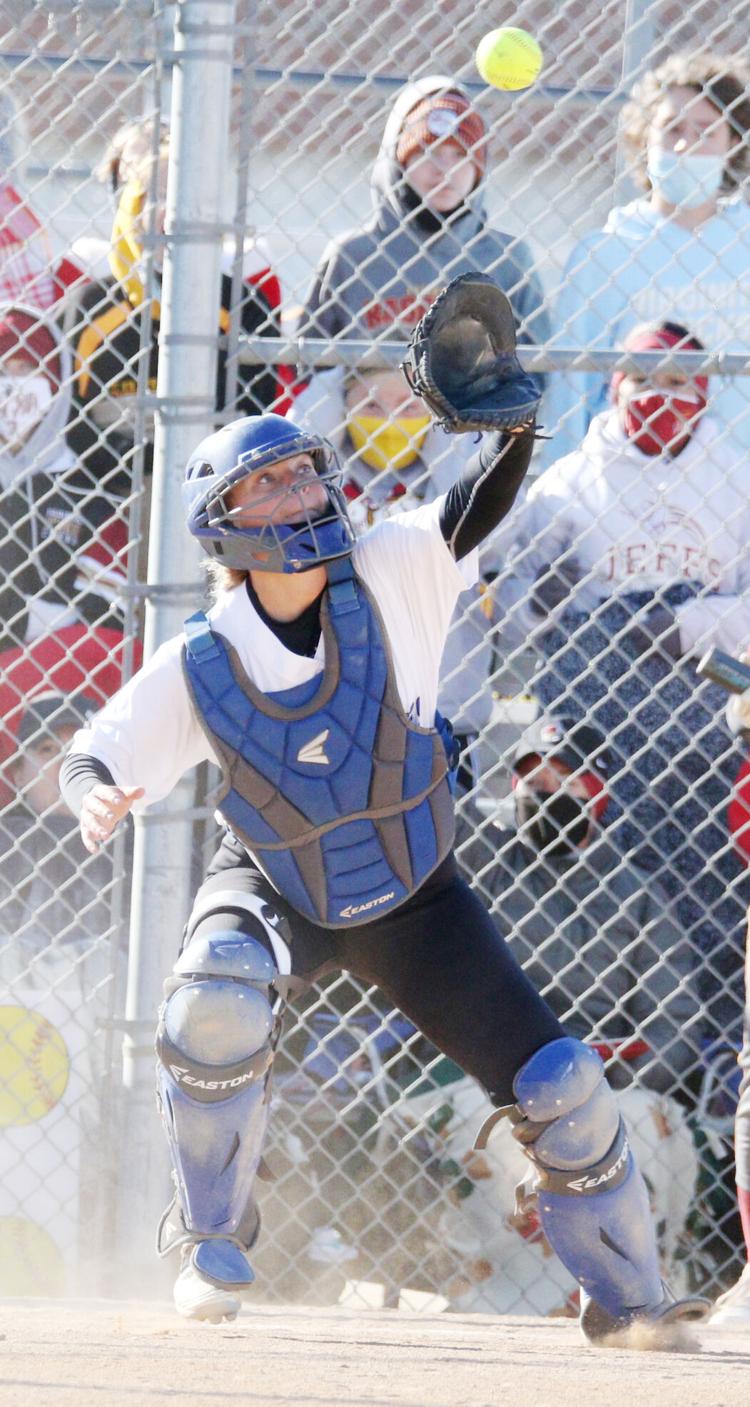 "We've had great attitudes all year," said St. Cecilia head coach Ryan Ohnoutka. "Whatever the score is, I knew we weren't going to give up. That's a credit to the leadership of our junior class, and our senior. They're always just an exciting bunch. They're never down on themselves."
The Hawkettes surged in their half of the fourth, immediately answering with an extensive two-out rally the sliced Fairbury's eight-run lead to one.
Allison Stritt began the stretch with a single, one of her three hits on the day. Pinch hitter Addison Demuth flipped the lineup over with a single, and Bailey Kissinger scored Stritt with one of her own.
Olivia Kvols roped a two-run single before Shaye Butler and Kober reached on back-to-back errors. Then, Tayelor Butler clobbered a three-run blast to left to cap the seven-run spurt.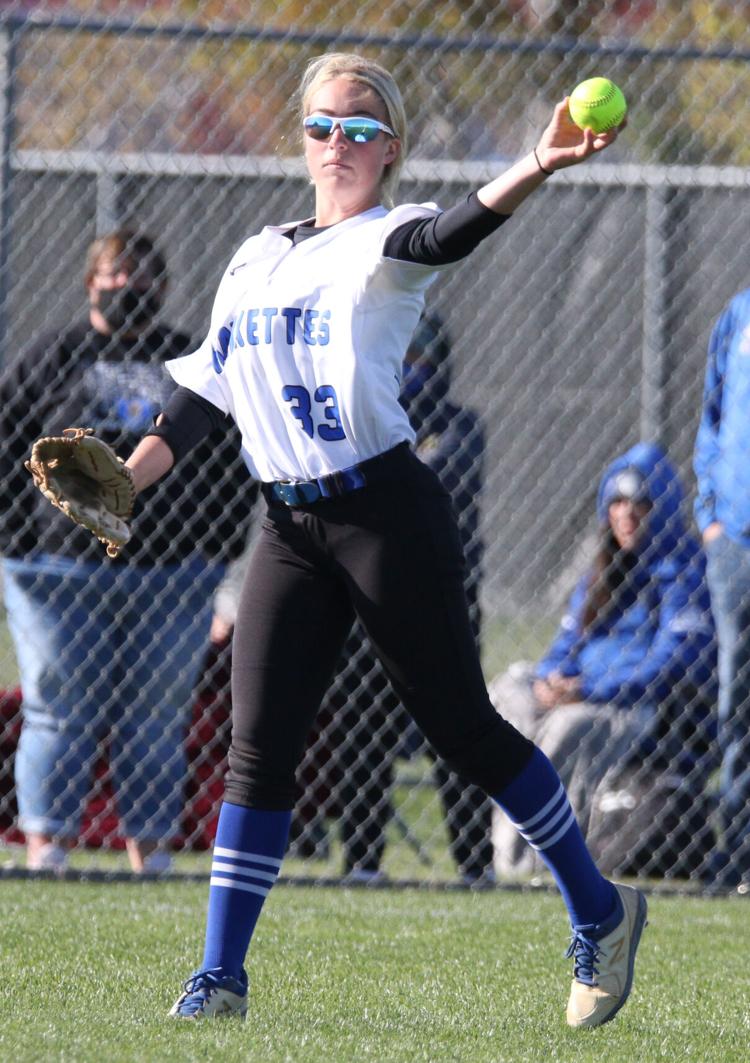 Butler's bomb would have been her second of the game had Fairbury's Josi Mans not robbed her in the first inning, preventing the Hawkettes from going back-to-back.
"I felt bad for her because she had that one robbed," Ohnoutka said. "But that second one was a no-doubter, even into this wind. Tayelor's been a girl who has had her ups and downs this whole year, but these last three weeks, she really thought about how she needed to improve at the plate, and it really showed."
The Hawkette scoring was halted there, save for Mackenzie Demuth's seventh-inning solo shot, which came in the final at bat of her high school career.
"I just told her, 'To hit a home run in your last at bat, you're going to remember that forever,' " Ohnoutka said.
STC won't want to remember the 20 hits it gave up, but Stritt, the team's only pitcher this season, battled through the adversity. Ohnoutka expects big things out of her in years to come.
"I'm super proud of Alli," Ohnoutka said. "As a sophomore, she's 16 years old going against some tough competition in some teams we've played throughout the year. She's got a ton of potential and I know she's going to shine in the next two years for our program."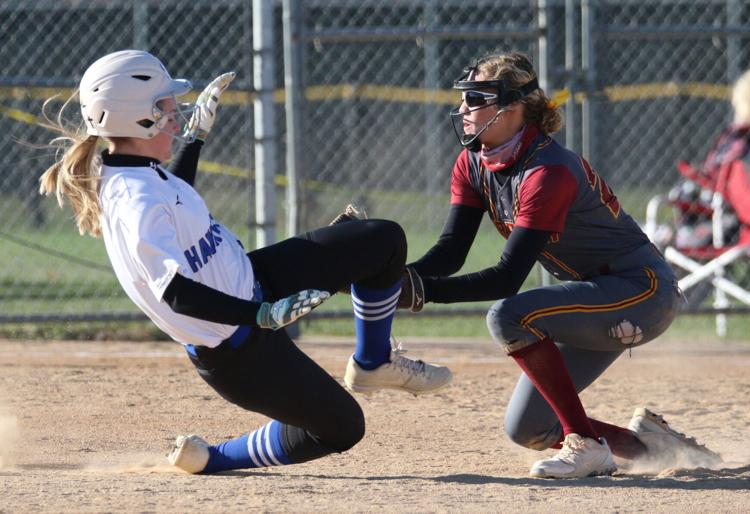 Fairbury's four-run answer in the sixth happened with two outs, and was ignited by leadoff Jami Mans, who St. Cecilia elected to intentionally walk in the third in a similar situation.
The Hawkettes chose not to put her on with first base open, and Mans made them pay with a run-scoring single up the middle. The next batter, Ellie Ohlde stroked a two-run single, and clean up hitter Brittyn Wentz scored Ohlde with a one-bagger, as well.
"That took some air out of us," Ohnoutka said.
Sipek's third hit, which came in Fairbury's half of the seventh, accounted for her third and fourth RBI of the day and boosted the Jeffs to their final tally.
Ohnoutka expects to field a roster with far more than 10 girls next season. And he figures the Hawkettes will make a third straight appearance at state, too.
"(Future) looks extremely bright," he said. "I told the junior class that we're going to get it done next year. So, we're going to be back here. For sure, we will be. We gain a lot of freshmen, so won't have 10 next year, we're going to be up to, hopefully, 16. So, we will grow, and we have been growing ever since this program has been in existence."
FBY (25-8).....008 204 2 — 16 20 2
STC (23-12)...200 700 1 — 10 13 1
W — Jami Mans. L — Allison Stritt.
2B — F, Brittyn Wentz, Josi Mans 2, Casidy Sipek. S, Shaye Butler.
HR — S, Kiersten Kober, Tayelor Butler, Mackenzie Demuth.
Note: After defeating Central City 11-1, Fairbury was eliminated by No. 1 GACC 9-1.