As the final seconds of Wednesday's game ticked away and the buzzer sounded, the Hastings College men's basketball team let out a collective sigh of relief. Going into Wednesday, the Broncos were the only team in the Great Plains Athletic Conference without a victory in the league.
But that zero in the win column is no more after Hastings caught fire against rival Doane University at Lynn Farrell Arena. A 19-4 run to start the second half set HC up for an 89-65 win, its first against a GPAC opponent.
"I really felt from start-to-finish we were dialed in on what we needed to do from individual tendencies and game plan, and we just executed really well offensively," said HC head coach Bill Gavers. "We moved the ball; the guys shot with confidence. It was a great feeling. I'm really happy for the guys."
The last time the Tigers and Broncos met on the court, it was Doane recording a 23-point victory. But since then, the Tigers had lost six straight games going into Wednesday's clash. The Broncos have long thought they've been on the cusp of earning a conference win; now, finally having done so, the weight has been lifted off of the team's shoulders.
"It was a huge monkey on the back, but once that middle of the first half happened, we started hitting shots and playing as a team. The communication was there, and we just started running after that," Gansebom said. "We were due. We've been busting our butts in practice. We've been working hard and just waiting for our opportunity, and we finally got it... We're just happy to be there."
"We've talked about attitude and effort through this, and they brought it every day. I'm really happy for our guys and that we broke through in this way," Gavers said.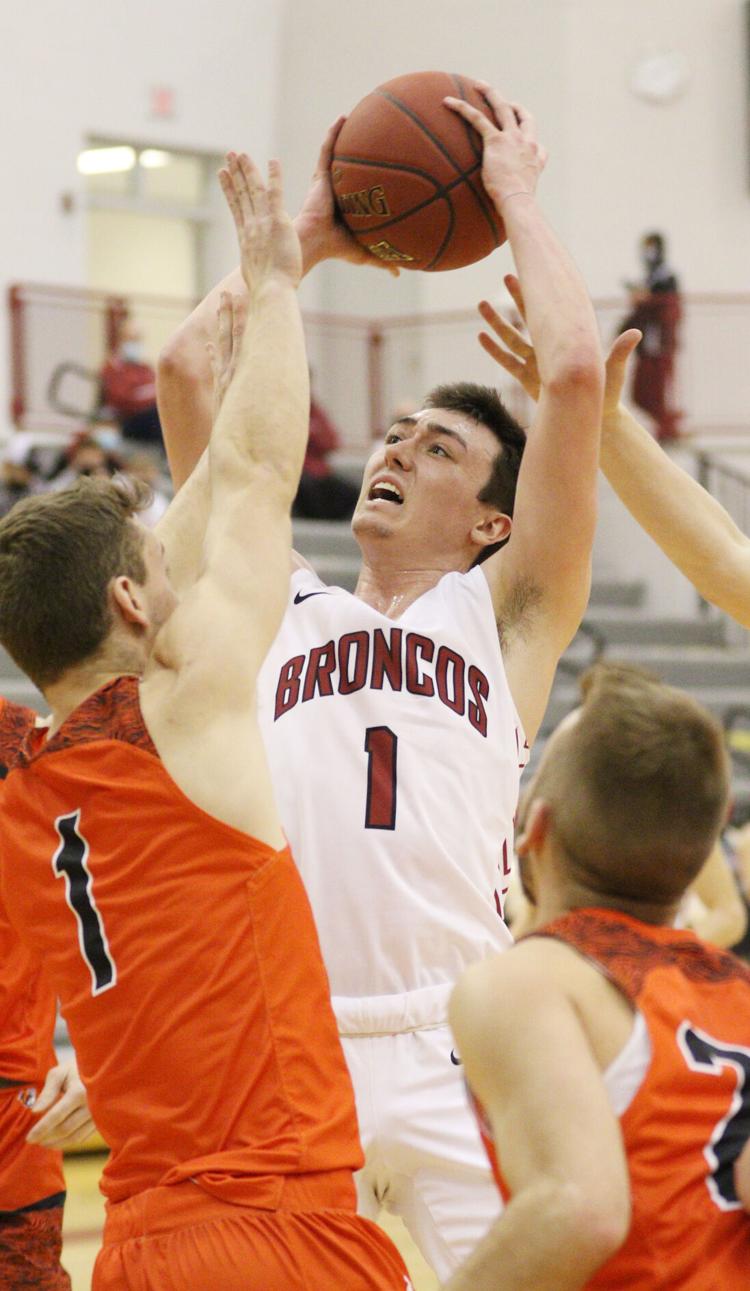 The bulk of the Broncos' offense came from the hot shooting of Karson Gansebom and Dashawn Walker. Walker finished with 26 points while Gansebom poured in 17 second-half points to also finish with 26, tying a season high.
"(Walker) can get to his mid-range whenever he wants, and he was on fire with it. And he can score inside and he's a very willing passer. He made some nice reads inside," Gavers said. "Gansebom really stepped up his confidence level and his shot. Just a lot of contributions. I'm proud of all our guys."
Walker didn't play in the first game against Doane, and Wednesday's game proved just how much his presence means to the team. Another presence the Broncos were happy to get back was that of Keith Howard, who was playing in his first game as a Bronco.
A 6-foot, 5-inch forward, Howard gives HC a solid post that can handle guarding many of the GPAC's top big men.
"He's a presence in the middle...You just can't post him up. He's strong, he's solid, he's physical, he likes contact and he loves competition," the Broncos' coach said. "His presence inside makes a difference. In this league, you've got to have guys that can guard the post and not have to double. We were able to do that with Dashawn and Keith."
After winning three of its first four games, the Broncos then lost 11 of its next 12, with the lone victory coming against Presentation College. Despite being a top-five offense in the conference, Hastings College still lost its last seven GPAC games by an average of 25 points.
Wednesday's win has given HC a big confidence boost as it gets ready to host Dordt University, which beat the Broncos 106-72 earlier this season.
"You hate to use the word must win, but it really was. We needed a win in the worst way," Gavers said. "Now, you can start to see some confidence. We have Dordt in here on Saturday; we'll have two good days of preparation and our guys will be ready. Now that we have an inside presence — Keith just makes a big-time difference. He can guard their post one-on-one...That's just big when you don't have to double and can play individual tendencies on other guys."