KEARNEY — It has been 32 years since Hastings has been able to boast about winning any sort of a wrestling team state championship, but the wait is finally over. 
The Tigers won the individual state tournament championship in 1988, but on Saturday, Hastings traveled to Kearney to compete in the state duals tournament.
The Tigers went into the tourney as the No. 1 seed, and they proved why they were the favorites to win the title. Hastings knocked off a tough Bennington squad in the semifinals and cruised past Pierce in the finals to take home the Class B duals championship.
"It feels great. It's been a long time coming," said Hastings head coach Nolan Laux. "We knew coming in that dual team-wise we were going to be really solid. Obviously, we believe we're a solid tournament team, too, but we knew that a dual tournament would be a good format for us."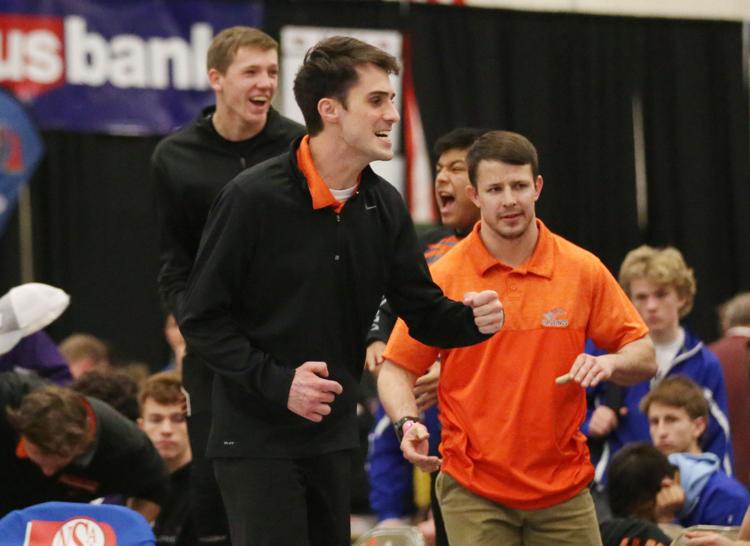 "It feels amazing to finally get this done after so many years of 'coulda-woulda-shoulda.' It feels nice to finally get it done," said Hastings senior Damen Pape.
Hastings actually trailed Bennington halfway through the dual, but the Tigers won six of the next eight matches for a 41-28 victory. 
The Tigers took that momentum and delivered one haymaker after another against Pierce, racking up three pins and a tech fall en route to a 30-6 lead through the first seven matches of the finals.
"We knew once we got through Bennington, we were going to keep it going," said Hastings senior Mason Brumbaugh. "We were pretty pumped up for this final dual, and we just wanted to get it done."
It was Evan Morara's pin against Travis Jensen that officially put Pierce out of reach, clinching the title en route to a 54-24 championship dual win.
"Pierce had some really solid individuals. We made sure just because we beat Bennington, let's not doubt Pierce," Laux said. "They had some guys who would push us, but we wrestled really well in that last dual.
First round
Gering 34, Adams Central 33
106 — Tristen Obermiller, AC, pinned Marquel Maldonado, Ger; 0:57
113 — Quinton Chavez, Ger, dec. Braiden Kort, AC; 4-3
120 — Paul Ruff, Ger, pinned Tristin Klinger, AC; 0:44
126 — Tyler Nagel, Ger, tech fall Devon Ackles, AC; 15-0
132 — Nathaniel Murillo, Ger, pinned Kayleb Saurer, AC; 3:06
138 — Jeret Frerichs, AC, dec Albert Stone, Ger; 7-5
145 — Nate Rocheleau, Ger, Cameron Kort, AC; 8-2
152 — Jackson Johnson, AC, maj. dec. Collin Schwartzkopf, Ger; 9-0
160 — Donovan DeLosSantos, Ger, pinned Jaxen Gangwish, AC; 2:46
170 — Jacob Awiszus, Ger, maj. dec. Blake Bonifas, AC; 17-6
182 — Oaklyn Smith, AC, pinned Dilan Lopez Ruiz, Ger; 2:36
195 — Sam Hemberger, AC, pinned Andrew Mount, Ger; 4:45
220 — Jacob Deckert, AC, pinned Iziah Blanco, Ger; 0:52
285 — Tyler Pavelka, AC dec. Tucker Hixon, Ger; 4-0
Hastings 61, Minden 18
106 — Markus Miller, HHS, pinned Kole Nielsen, Min; 0:26
113 — Hunter Anderson, HHS, pinned Jayson Simpson, Min; 3:23
120 — Evan Smith, Min, pinned Dalton Hansen, HHS; 5:26
126 — Landon Weidner, HHS, maj. dec. Hunter Heath, Min; 12-4
132 — Bryce Brown, HHS, tech fall Jon Brais, Min; 16-1
138 — Austin Yohe, HHS, pinned Jasper Birkestrand, Min; 0:39
145 — Jett Samuelson, HHS, pinned Gage Fries, Min; 3:24
152 — Alex Banuelos, Min, pinned Tony Perez, HHS; 2:34
160 — Izaak Hunsley, HHS, maj. dec. Eduardo Gonzalez, Min; 12-1
170 — Jaron Brown, Min, pinned Jacob Lopez, HHS; 2:50
182 — Damen Pape, HHS, pinned Daulton Kuehn, Min; 0:31
195 — Evan Morara, HHS, pinned Jordan Cole, Min; 0:51
220 — Blake Davis, HHS, pinned Alex Quintana, Min; 0:37
285 — Josh Callejas, HHS, won by forfeit
Consolation semifinals
Blair 40, Adams Central 22
113 — Braiden Kort, AC, pinned Luke Frost, Bla; 0:58
120 — Devon Ackles, AC, pinned Shay Bailey, Bla; 2:26
126 — Tyler Curtis, Bla, pinned Konnor Howard, AC; 4:38
132 — Brody Karls, Bla, dec. Kayleb Saurer, AC; 6-5
138 — Hank Frost, Bla, SV Cameron Kort, AC; 2-0
145 — Dylan Berg, Bla, pinned Jeret Frerichs, AC; 5:29
152 — Jackson Johnson, AC, UTB Duncan Leoges, Bla; 3-2
160 — Treyton Jones, Bla, pinned Blake Bonifas, AC; 1:59
170 — Oaklyn Smith, AC, dec. Yoan Camejo, Bla; 8-4
182 — Braden Hanson, Bla, pinned Wyatt Janssen, AC; 1:50
195 — Dexter Larsen, Bla, maj. dec. Sam Hemberger, AC; 16-5
220 — Lance Hume, Bla, dec. Jacob Deckert, AC; 4-3
285 — Brady Soukup, Bla, UTB Tyler Pavelka; 4-3
106 — Tristen Obermiller, AC, maj. dec. Jesse Loges, Bla; 13-5
 Central City 51, Minden 30
113 — Cole Kunz, CC, pinned Jayson Simpson, Min; 1:57
120 — Evan Smith, Min, pinned Brandon Fye, CC; 0:53
126 — Dyson Kunz, CC, pinned Jesse Gruber, Min; 1:44
132 — Hunter Heath, Min, pinned Johnny Scarlett, CC; 3:20
138 — Kane VonBonn, CC, maj. dec. Jasper Birkestrand, Min; 12-4
145 — Tanner Schneiderheinz, CC, pinned Gage Fries, Min; 2:00
152 — Alex Banuelos, Min, pinned Bryce Sutton, CC; 3:31
160 — Sam Moore, CC, pinned Eduardo Gonzalez, Min; 3:51
170 — Jaramie Elton, CC, pinned Jaron Brown, Min; 5:32
182 — Daulton Kuehn, Min, pinned Micah Loy, CC; 1:34
195 — Jordan Cole, Min, pinned Kyle Dittmer, CC; 1:57
220 — Nik Erickson, CC, pinned Alex Quintana, Min; 1:37
285 — Gunner Bailey, CC, won by forfeit
106 — Drew Garfield, CC, pinned Kole Nielsen, Min; 1:13
Semifinals
Hastings 41, Bennington 28
113 — AJ Parrish, Ben, pinned Hunter Anderson, HHS; 3:47
120 — Hunter Anderson, Ben, pinned Dalton Hansen; 1:29
126 — Landon Weidner, HHS, pinned Austin Breckenridge, Ben; 1:00
132 — Bryce Brown, HHS, dec. Matthew Coe, Ben; 11-5
138 — Robert Greenwood, Ben, dec. Austin Yohe, HHS; 4-2
145 — Colby Puck, Ben, dec. Jett Samuelson, HHS; 4-2
152 — Mason Brumbaugh, HHS, maj. dec. Connor Brecht, Ben; 10-0
160 — Brayden Lockling, HHS, pinned Joseph Wells, Ben; 0:50
170 — Izaak Hunsley, HHS, maj. dec. Logan Burmester, Ben; 11-1
182 — Damen Pape, HHS, pinned Luke MacDonald, Ben; 2:23
195 — Garrett Menke, Benn, maj. dec. Evan Morara, HHS: 12-1
220 — Blake Davis, HHS, pinned Hunter Thompson, Ben; 3:08
285 — Josh Callejas, HHS, pinned Jake Stier, Ben; 1:00
106 — Kael Lauridsen, Ben, won by forfeit
Finals
Hastings 54, Pierce 24
120 — Jayden Coulter, Pier, pinned Dalton Hanson, HHS; 1:24
126 — Landon Weidner, HHS, tech fall Blake Bolling, Pier; 15-0
132 — Bryce Brown, HHS, pinned Ashton Koch, Pier; 1:24
138 — Austin Yohe, HHS, pinned Jeremiah Kruntorad, Pier; 3:49
145 — Jett Samuelson, HHS, dec. Michael Kruntorad, Pier; 9-8
152 — Mason Brumbaugh, HHS, maj. dec. Ashton Schweitzer, Pier; 16-7
160 — Izaak Hunsley, HHS, pinned Zander Schweitzer, Pier; 2:32
170 — Brett Tinker, Pier, pinned Jacob Lopez, HHS; 1:06
182 — Damen Pape, HHS, won by forfeit
195 — Evan Morara, HHS, pinned Travis Jensen, Pier; 0:39
220 — Dyland Kuehler, Pier, pinned Blake Davis, HHS; 4:59
285 — Josh Callejas, HHS, won by forfeit
106 — Markus Miller, HHS, won by forfeit
113 — Brock Bolling, Pier, won by forfeit