OMAHA — The word "Mustangs" on the back of Joseph Hinrichs' wrestling singlet not only allows him to display the pride he has in his school, but it also helps him cover up the bull's-eye on his back.
Everybody in the 160-pound weight class has been gunning for the Sutton senior all season. No. 1 rated wrestler in his class, returning state champion — and on Friday he proved why he's still the best in the class, going 2-0 and advancing to the semifinals for the second year in a row.
"It's very, very satisfying," said Hinrichs, who was not entirely satisfied with the way he wrestled — though still happy to be 2-0. "Sometimes, even when you prepare as much as possible, things still get hairy. It's nice to get a win sometimes even when it isn't clean and you just have to push through it."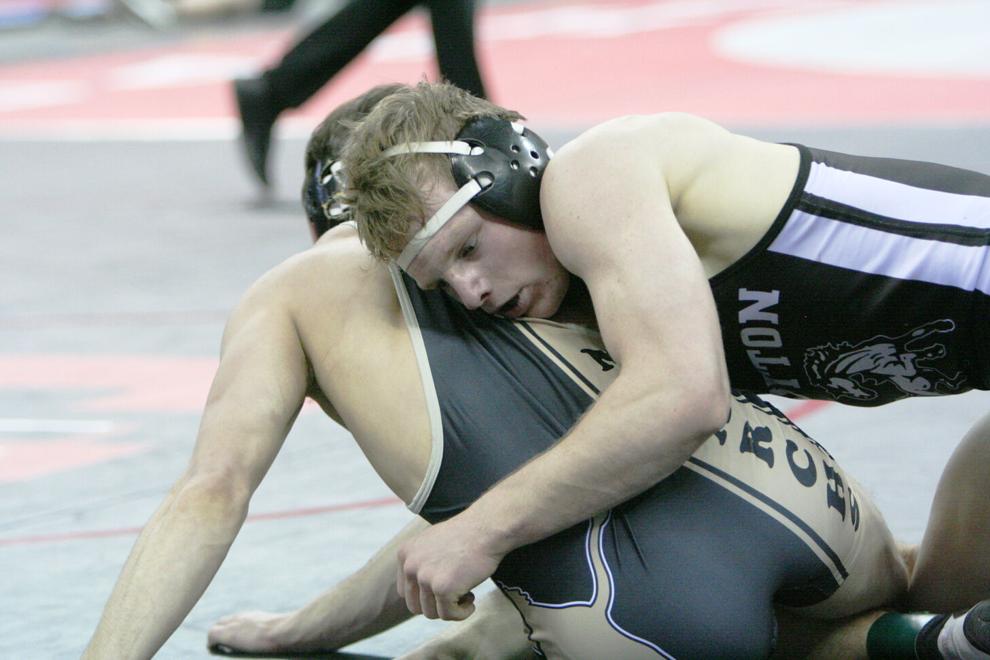 Hinrichs knows he's going to get everybody's best shot in Omaha, but it's no different than what the rest of the year was like for him. He said he's built in his mind a narrative where he's still got to go out an prove himself every match.
"I just try to keep that underdog mentality," he said. "It's very dangerous to be at the top because it's easier to get complacent. So, every day before lifting and practice, I try to convince myself that I'm still fighting to reach the top. That's helped me later in the season, especially when I had a reality check."
Hinrichs had to grind through his opening match, but still ended up with a pin in the second period. And in the quarterfinals, he drew the No. 2 ranked wrestler in the state, Nolan Eller of Aquinas Catholic.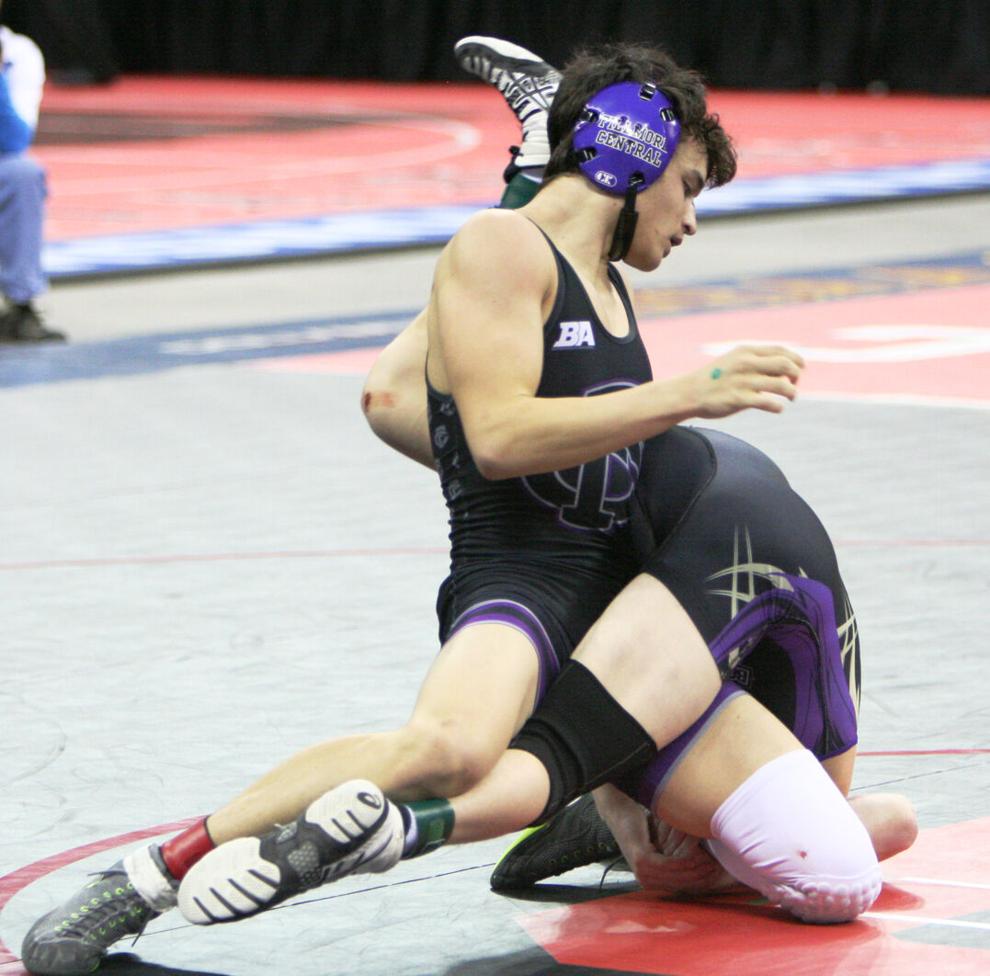 In the first 15 seconds of the match, Eller nearly caught Hinrichs in a vulnerable spot for a takedown, but the Mustang used his exceptional strength to get out of it. After that, he controlled the match en route to a 5-1 decision.
"(That match) took a lot of strength...Especially towards the end. It's been a super long day; I was mentally fatigued, especially wrestling this late. It was just a matter of keeping pushing," Hinrichs said.
Beating Eller not only removed a huge roadblock in the way of Hinrichs' second straight title, but it gave him some extra confidence going forward, as Eller was 2-1 against the only wrestler to beat Hinrichs this season: Gavin Zoucha of Malcolm.
"It's a tremendous confidence boost," Hinrichs said. "It actually kind of benefits to have that kind of match earlier in the tournaments. Now, I feel like nothing is going to be as dangerous."
Zoucha ended up getting upset by Ravenna's Payton Reisbeck in the quarterfinals. Nonetheless, Hinrichs will continue to go into each match with an underdog mindset. His Friday night will be spent relaxing and keeping the mind clear, preparing for Saturday morning's semifinals and hopefully for the state championship in the evening.
Fillmore Central accounts for the remaining two Tribland wrestlers that qualified for the semifinals. Panthers' 126-pounder Alex Schademan and heavyweight Connor Asche both won their two matches on Friday to clinch a spot on the medal stand and keep their hopes of a championship alive.
"Alex wrestled two really solid matches," said FC head coach Ryan Komenda. "We kind of knew looking at the bracket who we'd have (Saturday), and it'll be the fourth time we will have wrestled (Milford's Konner Schlukebier). It'll be a great match, and if we can get by him again it'll get us to the state finals. But we know it won't be easy.
"Asche, he gutted it out. He kind of got hurt in districts and didn't wrestle in the finals. He didn't do much in practice this week...So, I'm very proud of him — guaranteed a medal. Like I told both of them, 'Don't be satisfied for top six, let's get to the finals.' "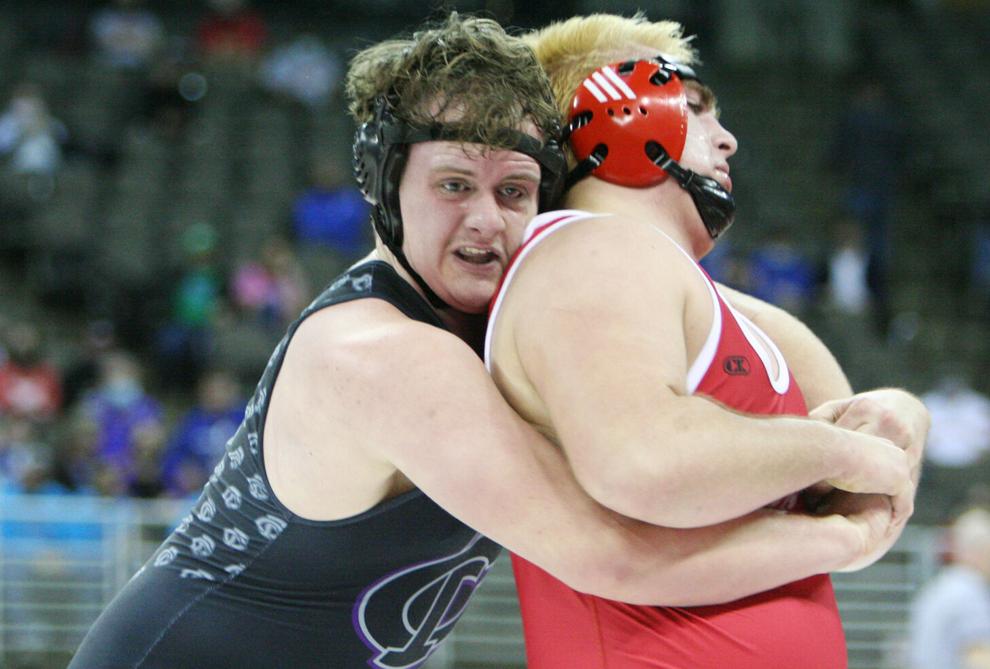 Fillmore Central brought five wrestlers to Omaha, and all five earned wins in the first round. Though Travis Meyer (106) is the only Panther still wrestling in the consolation rounds, Komenda said it was great to see the program have the success it has already had in this year's tournament.
"That first round, going 5-0, it was a great round for the program," Komenda said. "It was a good feeling. With the new format, we knew the next round was going to be tough, and we knew we'd then have to get them ready for the consolation round. We knew it was going to be different, but going 5-0 is definitely a great accomplishment.
"Hopefully we can get Travis through and medal and bring home three medals."
First round
106 — Travis Meyer (Fillmore Central) 38-6 won by fall over Ace Hobbs (Mitchell) 22-14 (Fall 3:52)
126 — Alex Schademann (Fillmore Central) 38-5 won by fall over John Brodrick (S. Central NE Unified District #5) 22-11 (Fall 3:10)
145 — Aiden Hinrichs (Fillmore Central) 21-9 won by fall over Kadin Perez (Mitchell) 22-13 (Fall 3:59)
160 — Joseph Hinrichs (43-1), Sutton, vs. Drake Janssen (25-10), Valentine
160 — Jacob Stoner (Fillmore Central) 33-11 won by major decision over Francisco Mendez (Norfolk Catholic) 49-8 (MD 12-3)
170 — Brayton Jarosik (37-7), South Central, vs. Josh Jessen (30-6), Yutan
285 — Connor Asche (Fillmore Central) 27-6 won by fall over Daven Whitley (BRLD) 32-7 (Fall 2:50)
285 — Bridger Rice (Ord) 35-7 won by fall over Vance Smith (Sutton) 32-17 (Fall 3:33)
Quarterfinals
106 — Drew Garfield (Central City) 45-0 won by tech fall over Travis Meyer (Fillmore Central) 39-7 (TF-1.5 5:51 (19-1))
126 — Alex Schademann (Fillmore Central) 39-5 won by decision over Boston Reeves (Battle Creek) 41-17 (Dec 10-3)
145 — Cal Janke (Archbishop Bergan) 35-2 won by major decision over Aiden Hinrichs (Fillmore Central) 21-11 (MD 12-4)
160 — Joseph Hinrichs (Sutton) 45-1 won by decision over Nolan Eller (Aquinas Catholic) 40-7 (Dec 5-1)
160 — Garret Kluthe (Ord) 32-3 won by fall over Jacob Stoner (Fillmore Central) 33-13 (Fall 0:58)
285 — Connor Asche (Fillmore Central) 27-6 won in sudden victory — 1 over Bridger Rice (Ord) 35-7 (SV-1 6-4)
Consolation round 1
126 — Chance Cooper (Bridgeport) 26-5 won by fall over John Brodrick (S. Central NE Unified District #5) 22-12 (Fall 1:51)
170 — Brayton Jarosik (S. Central NE Unified District #5) 38-9 won by fall over Tagg Buechle (Valentine) 29-19 (Fall 1:59)
285 — Daven Whitley (BRLD) 32-7 won by fall over Vance Smith (Sutton) 32-17 (Fall 2:32)
Consolation round 2
106 — Travis Meyer (Fillmore Central) 39-7 won by decision over Dominic Liess (Norfolk Catholic) 35-17 (Dec 12-5)
145 — Jace Freeseman (Gordon-Rushville) 33-14 won by major decision over Aiden Hinrichs (Fillmore Central) 21-11 (MD 10-1)
160 — Drake Janssen (Valentine) 27-11 won by fall over Jacob Stoner (Fillmore Central) 33-13 (Fall 2:42)
170 — Sam Moore (Central City) 51-1 won by fall over Brayton Jarosik (S. Central NE Unified District #5) 38-9 (Fall 0:36)